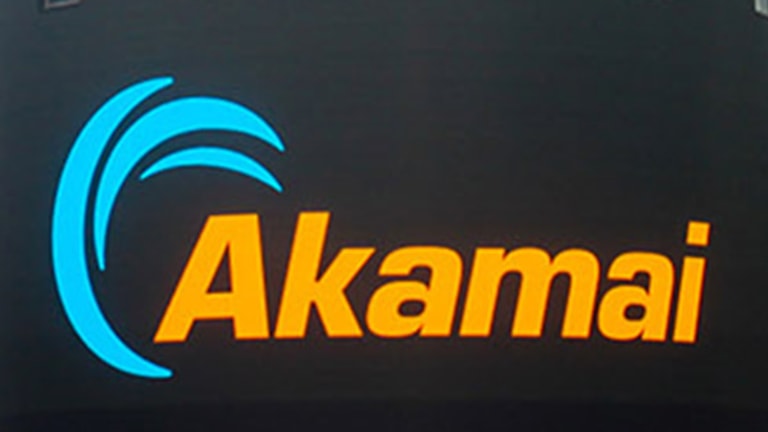 Akamai Takes a Hit on Lower Web Traffic Projections
Akamai Technologies beat Wall Street earnings and revenue estimates, but light guidance caused traders to pummel the stock Wednesday.
Akamai Technologies (AKAM) - Get Free Report beat Wall Street's earnings and revenue estimates in the third quarter, but light fourth-quarter guidance and worries about online media traffic have traders slamming the stock today.
Akamai, down 17% at the close Wednesday, posted third quarter adjusted earnings of 62 cents a share on revenue of $551 million. Analysts were looking for 58 cents a share on sales of $550 million. Last year, the content delivery company earned 62 cents per share on revenue of $498 million. Cash from operations in the third quarter was $183 million, or 33% of revenue. Akamai also had $1.5 billion in cash as of Sept. 30. Furthermore, Akamai spent $76 million to repurchase 1.1 million shares of its common stock at an average price of $72.02 per share.
Unfortunately, the stock plummeted after Akamai said on the conference call it sees fourth-quarter earnings of 60 cents to 64 cents, lower than Wall Street's estimate of 66 cents. Also, the company now expects fourth-quarter revenue of between $557 million and $577 million, compared to Wall Street's forecast of $597 million.
"A few of our largest media accounts, which have a lot of revenue, we project them to have less traffic in Q4, possibly extending into 2016 and so that means less revenue for Akamai in those accounts," said CEO Tom Leighton.
As for details, media delivery solutions revenue was $245 million, up 5%, and up 10% when adjusted for foreign exchange. Performance and security solutions revenue was $263 million, up 15% and up 18% when adjusted. Cloud security solutions revenue, a component of performance and security, was $65 million, up 39%, and up 44% when adjusted. And service and support solutions revenue was $43 million, up 19%, and up 24% when adjusted for foreign exchange.
"Cybersecurity is really important for our customer base, and we keep their content from being defaced and corrupted and prevent confidential information from being stolen," said Leighton, adding that the company is making major investments in its security product suite.