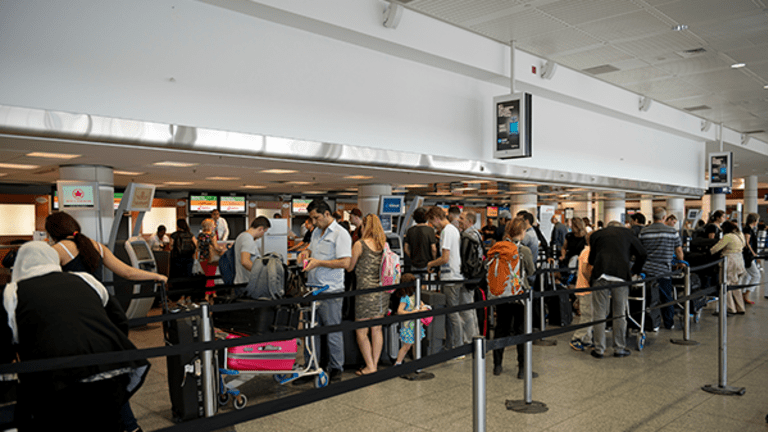 Major Delays at Airports as Global Check-In System Crashes
The outage lasted a few minutes but has resulted in long lines for travelers.
Airport check-in computer systems briefly crashed in London's Heathrow Airport, Paris' Charles De Gaulle Airport, Gatwick Airport in southeast England and others across the globe before returning to normal function Thursday, Sept. 28.
Numerous airlines were affected by the computer glitch, which lasted for a few minutes around 5:30 am ET. The cause of the crash remains unclear, but Gatwick Airport told the Telegraph that the crash was an airline issue, not an airport issue. 
A spokesperson for Deutsche Lufthansa AG (DLAKY) confirmed to The Sun that Amadeus IT Holding's (AMADF) Altea Amadeus booking system was affected. Nearly 125 airlines use the Altea software to check in passengers at airport kiosks, but it seems online check-in was also affected by Thursday's glitch at some airlines. 
Amadeus confirmed a "network issue that is causing disruption." The IT firm said technical teams were working to solve the problem and "services are gradually being restored."
Heathrow told the Telegraph that the glitch caused "intermittent" problems but passengers could still check in, "although the process may take slightly longer than usual."
Other airports reportedly affected include Singapore Changi Airport, O.R. Tambo Int'l in Johannesburg, Zurich Airport, Melbourne Airport, Baltimore-Washington International Airport and Ronald Reagan Washington National Airport in D.C.
Passengers took to Twitter to share pictures of long lines and warn other travelers. 
More of What's Trending on TheStreet: