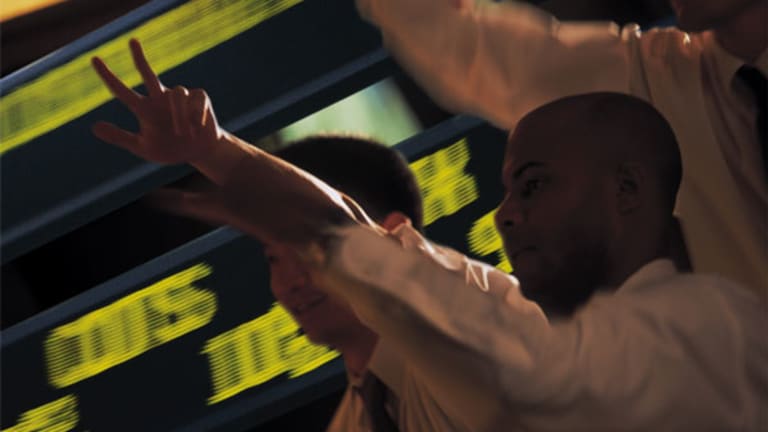 Airlines Prepare for Takeoff
Let me give you the skinny as to why I have warmed up to the airlines.
This column originally appeared on Real Money at 3:00 p.m. EDT on March 23.
NEW YORK (
) -- We have witnessed a series of mergers between major airlines: the
Delta
(DAL) - Get Free Report
-
Northwest
deal in 2008, the
United Continental
(UAL) - Get Free Report
merger in 2010 and
Southwest's
(LUV) - Get Free Report
acquisition of
AirTran
in 2011. Most recently, we learned from our sister publication,
-- which covers mergers better than anyone -- that
U.S. Airways
(LCC)
is merging with
AMR
, the parent of
American Airlines
. Thanks to these deals, the devastating competition that had made the airline industry un-investable is now gone. The entire country is now like Alaska, which means the industry is now like
Alaska Air
(ALK) - Get Free Report
, the only carrier that had been investment-worthy because of its near-monopoly status.
In the old days, the business was a vicious Hobbesian nightmare, an ultra-competitive war of all against all in which life was nasty, brutish and short. Bankruptcies were endemic. In fact, not a single U.S. carrier that had been around back in 1978, when airlines were deregulated, has survived without going through bankruptcy
at last once
. There was no other way for these companies to contend with the endless competition, which had put constant downward pressure on ticket prices.
But, after the recent spate of consolidation, the U.S. airline industry has become a slap-happy oligopoly. Once the AMR-U.S. Airways deal goes through, we'll be in a new world order, with the top four domestic airlines handling more than 80% of the domestic traffic. These mergers have allowed the airlines to cut costs and take out excess capacity. In short, running a major airline is now a viable business proposition.
That's not the only thing going right. The airlines spend a fortune on jet fuel, so the falling price of oil is terrific for the bottom line at these companies. Meanwhile, the economy is getting stronger. That means more travel -- another plus.
Why is U.S. Airways-AMR the best way to play the renaissance? Simple: because the much-anticipated merger, a deal I believe based on coverage at
The Deal
, will pass antitrust muster.
Once this merger is completed, the combined company will be the largest airline in the world, with a fleet of 1,500 aircraft.
You can really see the power of the deal when you look at particular airports. The combined company will control 50% of the traffic at Phoenix; Dallas/Fort Worth; Philadelphia; Charlotte, N.C.; and Miami. Meanwhile, the company will have 38% share at Chicago's O'Hare airport and about 21% at Los Angeles. They'll be the No. 1 player in the middle of the country, and No. 3 on the West Coast.
I think the deal should create more than $1 billion in cost savings and new revenue by 2015 -- a number that's likely conservative, based on what's happened in previous airline mergers.
Now, at the moment the stock is stalled because of pending Justice Department deliberations, and I think that's an opportunity.
Why do I think this stock could be so huge? Because we have seen it before, even at U.S. Airways, as a Deutsche Bank analyst has pointed out in a great piece of recent research.
Back in 2005, U.S. Airways merged with
America West
in a deal that was very similar to this current pending transaction. You had a smaller airline, America West, pursuing a larger operator, U.S. Airways, that was operating under Chapter 11 bankruptcy protection -- as AMR is doing now. When the deal was formally announced, America West popped 7%. But, for the next month, during the Justice Department's 30-day waiting period, the stock languished. Once the deal was consummated, America West surged 54%, and a year later it had soared 200%.
I think history can repeat itself with U.S. Airways.
Now, in previous years, there would be cutthroat competition from young upstart carriers. But the opportunities for entry are now in short supply; it's almost impossible to get new airplanes that are fuel-efficient; and the only real discount carrier is
Spirit Airways
(SAVE) - Get Free Report
. When I recently spoke Spirit CEO Ben Baldanza, he made it clear that the last thing he wants to do is to compete with these majors. He wants to be everywhere but where they are, which is why his stock is so terrific -- and I think it can also be bought.
The airlines are back, and they are able to make a ton of money. I would buy any of them, but I think that U.S. Airways and Spirit are the best and that United Continental is a close No. 2.
At the time of publication,
Action Alerts PLUS
, which Cramer co-manages as a charitable trust, had no positions in the stocks mentioned.