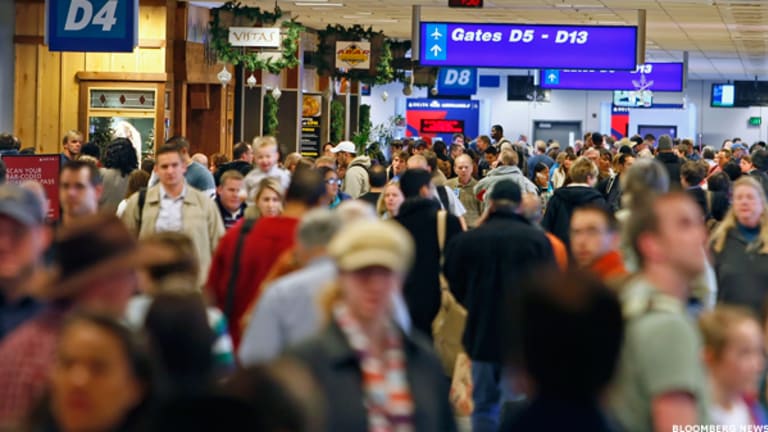 Publish date:
Airline Shares Fall as Capacity Gains and Unit Revenue Guidance Raise Doubts
American, Delta and Southwest reduce first-quarter unit revenue guidance, while a key analyst sees a 'visceral reaction' to capacity increases by United and others.
American, Delta and Southwest reduce first-quarter unit revenue guidance, while a key analyst sees a 'visceral reaction' to capacity increases by United and others.
The U.S. airline industry may have significantly restructured, but it also seems to have entered a slack period in the first quarter of 2017.
Capacity is trending up, carriers are warning they will not meet unit revenue guidance, and shares in seven of the nine major airlines are down for the year.
Except for Alaska and Southwest (LUV) - Get Report , both up about 4%, every airline has seen a year-to-date decline. Shares in American (AAL) - Get Report were down 13% as of Tuesday's close, United (UAL) - Get Report fell 10%, and Delta (DAL) - Get Report declined 7%. Also, Hawaiian was down 18%, Spirit fell 13%, JetBlue declined 12% and Allegiant slipped 5%.
The disappointing unit revenue trends are combining with fears about rising capacity trends. These recall the airline industry of the past. It lacked the capacity discipline that combined with lower fuel costs and enhanced ancillary spending has recently triggered a golden age of airline profitability.
The fears were provoked by United's disclosure last week that it will boost full-year 2017 consolidated capacity growth to between 2.5% and 3.5%, up from previous guidance between 1% and 2%. Domestic capacity will grow between 3.5% and 4.5%, up from guidance between 1.5% and 2.
In recent weeks, American, Alaska, Delta and United have announced route expansions, including Delta's plan to add three daily flights in the Seattle-Chicago market, already served by American, Alaska, United and Southwest.
On Wednesday, Morgan Stanley analyst Rajeev Lalwani downgraded American to equal weight from overweight, cutting the price target to $44 from $52.  In later morning trading, American was down 62 cents to $39.79.
Last week, Wolfe Research analyst Hunter Keay cut Delta to peer perform from outperform.
In a report issued Monday, Cowen & Co. analyst Helane Becker said capacity expansions could diminish unit revenue.
"We believe the sequential increase in unit revenue from 1Q17 to 2Q17 could be more muted than (Wall) Street expectations given the incremental capacity growth announced by United and our expectation that American will also announce an additional increase in capacity," Becker wrote.
"Street expectations were already anticipating a fairly aggressive increase in unit revenue on a sequential basis; however, we believe it could be more muted than initially expected," she wrote.
Deutsche Bank analyst Mike Linenberg wrote Friday: "Like many investors, we approached 2017 feeling cautiously optimistic about the domestic U.S. market in light of a more moderate capacity outlook (3% growth versus prior two years of 5+% growth) and the potential for fiscal stimulus that would put 'America first.'
"However, United's recent announcement that it was planning to raise its 2017 domestic capacity growth rate undermined this view," Linenberg said.
Airline managements "need to be aware of the fact that any move that is perceived as upsetting the demand-supply balance will be met with a visceral response in the market given the history of the U.S. airlines," he said.
On Monday, Southwest released its February traffic report, reiterating reduced unit revenue guidance that it issued last week.
Southwest said it expects first-quarter revenue per available seat mile will decline between 2% and 3%. In January, the carrier issued guidance of flat to down 1%.
Southwest joins American and Delta in saying they won't meet first-quarter unit revenue guidance. Of the big four U.S. carriers, only United will meet guidance, pegged at a range between down 1% and up 1%.
"A better-than-expected February trip completion rate and the loss of traffic from the heavy rainfall in California are contributing factors to this revised RASM outlook," Southwest said Monday, in a prepared statement. A higher completion rate means revenue was distributed over more miles than contemplated.
"In addition, there was unexpected softness in close-in demand in the second half of February," Southwest said.
Looking ahead, Southwest was optimistic. Demand "has rebounded in March," it said. "Bookings and unit revenue trends beyond first quarter 2017 remain encouraging."
This article is commentary by an independent contributor. At the time of publication, the author held no positions in the stocks mentioned.