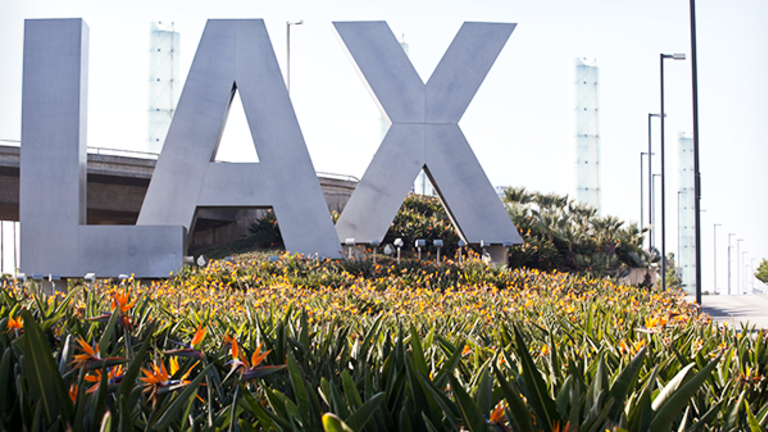 Airline Competition Is Growing - Especially at LAX, Not So Much at Charlotte, Analyst Says
Despite consolidation, airlines devote more capacity to competitive routes today than they did in 2005, a Wall Street analyst says in a new report.
A new report by a Wall Street analyst showed that despite consolidation competition in the airline industry has increased in terms of the amount of capacity airlines devote to competitive routes.

Perhaps the best example of the trend is at Los Angeles International Airport, where more than 50% of airline capacity -- measured by available seat miles -- is allocated to routes with three airlines or more, according to the report by Stifel analyst Joseph DeNardi.
An exception to the trend is Charlotte Douglas International Airport, where legacy carriers provide about 95% of capacity and hub carrier American (AAL) provides more than 90%.
In the report, issued May 25, Joseph DeNardi looks at the number of airlines that compete on each route between the first quarter of 2005 and the third quarter of 2017.
"No matter how we decided to look at the data, we generally found that on average there are more competitors in individual markets now compared to five to 15 years ago," DeNardi wrote.
"What is clear is that the share of ASMs being flown by multiple airlines has steadily increased in recent years while the number of 'monopoly' ASMs has steadily declined," he said.
In the third quarter of 2017, the report said, 35% of capacity was dedicated to routes with one carrier. Another 35% went to two-carrier routes and 30% had three carriers or more.
In the first quarter of 2005, 40% of all available seat miles was dedicated to routes with just one carrier, the report said. Another 35% of capacity went to two carrier routes, while 25% had three carriers or more.
In other words, the percentage of capacity dedicated to routes with just one carrier has declined, while the number dedicated to routes with three or more carriers has increased. The capacity decided to two-carrier routes has remained constant at 35%.
The trend is beneficial, DeNardi said, because it weighs against any effort to re-impose airline regulation; it shows that airlines can be profitable even in a competitive environment; and, "ultimately, we believe it supports further consolidation in the industry -- certainly not among the Big 4 but below that, and see Alaska and Spirit as the acquirers."
DeNardi said it is natural, in a hub system, for a large percentage of routes to be served by a single carrier. For example, he said, only Delta (DAL) flies Atlanta-Montgomery, Ala., but, "Other major carriers serve Montgomery through other hubs so the level of competition serving the Montgomery market is greater than would show up using this analysis."
Los Angeles International, DeNardi wrote, provides "a very good example, in our view, of how competitive this industry has become.
"The share of LAX ASMs being served by more than three airlines has increased significantly over the past several years largely at the expense of markets that were previously duopolies," he wrote. "We would expect this trend to continue going forward based on Alaska's planned growth out of LA following its acquisition of Virgin."
The survey examined airline market share at 14 key hubs.
An increasingly competitive major airport is Seattle Tacoma International Airport, where Delta has built its market share to about 15%. "Seattle has been one of the most competitive markets in the country over the past few years and has, as a result, seen a 20% decline in the average fare," DeNardi said.
But at Charlotte Douglas, service by low-fare carriers remains limited.
AirTran entered the market in 2005: Southwest, which acquired AirTran in 2010, now serves five destinations: Baltimore, Chicago Midway, Dallas, Houston and Nashville. JetBlue entered the market in 2006 and now serves Boston and New York's Kennedy. Frontier entered the market in 2014 and now serves Cleveland, Denver, Philadelphia and Trenton.
Meanwhile, American has 664 daily Charlotte departures to 150 destinations. The second-largest carrier is Delta, with about 5% of the market.
Read More Trending Articles:
Sears Mind-Blowing Loss and Evaporating Cash Should Only Question If It Could Survive
This article is commentary by an independent contributor. At the time of publication, the author held no positions in the stocks mentioned.