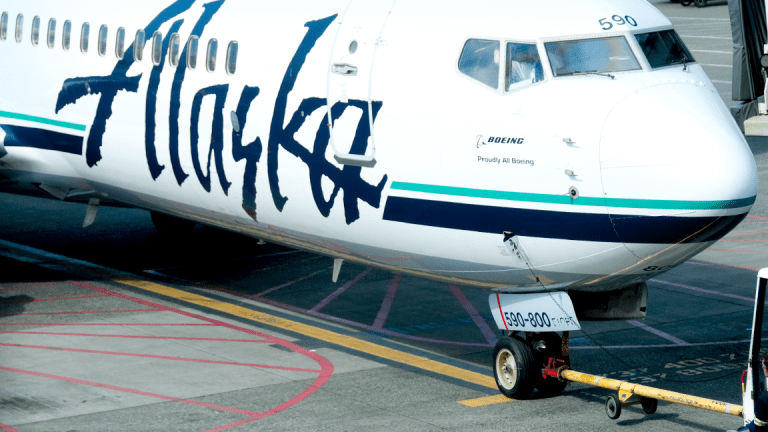 United, Alaska and JetBlue Shares Pay a Price After Stock Analyst Grilling
United, Alaska and JetBlue executives are grilled on third-quarter earnings calls, and their shares pay the price.
Two airlines saw their share prices fall steeply this month after executives, put on the spot during earnings calls, couldn't convince analysts they were moving quickly enough to improve financial results.
A third airline seemed to narrowly escape a similar fate, at least initially.
The first two, Alaska Air Group Inc. (ALK) - Get Alaska Air Group, Inc. Report and United Continental Holdings Inc. (UAL) - Get United Airlines Holdings, Inc. Report  , suffered double-digit declines on the days they reported earnings. Alaska shares fell 13% on Oct. 25, while United shares fell 12% on Oct. 19.
Shares in the third carrier, JetBlue Airways Corp. (JBLU) - Get JetBlue Airways Corporation Report  , rose 3% on Oct. 24, the day of the earnings call, but have since slipped back to below their pre-call levels.
Early Friday, Alaska shares were up 0.41%, JetBlue shares were down 0.56% and United shares were up 0.45%.
In the case of Alaska, which saw the biggest post-call decline, the key issue was whether the ongoing merger with Virgin America, announced in April 2016, has overwhelmed the Alaska management team.
During the Alaska call, Wolfe Research analyst Hunter Keay said the merger acquisition has been "sloppy."
"I know mergers are hard, but it does feel like what's been happening here is really not what people are used to with you guys," Keay declared. "You're better than this."
Chief Financial Officer Brandon Pederson responded, "I can assure you that we are more frustrated than you about this whole thing. And there's a lot of anxiety around here. There's been a lot of tough conversations in the last few weeks."
CEO Brad Tilden said management has been at it since April 2016 and "we've got another six or eight months to run hard.
"We are good airline operators," Tilden said. "We're good at managing costs. We're good at managing operations. We're actually good at managing revenues, but we have been a little bit focused on the merger.
"The sooner we get this thing behind us and get back to doing what we do well, the better," Tilden said.
Besides preoccupation with the merger, Alaska is growing capacity quickly at a time of below-normal fares in key markets: trans-con and inter-California.
"Alaska faces an uptick in basic economy pricing at the same time it's rolling out 20 new routes," wrote Buckingham Research analyst Dan McKenzie.
Meanwhile, Stifel analyst Joseph DeNardi said Alaska has historically earned a premium multiple due to "a pristine balance sheet, rock-solid cost control and strong operational performance.
"The Virgin acquisition has negatively impacted all three of those drivers," he said.
As for United, before the call it guided toward a minimal fourth-quarter unit revenue decline, which was generally considered to be acceptable. But the call distressed Wall Street.
"When UAL reported a better-than-expected Sept. quarter and guided to a Dec quarter [unit revenue] drop of 1% to 3%, we heard a collective sigh of relief from investors," Deutsche Bank analyst Mike Linenberg wrote.
"However, today's call suggested otherwise as UAL highlighted several cost challenges for 2018 without providing underlying details such as capacity growth," Linenberg said. "We appreciate the fact that UAL has yet to finish its 2018 budget, but we also appreciate the fact that the market dislikes uncertain situations, especially high-beta ones."
Linenberg said the selloff was overdone, but "the risk is that UAL is in the penalty box until we get more clarity."
The JetBlue call also featured edgy analysts. Executives tread carefully, repeatedly underscoring their intense commitment to cost-cutting and imploring analysts to believe them.
Chief Financial Officer Steve Priest was consistently under the gun, as when JPMorgan analyst Jamie Baker questioned the depth of the cost-cutting, asking, 'Why should we take that guide seriously?'
"I don't mean to be snarky, but it ranks as probably the single most ambitious cost program in the entire industry right now," Baker said. CEO Robin Hayes responded, "The whole company, the whole organization, is completely behind this effort."
At one point, Citi analyst Kevin Crissey laid it out: "I don't want to see what happened to United, kind of go into your stock, and I don't think it will. This call is going exceedingly better than that one. But the one thing that they didn't do is, they didn't frame their costs very well on the call and I'm not sure that you did either."
Later, Priest again underscored the commitment, saying, "We are utterly and totally focused on driving above average industry margins and moving towards superior margins, and the cost story is a key part of that."
Even then, Wolfe Research analyst Hunter Kaye asked, "Are you sure that the board really has your back to make these hard choices?"
Priest said the only thing he could possibly say: "The board absolutely has got my back."
More of What's Trending on TheStreet:
This article is commentary by an independent contributor. At the time of publication, the author held no positions in the stocks mentioned.