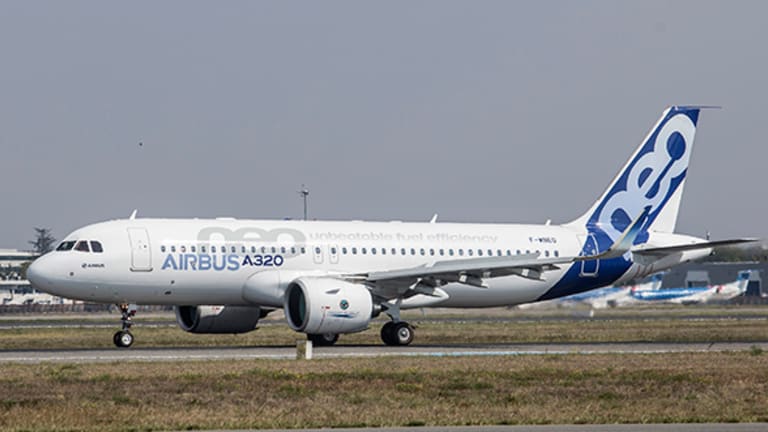 European plane manufacturer Airbus (EADSY) - Get Airbus SE Report  says it's sealed a deal to sell 100 jets to Iran, less than two weeks after American rival Boeing (BA) - Get Boeing Company Report inked a similar contract.
Under the terms of the deal, Iran will receive 100 jets, including 46 A320 Family, 38 A330 Family and 16 A350 XWB aircrafts. The first deliveries will begin in early 2017. The accord also includes pilot training, airport operations and air traffic management. Airbus CEO Fabrice Bregier called the agreement "a significant first step in the overall modernization of Iran's commercial aviation sector."
Airbus, however, did not provide a specific deal value "as the splits between aircrafts Families aren't set in stone and tend to evolve as carriers upsize fleets with increasing traffic," the company said via email. But when looking at the aircraft list prices, the deal could be valued anywhere between $18 billion and $19.5 billion.
The deal is subject to U.S. government Office of Foreign Assets Control (OFAC) export licenses, which were granted in September and November 2016, Airbus said.
Shares of Airbus were down slightly during the trading session on Thursday. 
This agreement comes shortly after Boeing inked a $16.6 billion deal to sell Iran Air 80 aircrafts. The first planes from Boeing will be delivered in 2018.
Iran Air, the nation's flagship carrier, has been working to renew its aircraft fleet, which is outdated due to years of sanctions. In January, many of the international sanctions that had a strangle-hold on Iran's economy were lifted after the country dismantled large sections of its nuclear program.
"Iran Air considers this agreement an important step toward a stronger international presence in civil aviation," said Iran Air CEO Farhad Parvaresh in a statement. "We hope this success signals to the world that the commercial goals of Iran and its counterparts are better achieved with international cooperation and collaboration."
Employees of TheStreet are restricted from trading individual securities.