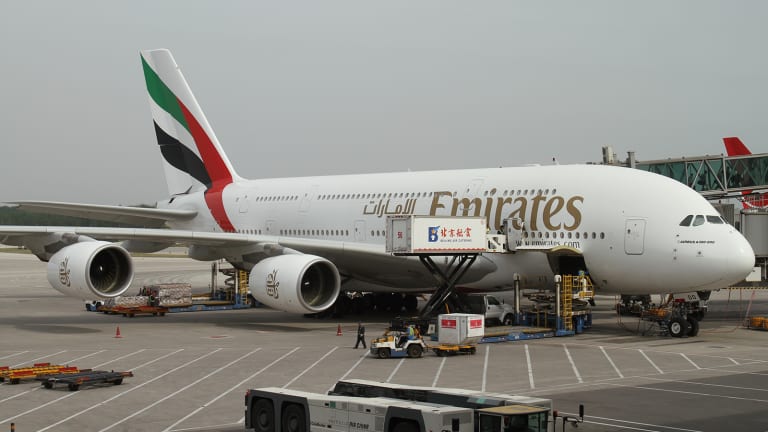 Airbus Cautions on A-380 Future as it Tops Rival Boeing in 2017 Orders
Airbus bested rival Boeing in the 2017 race for new global jet orders, but could soon scrap its flagship A-380 program if a key customer walks away from the word's biggest passenger aircraft.
Airbus SE (AIR) , Europe's biggest planemaker, extended its run of full-year wins for new orders over rival Boeing Co. (BA) to five, according to figures published Monday, but admitted that its flagship A-380 jumbo jet program could be scrapped if it can't agree terms with a key customer.
Airbus topped Boeing's net 912 orders over the whole of last year by inking deals to make 1,109 new aircraft, the company said, but lagged its American rival in terms of overall deliveries by a score of 718 to 763. Airbus also said it had no new orders for its A-380 wide-body, the principal challenger to Boeing's 787, taking its order backlog to around 95, down more than 50% since 2010.
"We went through the process internally and we came to the conclusion that we can go down to six (A-380) aircraft per year and maintain an industrially efficient production line," the company's commercial aircraft president, Fabrice Brégier, told investors on a conference call Monday. "This will be challenging, but I believe it can be met."
However, outgoing Airbus COO John Leahy cautioned that Airbus would have "no choice but to shutdown" the A-380 program, which builds the largest passenger planes in the world, "if we can't work out a deal with Emirates", the largest carrier in the middle east and the superjumbo's biggest buyer.
Airbus shares were marked 0.19% lower in later Paris trading and changing hands at €90.23 each, a move that trims their three-month gain to 19.8% compared to a 29% gain for Boeing over the same period.
Emirates, which snubbed Airbus at the Dubai Airshow in November when it opted for 787s at a list price of $15.1 billion, has purchased around 100 A-380s over its decade-long existence, making it by far the most important buyer in the program.
It appears, however, like many other carriers, to be transitioning to shorter routes and hubs that would increase the need for smaller jets, cutting a deal with London's Stansted Airport last year  
"There is a clear demand for this service from both business and leisure travellers and we anticipate that this news will be warmly received both across our global network, as well as by the business community based in the Stansted catchment area," a," Emirates President Tim Clark said at the time.
Boeing, for its part, is also banking on a rise in global passenger traffic, which it expects to grow by between 5.5% and 6% this year, to boost demand for its small and medium-body planes.
Boeing will report its fourth quarter earnings, with fresh 2018 guidance, on Jan. 31.
From the Morning Jolt Archives: