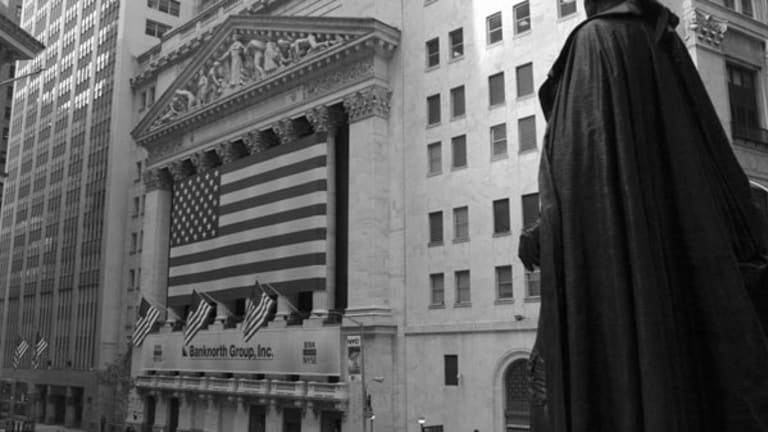 AIG's Fed Bailout Reaches $143.8 Billion
In an unexpected development, the Fed is indicating AIG's borrowing against credit lines was down $6.8 billion to $83.5 billion as of Wednesday night.
Updated from Oct. 30
In an unexpected development, the
Federal Reserve
is indicating
AIG's
(AIG) - Get Report
borrowing against credit lines was down $6.8 billion to $83.5 billion as of Wednesday night. Even so, instead of reducing reliance on federal funding, AIG this week asked taxpayers for another $21 billion in bailout money.
The reduction in fed borrowing reflects a voluntary repayment of $6.8 billion on the core $85 billion loan facility, pushing it down to $65.8 billion including $331 million in interest and fees. The securities lending program balance was reduced $300,000 to $17.7 billion.
AIG filed an application on Monday with the Fed for participation in the commercial paper funding facility (CPFF) for four subsidiaries unconnected with the insurance businesses. In an 8-K filing with the
Securities and Exchange Commission
Thursday, AIG states that the $21 billion would be used "to refinance AIG's outstanding commercial paper as it matures, meet other working capital needs and make voluntary prepayments under AIG's $85 billion credit facility with the Federal Reserve Bank of New York."
AIG's director of public relations, Joe Norton, on Friday confirmed the figures and that the reduction is directly attributable to the application of CPFF borrowings. Norton said "there will not be any reporting by AIG on this funding at the present time." He added that there was no dollar-for-dollar relationship between the CPFF borrowing levels and the reduction in the Fed loan because of costs and fees amongst other things.
Last week,
AIG had only about eight weeks of cash left if it continued to draw down on the Fed loan, and now it's down to seven weeks if the same borrowing trend continues, even despite the "reduction" it has made.
Even if AIG stops the bleeding, the insurance company must take immediate steps to sell some of its assets, including its aircraft leasing business, and start to repay the Fed loans. Taking money from the Fed to pay the Fed raises some questions.
This new facility means AIG had $143.8 billion in loans and funding from the federal bailout funds, an enormous amount that's nearly twice the expected amount when the original loan was advanced to the shock of many who had been focused on the potential of an asset loan of $20 billion that the National Association of Insurers and the State of New York brokered when the Fed originally refused a $40 billion bailout package in September.
Norton explained that because AIG made the repayment on a voluntary prepayment basis "this does not reduce the credit line," meaning that the money could be withdrawn again if AIG chose to do so. He said "when asset sales are applied, that will be a permanent reduction in the facility." Norton was unable to confirm his belief that any undrawn credit line would remain available in the event of a permanent reduction in the facility.
The federal funding of AIG has grown exponentially and appears massive considering it took two attempts to pass legislation and the suspension of Sen. John McCain's (R., Ariz.) presidential election campaign for the $700 billion bailout package approval for the whole country. Recognizing that AIG has its own special bailout package, the company will have cornered more than 20% of the bailout funding figure all on its own. That's an incredible amount.
The appointment last week of Paula Rosput Reynolds as chief restructuring officer at least infers that AIG is taking steps to dispose of assets, but the time to act is now, not when cash has been depleted to nothing.
Prudential PLC
(PUK) - Get Report
, whose CEO, Mark Tucker, indicated an interest in certain assets of AIG, has kept quiet recently about the possibility of a purchase. Now,
MetLife
(MET) - Get Report
is thought to have emerged as a possible suitor.
In its earnings call Thursday, MetLife CEO Robert Henrikson was asked by an analyst if it would use the capital purchase program to finance acquisitions. He responded: "I cannot possibly comment," at which point the analyst said, "I will take that as a yes," generating considerable laughter. MetLife executives offered no rebuttal to that inference.
MetLife recorded $639 million profit for the quarter and posted an unexpected 16% increase in revenue. Henrikson confirmed during the call that it is a bank holding company and is allowed access to the federal program, but that he had no comment to make other than that MetLife is well capitalized and has a strong balance sheet.
TheStreet.com Ratings issues financial strength ratings for 4,000 life, health, annuity, and property/casualty insurers are available at no charge on the
. In addition, the Financial Strength Ratings on each of the nation's 8,600 banks and savings and loans are available on the
.
For more coverage from TheStreet.com Ratings team, check out TheStreet.com Ratings section.
Gavin Magor joined TheStreet.com Ratings in 2008, and is the senior analyst responsible for assigning financial strength ratings to health insurers and supporting other health care-related consumer products, including Medicare supplement insurance, long-term care insurance and elder care information. He conducts industry analysis in these areas. He has more than 20 years' international experience in credit risk management, commercial lending and analysis, working in the U.K., Sweden, Mexico, Brazil and the U.S. He holds a master's degree in business administration from The Open University in the U.K.