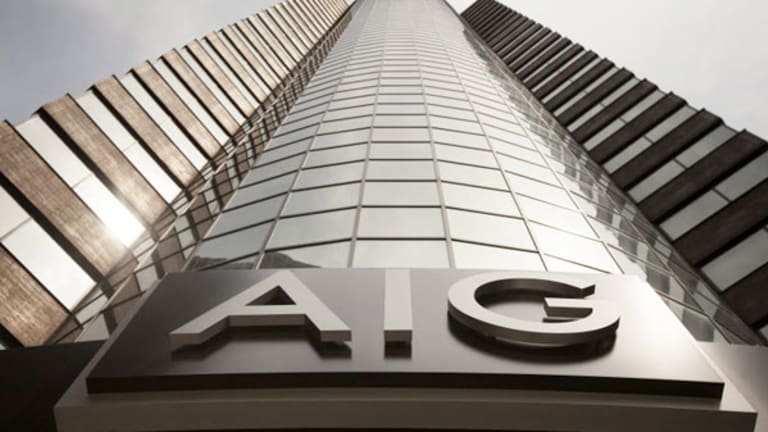 AIG Soothes Investors With $9.8 Billion in Coverage From Buffett's Berkshire
The price tag looks steep, but the coverage resolves investor worries about the adequacy of AIG's reserves, says CFRA analyst Cathy Seifert.
AIG (AIG) - Get Free Report  agreed to pay $9.8 billion for reinsurance coverage from Warren Buffett's Berkshire Hathaway (BRK.A) - Get Free Report  , resolving a long-standing concern about the adequacy of the bailed-out insurer's reserves. 
"This decisive step enables us to focus firmly on the future and build on the progress we've made in transforming AIG," CEO Peter Hancock said today in a statement. "The agreement supports our stated strategy and gives us additional risk capacity to serve our clients and return capital to shareholders."
The purchase from Berkshire subsidiary National Indemnity Co. comes as Hancock streamlines AIG through asset sales and returns more capital to shareholders amid pressure from activists Carl Icahn and John Paulson. The policy carries annual interest of 4% from January 2016 through the payment date on June 30.
Cathy Seifert, an analyst with CFRA Research, raised her 12-month price target by $3,  to $75, following the announcement.
"AIG has historically and most recently traded at a discount to tangible book value because the marketplace was never comfortable with the adequacy of reserves," Seifert said in a phone interview. "While the price of this coverage looks steep to us, the transaction resolves a long-standing issue at AIG that needed to be addressed as part of AIG's restructuring and turnaround.
The reinsurance will cover 80% of "AIG's U.S. commercial long-tail exposures for accident years 2015 and prior, which includes the largest part of AIG's U.S. casualty exposures during that period," the company said. 
The agreement will protect AIG from about $34 billion of potential losses related to claims such as environmental harm, asbestos-related illnesses and workers compensation that have a substantial lag time between when the covered event occurs and the date that payout is required, Seifert explained.
"Taking that long time horizon in a low interest-rate environment leads to a lot of variability in the adequacy of reserves," Seifert said. "The era of low interest rates is coming to an end. We've seen what it's done to the adequacy of loss reserves coupled with a very aggressive pricing environment made worse by competitive pressures at many of these firms."
Indeed, short-term rates have been raised twice by the Federal Reserve since late 2015, to a range of 0.5% to 0.75% and the central bank estimated as many as three more hikes are possible this year.
"There were not a lot of firms with the capacity to take on this risk," Seifert said. "Supply and demand here lead to a very expensive undertaking. There are not a lot of reinsurers in the marketplace with the financial strength." 
Berkshire reached a similar reinsurance agreement with Hartford (HIG) - Get Free Report earlier this month for $1.5 billion.
The cost of AIG's agreement will be recognized in the first quarter, the company said. The New York-based insurer is slated to report its earnings for the three months through December on Feb. 14.
Shares of AIG rose more than 1% to $67.04 in midday trading on Friday, pushing its year-to-date gains to 2.5%. Berkshire increased 0.4% following the news.