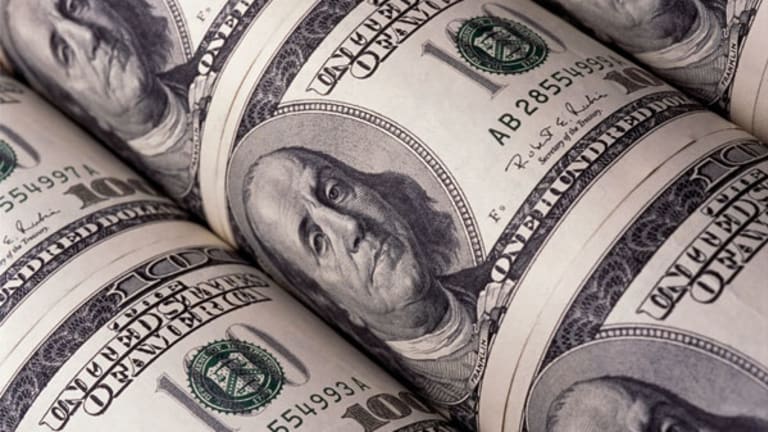 Against Russell 2000; Risk Control: Best of Kass
In highlights from this week's trading diary and posts, Kass tells us about his bet against the Russell 2000 and why risk control is better than conviction.
Doug Kass fills his blog on RealMoney every day with his up-to-the-minute reactions to what's happening in the market and his legendary ahead-of-the-crowd ideas. This week he blogged on:
How he's betting against the Russell 2000.
How risk control "Trumps" conviction.
Click here for information on RealMoney, where you can see all the blogs, including Doug Kass'--and reader comments--in real time.
Betting Against the Russell 2000

Originally published Dec. 8 at 2:36 p.m. EDT
I just purchased, at about $19, a small position in Direxion Daily Small Cap Bear 3X Shares ETF (TZA) . It seeks 300% of the inverse of the Russell 2000's price performance.

My technically-inclined friends tell me $138 represents a lot of resistance in the iShares Russell 2000 Index ETF (IWM) .
Position: Long TZA small.
ECB: Taper, No Taper?
Originally published Dec. 8 at 8:59 a.m. EDT

The European Central Bank (ECB) taper has begun--maybe, maybe not.


The ECB will extend quantitative easing (QE) until December--three months longer than anticipated--but is reducing the monthly amount by €20 billion to €60 billion.
The ECB will have added €180 billion extra of purchases in those last three months of the year, but will buy €120 billion less than expected for those thinking we would see a six-month extension. Will it even make it to December 2017? It will depend on the direction of inflation.
Bottom line, the pace of buying slows but goes on for longer than expected. The euro spiked to near 1.09 initially but is now closer to 1.08, still up on the day.
On the slower monthly pace of buying, European sovereigns are down sharply across the board, with jumps of 13 to 14 basis points in Italian and Spanish bonds. German and French yields are up by eight to nine basis points. U.S. yields are rising in sympathy.
Position: None.
Risk Control 'Trumps' Conviction
Originally published Dec. 7 at 2:22 p.m. EDT

I have covered Wednesday's bank shorts--for a small loss.
I have had an excellent 2016, and since I can't explain the day's gain ....
With Wednesday's buys-- Campbell Soup (CPB) , JC Penney (JCP) , Hartford Financial (HIG) ...
And Wednesday's sales -- ProShares UltraShort S&P500 ETF (SDS) ...
And Wednesday's covers -- Bank of America (BAC) , Citigroup (C) , JPMorgan (JPM) , SPDR S&P 500 ETF (SPY) , General Motors (GM) , Ford (F) , Cisco Systems (CSCO) ...
I have taken my portfolio's overall net exposure Wednesday all the way back to small short as risk control and management "trumps" conviction.
Position: Long SDS small, CPB large, JCP large, HIG large; short BAC small, C small, JPM small, SPY small.
Covering Shorts in Auto Sector
Originally published Dec. 7 at 1:14 p.m. EDT
Wednesday, I have made a major move in the automobile space.
I am taking off both Ford (F) and General Motors (GM) from my Best Ideas List and I have covered my short positions in the auto sector.
My investment rationale is based on the following:

While "Peak Autos" seems very much on schedule, the notion of a cyclical peak in auto industry shipments has now been materially accepted by the consensus.
Auto stocks have been consistent and serial (absolute and relative) market under-performers over the last few years of market advances--anticipating and ultimately discounting the "Peak Autos" thesis.
Though automobile industry profits are likely to be lower than consensus expectations for 2016-17, valuations in today's (broader) market of expanding price earnings multiples are low and have been moving ever lower in 2016.
Stock prices and relative PE multiples for Ford and General Motors are now "reasonable."
Moreover, there is now likely some "room" for price appreciation in the stocks, even with reduced earnings per share over the next two years.
Position: None.
Action Alerts PLUS, which Cramer co-manages as a charitable trust, is long C and CSCO.
At the time of publication, Kass and/or his funds were long/short XXX, although holdings can change at any time.
Doug Kass is the president of Seabreeze Partners Management Inc. Under no circumstances does this information represent a recommendation to buy, sell or hold any security.