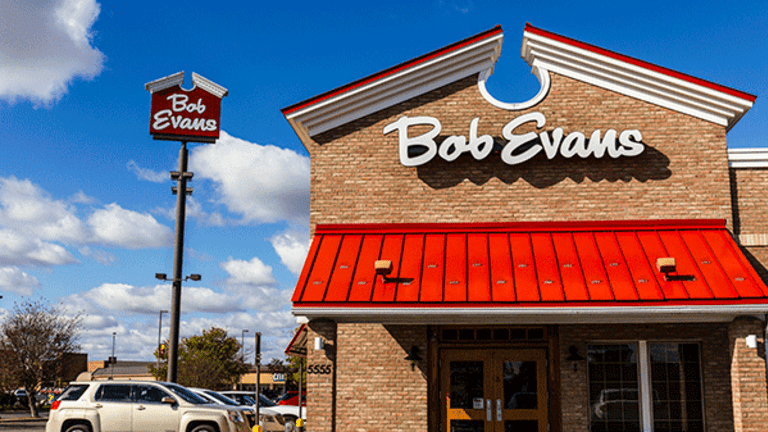 After Three Year Battle with Sandell, Bob Evans Sells Restaurant Business
Under pressure from the activist investor, Bob Evans said it had sold its restaurant business to buyout shop Golden Gate and will use cash to pay debt and for dividend
Under pressure from activist investor Tom Sandell, Bob Evans Farms Inc. (BOBE)  on Tuesday announced it had sold its restaurant chain business for $565 million including debt to buyout shop Golden Gate Capital at the same time that it moved to buy Pineland Farms Potato Company for $115 million.
The sale and purchase comes after activist investor Sandell and his Sandell Asset Management had been pressing Bob Evans, in a multi-year insurgency, to drive Bob Evans to separate its restaurant chain from the packaged foods unit, BEF Foods, or to find another alternative that maximizes shareholder value.
A person familiar with the situation on Tuesday said Sandell believed the move was highly positive because it removes the negative weight of the restaurant business and opens up possibility of a full sale without the tax issues some had cited as a barrier.
The sale and purchase also come after Bob Evans revealed in December that it had hired JPMorgan Chase & Co. (JPM) - Get Free Report to review strategic alternatives, such as a sale of the restaurant chain.
"The sale of Bob Evans restaurants enables us to concentrate exclusively on BEF Foods, our fastest growing and most profitable segment," said Bob Evans CEO Saed Mohseni in a statement.
The company said it estimates the cash proceeds from the sale will be between $475 million and $485 million and that the cash proceeds will be used to repay debt and the payment of a special dividend.
The activist fund has previously argued that BEF Foods has a valuation as a standalone business that "may approach $1.2 billion" even as the combined restaurant and packaged foods business has a market capitalization of $946 million.
The sale represents the conclusion of a multi-year effort by Sandell, who has pushed Bob Evans for at least three years publicly to separate the two businesses.
Bob Evans staved off a 2015 proxy fight with Sandell - on the eve of a deadline to nominate dissident director candidates the company agreed to carry out one of Sandell's demands, a sale-lease back of between 30% to 60% of the company's real estate. (They completed a sale-lease back of roughly 30% of the real estate). Sandell, a veteran of dissident director proxy fights, already succeeded at installing a minority slate of four dissident directors to Bob Evans' board in 2014 at a contest that went the distance - although he fell short of getting all eight of his candidates onto the board in that battle.
Recently, Sandell stepped up a multi-year insurgency by submitting a nonbinding proposal urging shareholders to cast their vote in favor of supporting a transparent process leading to the separation of the restaurant chain from the packaged foods unit, BEF Foods, or to find another alternative that maximizes shareholder value. However, Sandell cancelled that effort when Bob Evans reported publicly in December that it had hired JPMorgan Chase to advise it.
This isn't the first time Golden Gate Capital has acquired a restaurant chain from a publicly-traded company under pressure from an activist. In 2014 it bought the Red Lobster chair for $2.1 billion from Darden Restaurants   (DRI) - Get Free Report  Inc., when the company came under pressure from activist investor Jeff Smith of Starboard Value. However, that deal was completed without a shareholder vote and it drew the ire of Darden shareholders and ultimately resulted in a total board takeover by Smith and dissident directors.