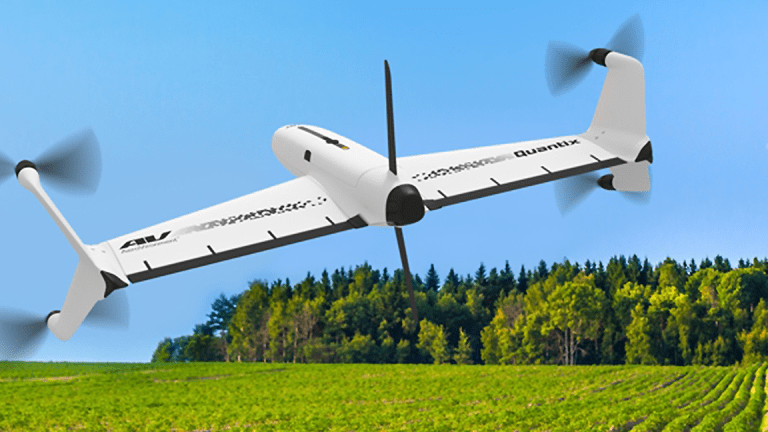 AeroVironment Soars on Strong Earnings, Raised Forecast
The company forecasts earnings per share of $1.60 to $1.80 for fiscal 2019, higher than its previous guidance.
AeroVironment   (AVAV) - Get AeroVironment Inc. Report surged around 19% on Wednesday after releasing strong earnings and lifting its 2019 profit forecast.
The California-based unmanned aircraft technology company posted third-quarter earnings per share of 35 cents  -- a swing from a 3 cent loss the same time a year ago. Total net income rose to nearly $8.4 million.
Total revenue for the quarter was also up -- by 38% -- to $75.3 million.
"Our team delivered outstanding financial results in our third fiscal quarter," said Wahid Nawabi, AeroVironment's chief executive, in a statement. "We continue to make strong progress against our financial and operational objectives and have established a strong foundation for fiscal year 2020."
A major portion of the AeroVironment's business comes from military and government contracts for its drone and tactical missile systems but it also has commercial customers in agriculture and other industries as well. 
"We also continue to advance our growth portfolio," said Nawabi, noting the company's one-time option to double ownership of the HapsMobile Inc. joint venture to 10%.
HapsMobile is a Japan-based venture largely owned by SoftBank that is aiming to develop solar-powered high-altitude unmanned aircraft systems with AeroVironment. 
The company saw an equity method investment loss of $0.7 million associated with its investment in HapsMobile in the quarter. 
For fiscal 2019, the company forecasts it will earn revenue of $300 million to $310 million. It also expects earnings per share of $1.60 to $1.80 -- higher than the previously forecast $1.30 to $1.50.