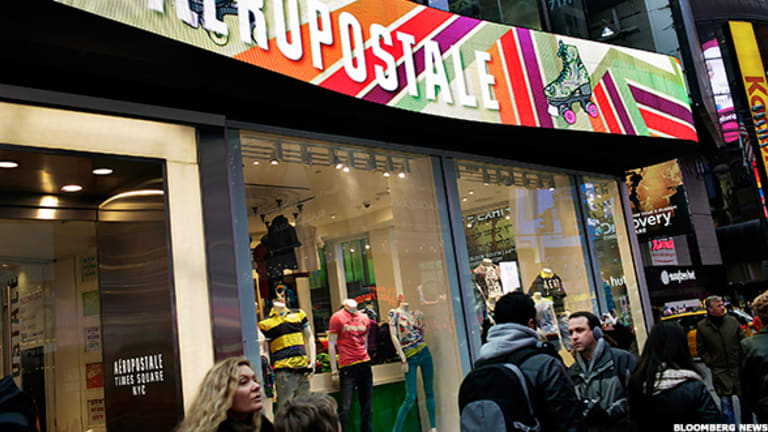 Aeropostale Shares Could Be in Danger of Getting Delisted
The once-hot teen retailer's stock price has received a notice from the New York Stock Exchange for its low trading price. Here is what could happen soon.
Updated to include new information about a notice sent by the New York Stock Exchange.
NEW YORK ( TheStreet) -- Teen apparel retailer Aeropostale (ARO)  is already in a heap of trouble as it struggles to win back fickle teen shoppers, and the news could get a lot worse in 2016.
On Sept. 29, Aeropostale disclosed that it received a notice from the New York Stock Exchange (NYSE) regarding continued listing requirements. According to NYSE listing requirements, if a security has an average closing price below $1 for 30 consecutive trading days, then the exchange would initiate the delisting process. Over the 22 trading days since TheStreet initially reported on Aug. 28 that shares of Aeoropostale had dipped below a $1 for the time in its history following a lackluster second quarter, the stock has continued to plunge, tanking an additional 38%.
Aeropostale said it plans to notify the NYSE by Oct. 13 that it intends to return to compliance with NYSE continued listing requirements by taking a range of possible actions. The company pointed to a potential reverse stock split, but also left the door open to other maneuvers. 
By highlighting a potential reverse stock split, Aeropostale confirmed a Sept. 28 report by TheStreet that a reverse stock split would be a likely option following a discussion with a source.
In a reverse stock split, a company reduces the total number of its outstanding shares, which has the effect of boosting the stock price, but not the value of the company.  The possibility of a reverse stock split sent shares of Aeropostale about 7% higher by midday trading on Wednesday.
The measure also makes a stock harder to sell short since reducing the number of shares outstanding makes it harder to borrow. 
A reverse stock split does not guarantee Aeropostale's stock prices stops plunging, however. The only thing that would prevent that would be a marked improvement in performance for Aeropostale this coming holiday season. And that appears highly unlikely given the company's continued struggles in the competitive teen apparel industry, which is one reason why the stock has been under such immense pressure.
Aeropostale has served up 11 straight quarters of losses, shrinking cash at the end of the second quarter to stand at $86 million, down from $151 million at the start of the year.  
A delisting would have multiple negative consequences for Aeropostale. It would make it more difficult for Aeropostale to raise money. If outside capital is secured, it would likely be at penalizing interest rates that would add stress to the company's already tattered bottom line. Further, it may cause creditors such as Sycamore Partners to call in their loans, which would be debilitating and possibly lead to a bankruptcy filing.
Investors in Aeropostale would still keep their ownership stake, but shares would be demoted to the over-the-counter exchanges where requirements are less strict and companies don't command the same level of respect and trust as companies on the major exchanges.  

The wild card right now for bruised Aeropostale shareholders is private equity firm Sycamore Partners, which has taken a drubbing on its investment in Aeropostale. In mid-September of 2013, Sycamore disclosed a nearly 8% in Aeropostale when its stock was trading at about $9.80, calling the company an "attractive investment."  
With the stock continuing to decline along with Aeropostale's financial state, Sycamore then extended a $150 million loan to Aeropostale in March 2014. For those loans, Aéropostale agreed to hand over preferred stock that if converted, would boost Sycamore's stake in the company to roughly 12.3%.
Given Aeropostale's depressed stock price, Sycamore has not elected to convert its preferred stock, perhaps waiting to opportunistically offer a bid for the entire company or wait to collect something of value (store sites, etc.) in bankruptcy proceedings should Aeropostale go under.
Sycamore has a history of buying troubled retailers and then seeking to turn them around, such as Talbot's, Hot Topic and The Jones Group. It has also shown a willingness to play the role of vulture investor in the retail sector -- in June 2014, Sycamore Partners acquired the Coldwater Creek brand and other intellectual property following its bankruptcy. Sycamore said at the time it intended to re-launch Coldwater Creek as an independent portfolio company.
A call placed to Sycamore Partners was not returned. 
Aeropostale chances of turning in a strong holiday season to reverse its fortunes seems unlikely as several of its teen apparel rivals are on the comeback trail, even as fast fashion retailers H&M and Forever 21 continue to pressure industry margins with cutthroat pricing tactics.  
Abercrombie & Fitch's (ANF) - Get Abercrombie & Fitch Co. Class A Report strategy shift to offering more affordable, trendier styles is beginning to pay dividends. Second quarter sales came in at $817.8 million, topping estimates for $811.3 million. Adjusted earnings per share tallied $0.12, beating forecasts for a loss of $0.08.
More importantly, same-store sales trends improved from the dismal first quarter. Same-store sales fell 7% at the Abercrombie & Fitch division during the second quarter, compared to an 9% decline in the first quarter.
And American Eagle Outfitters (AEO) - Get American Eagle Outfitters, Inc. Report blew away both Abercrombie & Fitch and Aeropostale in the second quarter in terms of sales, planting its flag as the strongest of the traditional teen apparel retailers. The company saw its second quarter same-store sales surge 11%. The company's new flex denim, which is designed to look and feel like regular jeans but is actually stretchy, was mentioned as a star performer, and tops for both boys and girls also sold briskly.