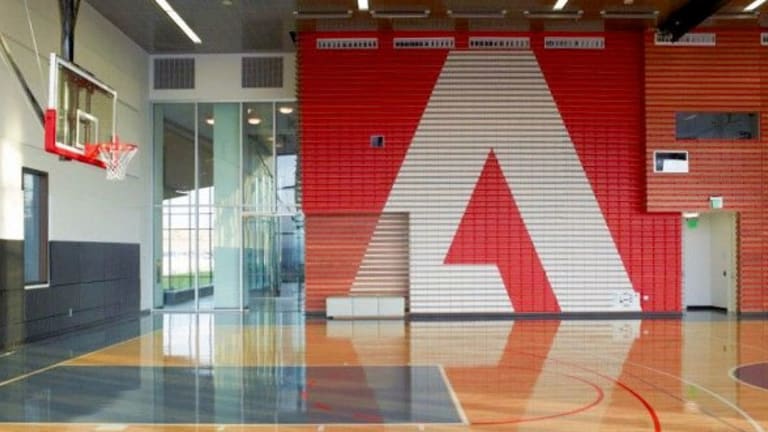 Adobe's Earnings Say a Lot About How Cloud Subscriptions Are Growing Its Available Market
Adobe's Creative Cloud suite is expanding the company's paid user base, and increasing how much revenue it gets from existing customers over the long run.
Plenty of software companies have been successful at changing their business model from one in which they typically sell licenses for packaged software on an up-front basis, with perhaps some maintenance and support revenue obtained afterwards, to one in which they sell subscriptions for apps and cloud services available on multiple devices. Microsoft (MSFT) - Get Microsoft Corporation Report, which has used its Office 365 suite to return its Office franchise to moderate growth, is a notable example. So are, to some degree, Autodesk (ADSK) - Get Autodesk, Inc. Report and Oracle (ORCL) - Get Oracle Corporation Report.
But as its latest earnings report shows, Adobe Systems (ADBE) - Get Adobe Inc. Report takes the cake in terms of how much its business model shift isn't merely replacing one type of revenue source with another, but growing the company's addressable market.
Adobe reported fiscal first quarter (February quarter) of $1.68 billion (up 22% annually) and adjusted EPS of $0.94 (up from $0.66), beating consensus analyst estimates of $1.65 billion and $0.87. Likewise, the company guided in its prepared remarks for May quarter revenue of $1.73 billion and EPS of $0.94, above a consensus of $1.71 billion and $0.91. Q1 sales growth would have been stronger (Adobe estimates 25%) if the year-ago period didn't contain an extra week.
For now, Adobe is maintaining the fiscal 2017 (ends in November) guidance it provided in December. This includes forecasts for revenue of $6.95 billion (up 18%) and adjusted EPS of $3.75. But given its latest results and guidance, those targets are starting to look pretty conservative--indeed, they were already below consensus estimates of $7.11 billion and $3.82 prior to Thursday's report. On the earnings call, CFO Mark Garrett suggested Adobe didn't revise its outlook simply because it doesn't want to be in the habit of updating guidance "so frequently."
Shares finished after-hours trading up 4%, to $127.25, making new highs along the way. They're already up 23% on the year.
The tremendous success of Adobe's Creative Cloud platform, which covers the company's core media software franchises, remains its biggest growth driver. Total Creative revenue rose 29% annually last quarter to $942 million (56% of total revenue), with Creative Cloud's annualized recurring revenue (ARR) rising 37% to $3.76 billion (above a $3.72 billion consensus).
Creative Cloud subscription growth is also the main reason Adobe's deferred revenue balance rose 28%, to $2.06 billion. As is the case for many software peers, the shift in Adobe's sales mix from licenses to subscriptions continues depressing the company's quarterly revenue relative to its billings, and big deferred revenue increases are the result.
The Marketing Cloud (ad tech software/services) unit also fared well. With the help of $32 million in revenue from video ad tech provider TubeMogul (acquired in December), the division's sales rose 26%, to $477 million. Sales were up 18% on an organic basis, and 24% if one backs out TubeMogul partner payments. A comprehensive product line is aiding Marketing Cloud--Adobe, Oracle and Salesforce.com (CRM) - Get salesforce.com, inc. Reporteasily led the pack in Gartner's latest Digital Marketing Hub Magic Quadrant--as is the steady migration of ad dollars to online/mobile channels.
Document Cloud revenue, which covers Adobe Acrobat and Sign (electronic signature services), fell 1%, to $196 million. But this figure would have been better if not for a shift toward subscription plans: Document Cloud ARR grew 19%, to $493 million. LiveCycle (business process software) and web conferencing revenue remained a soft spot, declining 18%, to $24 million.
Looking at Adobe's bottom line, operating leverage is helping EPS growth outpace revenue growth, even as big investments continue to be made in R&D and sales/marketing. While revenue grew 22%, to $1.68 billion, operating expenses grew 12%, to $975.1 million. EPS also benefited from $238 million worth of buybacks and from a relatively low 21% adjusted tax rate.
By offering reasonably priced Creative Cloud plans covering market-leading apps such as Photoshop (graphics editing), Lightroom (photo editing) and Premiere Pro (video editing), Adobe seems to be reeling in many consumers, enthusiasts and small businesses that were averse to spending hundreds of dollars or more for licenses for its traditional Creative Suite, choosing either to use cheaper alternatives or simply pirate the software. A "Photography" plan for individuals provides the Creative Cloud versions of Lightroom and Photoshop for $10 per month; businesses can get "Team" versions of individual apps for $30 per user per month, not counting volume discounts.
The bundling of mobile/web apps and cloud services with subscriptions, and the ability to quickly add more in a way that would be harder with traditional licenses, also has much to do with Creative Cloud's growth. The Photography plan, for example, comes with over a half-dozen mobile apps, along with online tutorials, media asset-syncing between devices and the ability to build a website via Adobe Portfolio. Team plans add 100GB of cloud storage per user, along with tech support and management tools.
And with the entire Creative Cloud suite featuring close to 40 PC and mobile apps--many of which integrate with each other--to go with a number of cloud services and developer tools, Adobe appears to be having some success at up-selling existing customers on the whole suite, which costs $50 per month for individuals and (prior to discounts) $70 per user per month for businesses. On the call, Adobe mentioned the pending expiration of initial 3-year Creative Cloud agreements with many enterprises could boost its average revenue per user (ARPU), since many of the new deals could involve the entire suite.
It's safe to say that Adobe's transition toward subscription revenue streams is largely complete. 85% of February quarter revenue came from recurring sources, and 82% from subscriptions. And it's also clear that a dollar of lost license revenue is often being replaced (over the long run) by more than a dollar in subscription revenue, particularly among those who weren't prone to upgrading to new versions of Adobe's traditional packaged software frequently.
With the caveat that near-term earnings are depressed by the subscription shift, Adobe isn't as cheap as it used to be. If the company delivers $5 in EPS in fiscal 2018 (the pre-earnings consensus was $4.83), it's still trading for 25 times that figure. But between its quarterly numbers and the way its core software franchises are maintaining (if not strengthening) their dominant positions, the company has been giving bulls plenty of reasons to assign it a premium valuation.
RELATED:Adobe Stock Rises on Earnings Beat
, which Cramer manages as a charitable trust, is long ADBE.