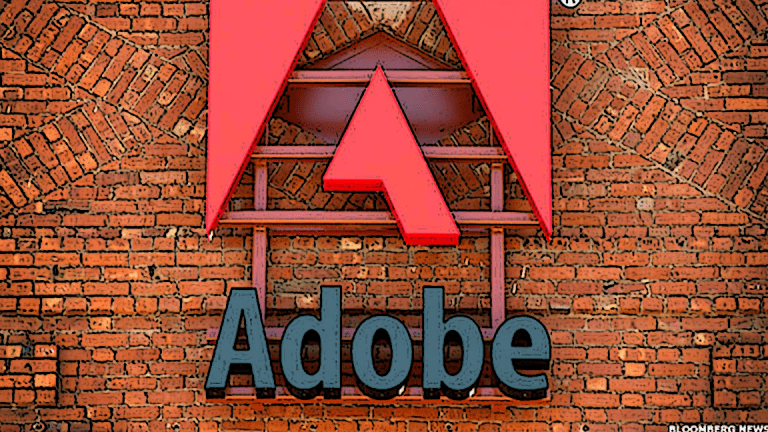 Publish date:
Adobe, Micron, Citibank and Other Stocks That Look Good for April
TheStreet's Stephen 'Sarge' Guilfoyle runs down how he's positioned for the new month.
TheStreet's Stephen 'Sarge' Guilfoyle runs down how he's positioned for the new month.
If you had to describe the market's performance in March, one word would suffice: "Violent." What will April bring?
Well, some things that we learned in March are that:
Exposure to China matters;
Instability within President Trump's inner circle matters;
Short-term borrowing costs matter;
Monetary policy always matters;
Deficit spending carries with it great concerns for the longer term.
On top of all of these potential negatives, we learned something even more profound in March -- passive investing is not docile in the least.
As my fellow Real Money columnist Peter Tchir, who's also head of macro at Academy Securities, recently wrote: "Passive [investing] doesn't mean just blindly dumping money into a strategy and leaving it there for all eternity. Passive to me is partly driven by the fact that it creates some flexibility and the ability to trade intraday. ... That is why we often see big rotations in the passive funds as investors shift risk preference."
The increased fund investment that we've seen in recent years' less-volatile environment has left us with a modern marketplace where, as Jim Cramer might put it, the "pin action" is incredible. Heightened sector rotation means that good stocks get tossed aside with the bad. Bad stocks benefit undeservedly as well.
We might complain that this makes for an inefficient market, but it presents those of us who can differentiate between a good stock and a lousy one with great opportunities.
That said, the hardest thing in the world for investors to decide right now might be much of the air being let out of the tech sector's tires is justified.
Obviously, a sizable chunk has to be priced out of the space given the recent controversies involving Facebook (FB) - Get Report and Amazon (AMZN) - Get Report . In fact, all of the much-ballyhooed FANGs -- Facebook, Amazon, Netflix (NFLX) - Get Report and Alphabet/Google (GOOG) - Get Report , (GOOGL) - Get Report -- will face much more scrutiny going forward over the way they collect and use our personal data. That's been the initial catalyst for much of the market's recent rotation away from the tech space.
However, the semiconductor stocks have some problems of their own. For instance, Nvidia (NVDA) - Get Report halted its self-driving-vehicle program after Uber recently saw a fatality involving an experimental autonomous car. We don't yet know what that means for self-driving cars, let alone the broader development of artificial intelligence.
Then there's the rapid decline not only in bitcoin prices, but even in online searches for the word "bitcoin." Those are two quick reasons to wonder if the chip demand that we understood to be huge might slow down despite robust markets for gaming and data-center applications.
So how am I playing things? Here's how I've set up my portfolio for April and beyond:
Banks. As the yield curve collapsed, I trimmed my stake in Goldman Sachs (GS) - Get Report and sold my position in Bank of America (BAC) - Get Report for a small profit. However, I remain long Citigroup (C) - Get Report based on the company's plans for returning capital to shareholders, while my long position in the SPDR S&P Bank ETF (KBE) - Get Report remains unchanged.
Consumer Stocks. As markets went into serious beat-down mode late in the month, I re-initiated long positions in old favorites McDonald's (MCD) - Get Report and Walt Disney Co. (DIS) - Get Report .
Tech. I added on weakness to some of my favorite tech positions, including Adobe Systems (ADBE) - Get Report , Micron Technology (MU) - Get Report and Salesforce (CRM) - Get Report . However, I took profits on a partial sale of my stakes in Amazon (AMZN) - Get Report and Lam Research (LRCX) - Get Report , and also took a loss closing out my position in IBM (IBM). On the trading front, Nvidia and Oracle (ORCL) - Get Report presented us with a gift during the market's big selloff day and I took it. I dumped half of each before the worst of the selling hit, then bought it all back later in the day at lower prices. I remain long on both stocks, but took some capital out of each.
Defense. Regular readers know that I like defense stocks, and I remain long on General Dynamics (GD) - Get Report , Lockheed Martin (LMT) - Get Report and Raytheon (RTN) - Get Report . I also like lesser-known Kratos Defense (KTOS) - Get Report , which offered a great buying opportunity when well-known short-seller Ben Axler targeted the name. I added to my stake then on weakness, and so far, so good.
General Electric. I'm still long General Electric (GE) - Get Report , but it remains a problem on my book. I did add to my GE position at close to the recent lows and have frequently written both GE puts and calls -- anything to drag down my basis. I've made significant progress on that front, whittling my basis down to about $16.05 a share. That's not bad for a position that started out about $27, but I'm still in the red on this one.