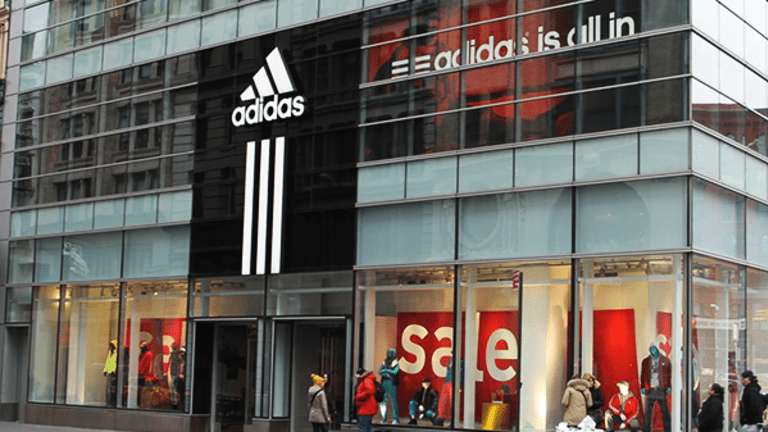 Nike Officially Arrives on Amazon, but Then Adidas' Stock Does Something Bizarre
Nike joins forces with Bezos.
Adidas AG (ADDYY) shares surged in early Friday trading just hours after its biggest competitor announced a lucrative partnership to sell sports apparel with online giant Amazon.com Inc.  (AMZN) - Get Report
Shares in the German sporting goods maker rose more than 3% in the 90 minutes of Frankfurt trading to change hands at €169.28 each, pushing it to the top of the DAX and making it the best performing stock in Europe. Adidas shares, however, have fallen around 5% in the second quarter against a 1.3% gain for the benchmark.
Nike Inc. (NKE) - Get Report  shares were 11% higher by Friday's close at $59.08 each after the group confirmed late Thursday that it has teamed up with Amazon to sell certain products on the e-commerce conglomerate's site.
"We're in the early stages, but we really look forward to evaluating the results of the pilot," CEO Mark Parker said on an analysts' call.
The move appears to be the latest attempt by Nike to arrest its declining domestic market share, a portion of which has gone to rival Adidas, which has an existing partnership with Amazon in the US, the company told TheStreet, and a unique landing page on the site. 
Although Nike products can currently be found on Amazon, they are sold through third-party retailers.
Nike also reported fourth-quarter earnings of 60 cents a share on revenue of $8.7 billion, beating Wall Street's estimates for earnings of 50 cents a share on revenue of $8.6 billion. Shares in the company surged more than 7% in after hours trading to $57.32 Thursday.
Adidas has been outperforming Nike of late. In May, after the sportswear group confirmed its full-year outlook earnings outlook as online sales and a revitalised Reebok brand boosted first quarter profits.
Adidas said net income for the first three months of the year came in at €455 million ($494 million) nearly 30% higher from the same period last year. Group sales, adidas said, rose 18.9% from the first quarter of 2016 to €5.67 billion.
The German group has been throwing its weight behind digital and hopes to quadruple its online sales to $4 billion by 2020.
"Our single most important store in the world is our dot-com store, there is no comparison," said Kasper Rorsted, chief executive officer of Adidas AG during a press conference in March. "We will aggressively invest in all of the digital aspects of our company. This is only the beginning."
Visit here for the latest business headlines.
Read More Trending Articles:
Apple Has Dropped Another Beta Product That No One Is Talking About -- Here Are Its Top 5 Features