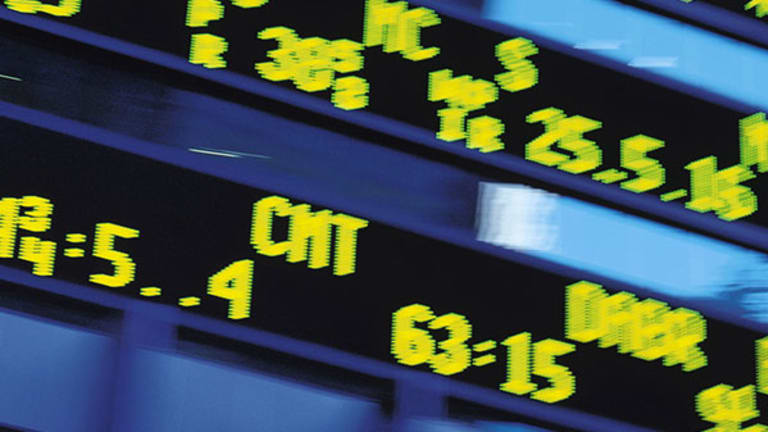 ADBE, CRM and AVGO: Jim Cramer's Views
Jim Cramer shares his views on mutiny from the orthodoxy. Adobe, Salesforce and Broadcom are among the stocks discussed here.
NEW YORK (Real Money) -- Jim Cramer shares his views every day on RealMoney.Click here for a real-time look at his insights and musings.
Cramer: Don't Speculate on Broken-Down Oil Names

Posted at 11:19 a.m. EDT on Tuesday, April 5, 2016
Where are the deals in the oil patch? We keep waiting and waiting. Stocks drift down that have all of these assets. They sell for a fraction of what they once did. Where are the opportunistic companies, the ones with the cash and the fabulous balance sheets? What the heck are they waiting for?
The answer: They aren't waiting. They simply don't care. Why? Steve Chazen, Occidental Petroleum's (OXY) - Get Occidental Petroleum Corporation Report outgoing CEO, said it best when we asked him about why there have been no deals of any consequence since the downturn.
First, the asset quality of most of the companies with stocks on their butts is poor. "They have break evens, maybe at $80 oil," he said. "Nobody needs to pay $80 breakeven oil properties."
How true. Rusty Braziel, my most trusted authority on oil and author of The Domino Effect, said of the shale revolution in this country that only a dozen counties actually produce oil at any real profit at these prices. Needless to say the distressed companies do not have assets in those counties.
Second, Chazen says the down-and-outers "have lousy balance sheets, so if you buy them you're stuck with lousy balance sheets." An outfit like Action Alerts PLUS holding OXY, which has among the best balance sheets in the industry, could refinance high debt at low prices. But why bother if the prospects aren't any good anyway?
Third, he says, "there's lots of optimism still by management that it's going to be okay in six months, if they can just make it." This is dead right. I cannot believe how optimistic most oil people are about oil making a big comeback in a short period of time. It is true that there's a lot of falloff in U.S. oil, and that we could be producing a million fewer barrels next year than the approximate 9 million barrels a day we currently produce. Others, noticeably Iran, are making up for it. But oil men in this country seem almost surreally optimistic that oil can double in a year's time. It's just not going to happen.
Finally, Chazen points out that, unlike mergers in most industries, the "synergies and combination of exploration and production companies are really low." Therefore, he says, the deals are awfully hard to explain to shareholders.
Now we hear a lot about how producers are getting together at a meeting on Apr. 17 - perhaps to resolve some sort of freeze. I think the endless self-serving chatter from each individual oil minister has been responsible for a lot of the movement higher in oil by suggesting that some deal can be reached. To me, it is almost an impossibility. There is no OPEC any more. There is no restraint. There's just the Saudis pumping like mad to wreck our shale industry and the Russians pumping like crazy to meet budget needs post-Ukraine-sanctions, and Iran and Iraq going nuts producing because of a critical need for cash.
Put it altogether, and what I think you have is a situation where strapped producers will sell oil above $40 at a loss just to generate some cash flow to pay debts.
That will drive oil back into the $30s as it yo-yos to and fro, although I doubt it gets back to $26, the low earlier in the year.
And Occidental? It's in the catbird seat, with an amazingly strong balance sheet, an easily affordable dividend and, best of all, a major of those counties that can produce lucrative oil at these prices.
So, don't speculate on the broken-down stocks. There will most likely be no buyers. Go for the highest quality. That way you can win if oil goes lower or if it goes higher, and that's the best calculated risk in the entire oil and gas complex.

At the time of publication, Action Alerts PLUS, which Cramer co-manages as a charitable trust, was long OXY.

Cramer: There's Almost a Mutiny on Which Charts Are Winning
Posted at 6:00 a.m. EDT on Monday, April 4, 2016
My existence led by confusion boats, mutiny from stern to bow.
That line from Bob Dylan's "My Back Pages" keeps bouncing through my head when I go over the charts because the winners are so confusing, confusing to the point that it's a mutiny from the orthodoxy to which we've all become so accustomed. Second nature's not working. Maybe, I was so much older then and I have to be younger than that now.
Where are the confusion boats?
Let's start with the obvious: the three strongest sectors in this market are the companies integrally involved in construction, both domestic and commercial, and the consumer packaged goods and utilities.
That's the mutiny from orthodoxy writ large, the idea that we could be so bipolar that some would think we could be in a construction boom while others think a recession is around the corner.
What can explain it all?
It's possible that interest rates are so low and credit is freeing up enough that there's building going on. We know residential's been strong for some time. That's what Home Depot's (HD) - Get Home Depot, Inc. (HD) Report stock has been saying and now, even after that foray into Canada, the trend is strong enough to capture Lowe's (LOW) - Get Lowe's Companies, Inc. (LOW) Report , too. You see the strength in Whirlpool (WHR) - Get Whirlpool Corporation (WHR) Report , now aided by a bizarrely strong Real for that atavistic Brazilian business. But also it's in Masco (MAS) - Get Masco Corporation (MAS) Report and Stanley Black & Decker (SWK) - Get Stanley Black & Decker, Inc. Report , Weyerhaeuser (WY) - Get Weyerhaeuser Company Report , RPM (RPM) - Get RPM International Inc. Report , PPG (PPG) - Get PPG Industries, Inc. Report and Sherwin-Williams (SHW) - Get Sherwin-Williams Company Report , although the latter could be all about the coming Valspar (VAL) - Get Valaris PLC Class A Report consolidation.
I have been so impressed with Briggs & Stratton (BGG) - Get Briggs & Stratton Corporation Report and the spring selling season could be great for outside-the-house fixer-upper products. Leggett & Platt (LEG) - Get Leggett & Platt, Incorporated Report and Fortune Brands Home & Security (FBHS) - Get Fortune Brands Home & Security, Inc. Report aren't quitting any time soon.
You get the sense that the homebuilders are really starting to fire on all cylinders again. How else to justify the strength of  aggregate companies like Martin Marietta Materials (MLM) - Get Martin Marietta Materials, Inc. (MLM) Report , Vulcan Materials (VMC) - Get Vulcan Materials Company Report and Waste Management (WM) - Get Waste Management, Inc. Report , which really is a play on residential construction.
But it's the commercial part that's intriguing, because it's new.
Grainger (GWW) - Get W.W. Grainger, Inc. Report , Fastenal (FAST) - Get Fastenal Company Report , Illinois Tool Works (ITW) - Get Illinois Tool Works Inc. (ITW) Report , Nucor (NUE) - Get Nucor Corporation Report --even after it preannounced to the downside for the bazillionth time -- and all the commercial heating ventilation and air conditioning companies.
Could it, at last, signal that we have worked our way through the office building boom and bust that was integral to the Great Recession? Tough to tell. It sure isn't new shopping malls or centers. The REITs in that sector aren't building much at all. I have to believe that commercial construction's nascent, but growing.
Then there are those confusion boats of consumer packaged goods. It's hard not to find one on the 52-week high list: Campbell's (CPB) - Get Campbell Soup Company Report , Church & Dwight (CHD) - Get Church & Dwight Co., Inc. Report , Coca-Cola (KO) - Get Coca-Cola Company Report , Colgate (CL) - Get Colgate-Palmolive Company Report , ConAgra (CAG) - Get Conagra Brands, Inc. Report , Constellation Brands (STZ) - Get Constellation Brands, Inc. Class A Report , Estee Lauder (EL) - Get Estee Lauder Companies Inc. Class A Report , General Mills (GIS) - Get General Mills, Inc. (GIS) Report , Hershey (HSY) - Get Hershey Company (HSY) Report , Kimberly-Clark (KMB) - Get Kimberly-Clark Corporation (KMB) Report , McCormick (MKC) - Get McCormick & Company, Incorporated (MKC) Report , Molson (TAP) - Get Molson Coors Brewing Company Class B (TAP) Report , PepsiCo (PEP) - Get PepsiCo, Inc. Report , Procter (PG) - Get Procter & Gamble Company Report and Smucker (SJM) - Get J.M. Smucker Company (SJM) Report . I find myself reconciling that these aren't recession stocks.
They are plays on deflation still so prevalent in the commodity complex. It gives you some solace to see Tyson (TSN) - Get Tyson Foods, Inc. Class A Report in the group. After all, that's just a raw bet on the agriculture complex coming down.
One thing's for certain, even though the utilities are flying strong, the best of the consumer packaged goods stocks right now are no longer in the bond market equivalent territory. The best of the best, arguably, are the ones with the most exposure to overseas -- wagers that the weaker dollar is at last upon us.
If that's the case, then why the retreat to the domestic security of the utilities? Maybe that's just the Fed green-lighting natural, and therefore low, rates. You got a better explanation if construction is strong? I sure don't.
The other patterns I see? They are portfolio default winners, a desire of portfolio managers to have faux financials and faux health care because of the endless and enduring underperformance of net interest margin starved banks and politically bereft drugs and biotech.
The former always seem to propel the usual cast of benign, but growing, characters: Fiserve (FISV) - Get Fiserv, Inc. Report , MSCI (MSCI) - Get MSCI Inc. Class A Report , Morningstar (MORN) - Get Morningstar, Inc. Report , Equifax (EFX) - Get Equifax Inc. Report -- what a perennial winner that is -- as well as all of the insurers. Chubb (CB) - Get Chubb Limited Report remains my favorite, with Travelers (TRV) - Get Travelers Companies, Inc. Report a close second. Cincinnati Financial (CINF) - Get Cincinnati Financial Corporation Report , Progressive (PGR) - Get Progressive Corporation Report and AON (AON) - Get Aon plc Report are tiresomely can't-miss names.
In health care it's the default-to-device theme that endlessly prevails: Boston Scientific (BSX) - Get Boston Scientific Corporation Report , Bard undefined , Zimmer Biomet (ZBH) - Get Zimmer Biomet Holdings, Inc. (ZBH) Report and Stryker (SYK) - Get Stryker Corporation Report . The latter two always feel like takeover names. As always, I am most impressed with Edwards Lifesciences (EW) - Get Edwards Lifesciences Corporation Report , with that device that allows cardiologists to perform open heart surgery without cracking the chest cavity, perhaps the greatest innovation since Intuitive Surgical's (ISRG) - Get Intuitive Surgical, Inc. (ISRG) Report Da Vinci machine -- or at least the charts seem to say.
Finally there's the high-growth stocks as always that stand out: Adobe (ADBE) - Get Adobe Inc. Report and Salesforce (CRM) - Get salesforce.com, inc. Report in software, Broadcom (AVGO) - Get Broadcom Inc. Report , Lam Research (LRCX) - Get Lam Research Corporation (LRCX) Report and the always-undervalued Texas Instruments (TXN) - Get Texas Instruments Incorporated Report . Facebook (FB) - Get Facebook, Inc. Class A Report and, of course, Alphabet (GOOGL) - Get Alphabet Inc. Class A Report always amaze, and new stocks Flextronics (FLEX) - Get Flex Ltd. Report and Accenture (ACN) - Get Accenture Plc Class A Report are breaking out nicely.
But I keep coming back to those confusion boats and perhaps the notion that there is no mutiny, just harmony among those who think things are great and those who think they aren't and maybe never will be.
At the time of publication, Action Alerts PLUS, which Cramer co-manages as a charitable trust, is long FB and GOOGL.

At the time of publication, Action Alerts PLUS, which Cramer co-manages as a charitable trust, is long OXY, FB and GOOGL.