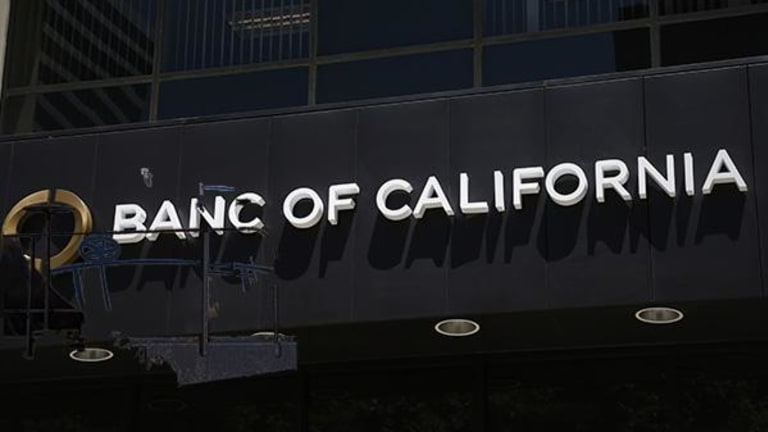 Banc of California Confronts Lawsuit, SEC as Activist Pushes Sale
Legion, which has amassed a 6.3% stake in Banc of California, has 'serious concerns' about corporate governance at the West Coast lender, whose CEO, Steven Sugarman, resigned on Monday.
This article, originally published at 2:47 p.m. on Tuesday, Jan. 24, 2017, has been updated with a federal court action, market data and analyst comments.
Banc of California (BANC) - Get Free Report  , whose CEO resigned earlier this week, is grappling with a class-action shareholder lawsuit along with a probe by the Securities and Exchange Commission while an activist pushes the company to sell itself.
Fernando Garcia, a shareholder in the Irvine, Calif.-based bank, filed a class-action complaint in federal court in California on Wednesday, claiming that he and other shareholders weren't properly informed about risks related to ties with fraudster Jason Galanis that were alleged in a Seeking Alpha blog post last fall.
While the bank's attorney denied the claims, which included an improper link between CEO Steve Sugarman's investment firm COR Capital and Galanis, on the day they were made, the company subsequently hired a new law firm to look into the matter. Banc of California announced Sugarman's resignation this week and said that some of its earliest statements on the matter mischaracterized how the review was being handled.
Sugarman, who became CEO in 2012, held the role during a period when the bank made at least $15 million in acquisitions and increased its total assets seven-fold to $11.2 billion. The takeovers included Palisades Group, a firm that retained Sugarman's brother as a consultant, and the the bank later invested a reported $100 million in a stadium for a Los Angeles soccer team partly owned by the CEO's sibling.
The C-suite shakeup, which including separating the role of chairman, is a positive for the bank, Gary Tenner, an analyst with D.A. Davidson, said in a note to clients. While progress in the ongoing investigation commissioned by the board is encouraging, the SEC's formal probe presents "at least a near-term headwind for the stock," he added.
Banc of California's public relations firm, Abernathy MacGregor, didn't immediately return a message seeking comment.
Its shares have fallen 6.5% this week to $15.10, and activist investor Legion Partners, which holds a 6.3% stake, said the company should consider selling itself because corporate governance concerns are overshadowing its operational performance.
The SEC's review of the company's handling of the Galanis claims only exacerbated those worries.
Galanis, the of infamous New York financier John "Yanni" Galanis who was sentenced to 27 years in prison in the late 1980s, pleaded guilty in July, along with his father, to manipulating the market for shares of Gerova Financial between 2009 and 2011. Jason Galanis was 46 at the time, and his father was 73.
Gerova, a Bermuda-based insurer, filed for bankruptcy in 2012.
Banc of California now says comments last fall inaccurately described its review of the alleged ties to Galanis as being started by its board rather than management and that company disclosures overstated both how closely independent directors were involved and the degree of the company's contact with regulatory agencies. 
Additionally, the company said, shareholders were not told at first that the law firm originally reviewing the complaints had previously represented both Banc of California and, separately, its CEO.
The later investigation by Wilmer Hale, a law firm with no previous ties to the bank, has found no evidence so far that Galanis has any "direct or indirect control or undue influence," the company says.
Still, the bank's correction left investors even more concerned, according to the Tuesday regulatory filing submitted jointly by Legion Partners and the California State Teachers Retirement System. The two holders said they have "lost confidence in the board and independent directors."
One of the bank's largest investors, PL Capital, has already nominated two new board members, which Banc of California has said it would consider including on the proxy at this year's annual shareholders meeting. The firm proposed Richard Lashley, one of its principals, and Thomas O'Neill, a former founding principal of Sandler O'Neill + Partners.
Along with adding new independent directors to help with the critical tasks of replacing the CEO and improving corporate governance, Banc of California should retain a financial adviser to "consider all strategic alternatives" including a sale, Legion and CalSTRS said in their filing.
Banc of California traded at a 15% discount to the KBW Bank Index as of Tuesday and much of the upside in its stock price could be unlocked through an acquisition, the strategy that Legion prefers, according to a person familiar with the matter who declined to be identified discussing private deliberations.
Such a deal would eliminate the risk associated with trying to find a qualified CEO and then transitioning to new leadership, the person said.
The teacher's retirement system, better known as CalSTRS, continues to back a shareholder resolution last year that would allow a change to the bank's bylaws with a simple majority vote rather than the 80% approval required now. CalSTRS, the world's largest pension fund for educators, held a 0.2% stake in the bank valued at $1.6 million as of Sept. 30.
The current approval standard for bylaws changes "is impractical, unusable and only gives stockholders a facade of control over the company," the pension fund said in the proposal.
Banc of California said this week that it has already made some changes to its governance, including separating the roles of chairman and CEO, a policy CalSTRS supports for all corporations. Following Sugarman's departure, Chief Risk Officer Hugh Boyle will serve as interim CEO and Robert Sznewajs, who helms the joint audit committee, will serve as board chairman.