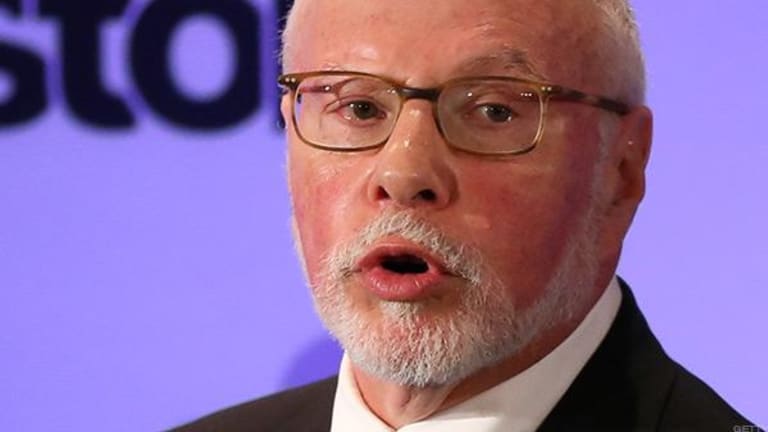 Publish date:
Activist Elliott Launches Campaign at NXP
The activist investor holds a 6% stake in the semiconductor company
The activist investor holds a 6% stake in the semiconductor company
Activist investor Elliott Management's Paul Singer on Friday launched a campaign at NXP Semiconductors (NXPI) - Get Report with an activist filing suggesting that the insurgent fund will negotiate with "potential acquirers" and financing sources.
NXP shares are up 1.06% to $111.83 a share on the news.
The move comes after Qualcomm extended a $47 billion acquisition offer for NXP Semiconductors, a deal that was announced in October. It also comes after a report in May suggesting that Elliott Management wants Qualcomm to pay more than $110 per share.
The activist fund said it believes NXP's shares are "significantly undervalued," adding that there are a number of opportunities to maximize shareholder value.
The activist investor has a 6% stake, including 4.9% stake in common shares and an additional 1.1% derivatives investment, according to an activist 13D filing Friday.
NXP is also a holding in the Action Alerts PLUS charitable trust portfolio, which is managed by TheStreet's founder Jim Cramer.
Late Wednesday evening, NXP Semiconductors (NXPI) - Get Report reported an in-line quarter, with revenue of $2.2 billion slightly edging out the consensus for $2.196 billion. Adjusted earnings of $1.51 per share fell one penny short of consensus, but non-GAAP operating margins remained strong, increasing to 28.4% (up about 11% year over year) and beat expectations, thanks to synergy-capture efforts.
By segment, the company delivered record sales again in the second quarter, with the automotive division reaching $938 million in revenue (up 9% year over year). While coming in $20 million below expectations, management noted: "We continue to experience exceptional traction with the combination of our automotive micro controller and advanced analog products, as automotive OEMs increasingly realize the benefit of designing-in our complete systems solutions."
Secured Connected Devices revenue slightly beat consensus, reaching $588 million for the quarter. Up 14% year over year, this segment benefited from strong demand in its i.MX application processor products.