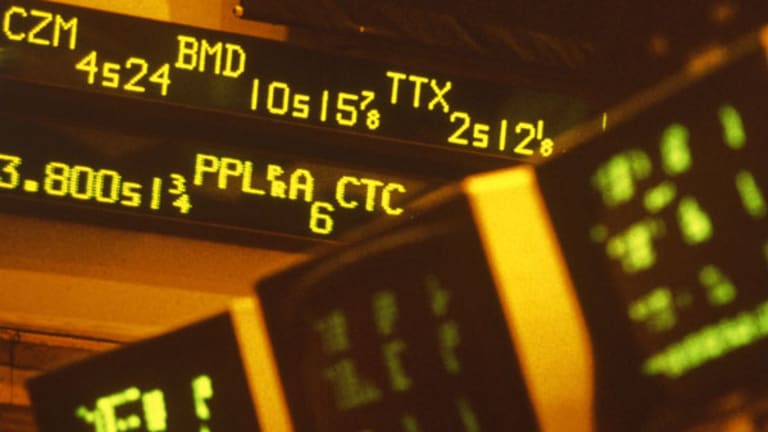 Action Alerts PLUS 2013 Investment Outlook
Jim Cramer and Stephanie Link, co-portfolio managers of Action Alerts Plus (Jim Cramer's Charitable Trust), discuss their 2013 investment outlook.
NEW YORK (Action Alerts Plus) -- Hi, I'm Stephanie Link. I'm the co-portfolio manager of Action Alerts Plus, and here with me is Jim Cramer. We want to talk about our 2013 portfolio strategy. Jim, 2012 was pretty good for us.
Jim Cramer:
16.7 percent which is better than the S&P
and you know how hard that is playing with one hand behind out back because everybody gets our alerts before we can take action. I always laugh because when I first started, you know, everyone told me in the money management business, 'Well, you idiot. First of all you're revealing your strategy. Second, you're giving them a head start.' You know, what is was always about, giving people a head start, head start in what we're up to, and that's why I feel good about it.
Stephanie Link:
And it's more than just about stock picking. It's also about education which I think is really very valuable for our subscribers. So 2012, unfortunately is behind us. We have to turn the page.
Jim Cramer:
I know. I always felt that way at the beginning of the year when I was a hedge fund manager. It's like, 'Oh my God. The clock started again.'
Stephanie Link:
I know, but we do have some good themes for 2013. So maybe we can through that, a few of them. You can start and we'll throw a few stock ideas in there as well.
Jim Cramer:
Well, talk about there was a great upgrade today of price target risk for Weyerhaeuser and this WY is probably part of our central thesis that the consumer is doing better. And I was listening to Byron Wien, an old friend of mine talk about how bad the S&P is going to do today, and we're stock pickers. I don't really care about how bad the S&P is going to be first quarter, second quarter. You try to find transcendent themes and housing is a transcendent theme, whether it be with our regional banks or whether it be with Weyerhaeuser.
Stephanie Link:
Right. Housing and construction in general and one new position that we recently added to, that we put into the fund, is United Technologies because you get half of the revenues from construction, right, because of HVAC and all that and their Otis elevators and whatnot, and then you also do get the global aerospace, which is a little controversial right now because of the Boeing issue, but we did sell Boeing. We thought they were a little too much headline risk, but we still like that theme.
Jim Cramer:
Look, 8,900 orders for big aircraft, commercial business orders way up. Where am I getting these numbers from? From Klaus Kleinfields' mornings in the Alcoa call last night. You want to be levered to construction because construction is a function of architectural buildings. You want to be levered to the fact that housing starts keep going up. We had an affordability number that was fabulous. You want to be levered to China. There's United Technologies. Remember this is a company that makes elevators and if you're building buildings you're going to be in United Technologies. These are very good things. HVAC, you know, the heating, ventilation, air conditioning. And I like these themes because when the market goes down, they're not done. There are opportunities.
Stephanie Link:
Right. And so that's the one bright spot in the US, right. We definitely agree on that. And what we've actually started to focus on is outside the US. So it is China, and it is Latin America, Brazil and it is also Europe stabilizing. Japan may be just getting going, and so we've actually put in a few ETFs, which is kind of rare for us to do.
Jim Cramer:
Highly unusual, but you know what? When you're in a world where you think that the government could shut down...look, I'm not being political and I hate politics. When you're in a world though where the headlines are based in DC, you know what? I want to be based in Tokyo, I want to based in Berlin, and most importantly I want to be based in Beijing. And I think what people have to understand is that it's possible that the Chinese government is going to get that command economy back to double-digit growth, and if that's the case it's a rising tide that does not lift all boats, it lifts the boats we're in, and I think that's really important because we're playing China directly. Japan look, they're finally reflating. I was thinking this morning of you know, Panasonic has a new TV, it's actually a big tablet, and I was thinking, 'Oh, geeze. Well they're idiots.' No. No. They have always been good manufacturers but it's been too expensive. And then Europe, go back over the Alcoa call. What happens before you bottom is you have to decline in the rate of decline and that's where we are with Europe. We have some yield there, too. I like these.
Stephanie Link:
Yeah. So we have more of our portfolio has definitely been towards the cyclical names for sure.
Jim Cramer:
And less United States except for the consumer...
Stephanie Link:
That's right.
Jim Cramer:
But we're not that big in retail, which you know, I waffle over. That's hard.
Stephanie Link:
Well, it's probably the right call for now, but we're looking on opportunities so we talk about Ross stores a lot, but we like TJ (Maxx) better, so if that one were to come down that might be one name that we add to.
Jim Cramer:
Right, and the little guy always likes to be upfront, and one of things that's great about the product, we didn't get Bed Bath right. We didn't get Dollar General right. What can the investor learn from...well, they can say, 'Well listen, you guys are clowns.' Hey, listen, I've been called a clown multiple times. I used to have the hair like the Bozo, but what's really important is that we recognize when we make a mistake, and then we try to figure out how to improve. We've looked at Home Depot too, and we're not going to own an Amazon, I think, because that's...MasterCard's tough enough. I mean, you come in everyday and the stocks down 10 or up then Apple's difficult, but I think that this theme that we're seeing is the consumer is better than expected. Washington's worse than expected so therefore you have bad headline risk whether it be from Boeing or actually for the economy, but you do have a secular tailwind in the fact that we were building 400,000 homes just a few years ago and that's way under what we could be. Secular tailwind, I think something you and I both feel we've got to be more involved in, it's auto. And we're in Key (Corp.), which would be lending for auto. Wells (Fargo) is a giant lender for auto.
Stephanie Link:
And you're looking at Ford and I'm looking at Borg-Warner and we're constantly battle between which one do we want to own.
Jim Cramer:
What people have to understand, I mean, look, at 4:30 in the morning I'm getting e-mails from you and I'm responding instantaneously to yours, but because what we're about is trying to get it right. And I think that one of the things that I hope people understand is when you're trying to get it right, that means can I handle the pain of Southwestern, because it's warm out. Is it better not to be in Chevron? We bounced back Hess, but there's no dividend. It was a bad idea before. Conoco, there's dividend, but there's no growth. What we're about is duking it out. That's very similar to what I've seen in the really best investment houses, which is you think it is...oh, let's just use an example, Boeing versus United Technology. Do I feel badly that Boeing's up today? I like Boeing. I like Mac and Ernie, but you know, no, I don't feel bad because that means United Technology is going to go up, too.
Stephanie Link:
That's right. So one last point, you have to be diversified. We have stressed that so many times that you can't just own all of one sector or even be all in cyclicals. So on the defensive side, one of the themes that we've also chosen to focus on is merging markets, right. So even if Procter and Gamble might be a little boring, might not have a lot of beta, we kind of like that as an offset, and they are gaining growth in those markets. Same thing like Abbott (Labs), and I think the split was really fabulous. News Corp...so there's a lot in terms of on the defensive sides that you can find as well.
Jim Cramer:
Right. Breaking up is easy to do. I saw Viacom today go up even though it's not doing as well as News Corp with Fox, but you know what? Fox isn't doing...but it doesn't matter. The breaking up is going to bring up big value. Abbott is bringing up big value. Miles White, who really is the engine behind Abbott, very smart CEO versus okay, McDonald at Procter and Gamble. Two ways to win Procter and Gamble. McDonald either gets it right, or Mac and Ernie who is the Boeing CEOs on the board of Procter and Gamble, I think he's, 'Listen it's time for you to step down.' Two ways to win in Procter and Gamble. I always like to have an ace up the sleeve, whether it be the dividend behind it, whether it be management change, whether it be the possibility of a breakup, whether it be something which just says, 'You know what? The normalized earnings power has been misunderstood. It can really come back here.' which is also key in Wells Fargo. So I mean, I want to emphasize at all times we're looking for multiple ledges, we're trying to be diversified and may I just point out that in a very tough year we had, it was like that the beginning of 2009, we had nine oil companies, or oil-related companies and it was our Achilles's heel. And as much as people might think, 'Banks, so fabulous. Why don't you own 10 banks? Tech gets hot. Why don't you own...?' I mean, in the end like Broadcom announced better than expected. The stock barely went up. You know, Seagate, you can go buy STX, but it's low quality. You have to be in the panoply and we try to pick out which to overweight because that's what a good manager does.
Stephanie Link:
That's right. Well, great. Well I hope that 2013 is as good as 2012.
Jim Cramer:
Well, let's sure hope...I mean, really look, hope shouldn't part of the equation, but yes. The year starts exactly that way. Every year it's been for me and my 33 year in the game.
Stephanie Link:
Great. Thanks.
----------------
Looking for more
? Don't miss
Jim Cramer's 10 stock market predictions for 2013
and
Doug Kass's 15 surprises for 2013
.
At the time of publication, the Action Alerts Plus portfolio, which is managed by Jim Cramer and Stephanie Link, was long WY, UTX, MA, AAPL, KEY, WFC, CVX, SWN, PG, ABT, NESA.