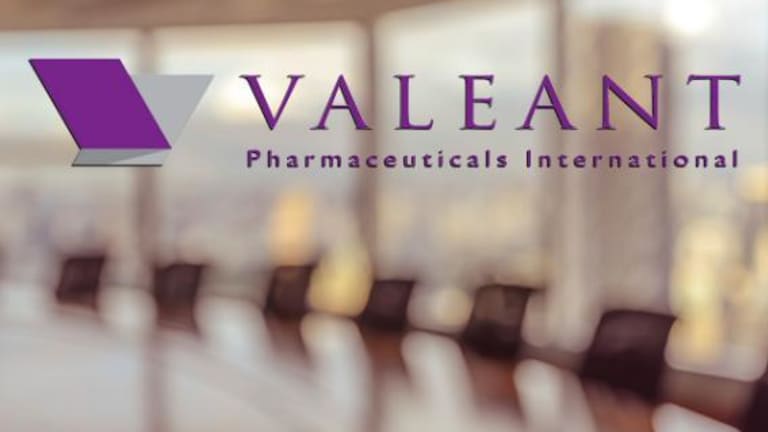 Ackman: Valeant Can Sell Non-Core Assets to Reduce Debt
The billionaire activist investor says selling Salix and non-core assets would help get the beleaguered drugmaker on track.
(Editor's note: This article originally appeared at 2:54 p.m. ET on Nov. 10 on Real Money, our premium site for active traders. To get great columns like this from Jim Cramer and other top columnists earlier in the trading day, click here.)
Many investors have all but lost hope that Valeant Pharmaceuticals (VRX)  can find its way out of its $30 billion debt swamp. But billionaire activist Bill Ackman, a Valeant board member, says there's an exit strategy that can even leave a hefty pile of cash on the books. 
There are several ways for Valeant, which Ackman views as substantially undervalued, to extricate itself from its debt problems, he said on a Thursday teleconference with investors of his Pershing Square hedge fund.
"I don't think the world will look at this company on a sum-of-the-parts basis until it has a more conservative balance sheet," he said. "And to that end, the company has an asset-disposition program that is under way."
By selling assets deemed "non-core" to its central business model, Valeant is likely to rope in more than $8 billion of cash, Ackman said, and proceeds from selling its Salix businesses -- which control Valeant's key stomach drug, Xifaxan -- could pull in about $8.5 billion in cash and another $1.5 billion in royalties, according to recent reports by Dow Jones and The Wall Street Journal.
"Think about Valeant in a world in which it sold half or all its noncore assets, plus Salix," Ackman noted. "it could pay off all its bank debt, have significant net cash, would own a mix of businesses that would be of a disproportionately higher nature."
And through scrapping non-core assets -- and even Salix -- Valeant will be left with a substantially more attractive balance sheet and proportion of high-quality businesses, including "crown jewel" assets such as eye-care gaint Bausch & Lomb as well as Valeant's over-the-counter dermatology businesses, he added.
"Very high-quality businesses are becoming a bigger percentage of the company, and the lowest-quality businesses are becoming a smaller part of the business," he said. "And we think the right way to think of valuation is really more on a sum-of-the-parts basis."
Shares of Valeant have fallen roughly 94% since last summer's highs and now represent only about 4% of Pershing Square's investment portfolio, which has booked a 21.4% loss so far on the year through Oct. 31, based on Pershing's most recent performance letter to investors.
The sharp decline in Valeant shares was driven by investigations by the Securities and Exchange Commission into bookkeeping improprieties tied to the drugmaker's former relationship with mail-order pharmacy Philidor, as well as congressional probes into allegations of price hikes on several of Valeant's acquired drugs.
"The good news about the pharma industry is that it is probably the most M&A-intensive industry in the marketplace," Ackman concluded. "As a result, there are multiple potential buyers for each of the assets of the company."
Employees of TheStreet are restricted from owning individual securities.