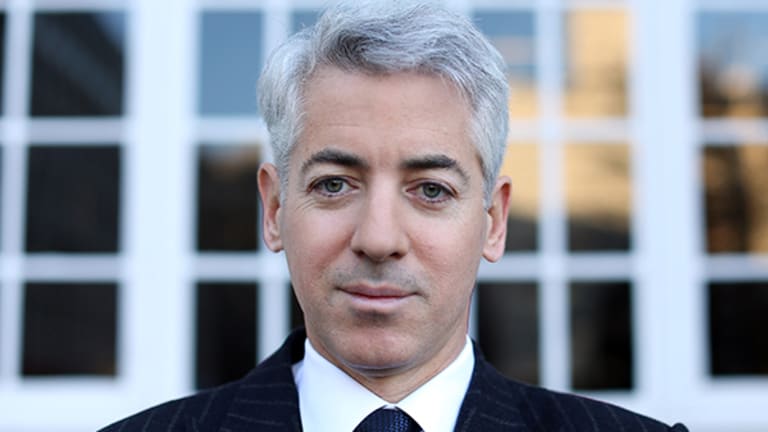 ADP Is Morphing Into the IBM Blob: Bill Ackman
The insurgent investor explains that he believes the payroll company's problems are yet to come.
Beleaguered billionaire activist Bill Ackman on Wednesday defended his campaign at  Automated Data Processing (ADP) , arguing that the payroll firm is at risk of becoming IBM if it doesn't embrace his ideas, the latest shot across the bow from the insurgent investor in a boardroom battle set to take place shortly.
"It's all about the businesses potential. This is a stock that has done well, and if you looked at the stock price chart of IBM at a certain time and talked about the track record you would say wonderful things," Ackman said on CNBC. "I'm not saying ADP is IBM today, but it is at risk of becoming IBM if they don't take seriously the competitive threats they face if they don't run as efficiently as they can."
The comments come as many analysts and investors, including Omega Advisors' Leon Cooperman, who once held a board seat at ADP, point to ADP's overall record of share-price improvement and don't believe that the company is struggling or needs a significant refocus. Also, Ackman's recent troubles with investments in Valeant Pharmaceuticals International Inc. (VRX)  and Chipotle Mexican Grill Inc. (CMG) suggest that investors may be wary of supporting the investor.
The payroll and human resource management company has come out swinging, pointing out that its performance is about seven times greater that Ackman's during its CEO's tenure. However, Ackman shot back, pointing out that his fund's overall returns , noting that his fund's total returns of over 500% over the life of his Pershing Square fund, from 2004 through December, well above ADP's returns over that time period.
Nevertheless, Ackman said he believes ADP's problems are yet to come, particularly with strong competitors emerging in recently years, including Paychex. He is seeking to elect a minority slate of three dissident directors at the payroll company's upcoming annual meeting and he has been pushing it to cut staff, integrate operations and focus more on innovation and technology so that its margins can get closer to a major rival, Paychex. He also criticized two major divestitures, arguing that both companies that were sold, Solera, formerly ADP Claims Services Group, in 2006 and CDK, in 2014, have done significantly better after they left ADP.
On Wednesday, Ackman argued that he could work with the company's CEO, Carlos Rodriguez, and the company's directors, adding that he was encouraged by the dynamic on the board at a recent meeting he held with directors. That likely surprised many observers after Rodriguez told CNBC on Aug. 10 that the billionaire insurgent investor has acted like a "spoiled brat" who did not "do his homework."
"The last thing I would do if I were permitted to join this board is to say Carlos has to go," Ackman said. "I would recommend to the board is get outside advice and take a look at ways to make this business a more efficient business."
Ackman suggested that the company's level of hostility against Pershing Square is being driven by outside activist-defense advisers, who insist that any suggestions about compromise would encourage hedge funds backing Pershing Square's strategy to buy into the stock. ADP is receiving financial advice from Morgan Stanley and Goldman Sachs. Activists often obtain a lot of support for their directors from arbitrageurs and other hedge funds who invest following the launch of an activist campaign. 
Earlier this month, Pershing Square, an 8.3% ADP holder, took a major step in its director battle by filing a definitively proxy statement officially nominating its slate of three dissident director candidates including Ackman. About 2% of the 8.3% stake is made up of common shares, which Ackman still said represents a sizable stake. Nevertheless, the activist clearly will require substantial support from the investor base for his campaign. 
More of What's Trending on TheStreet: