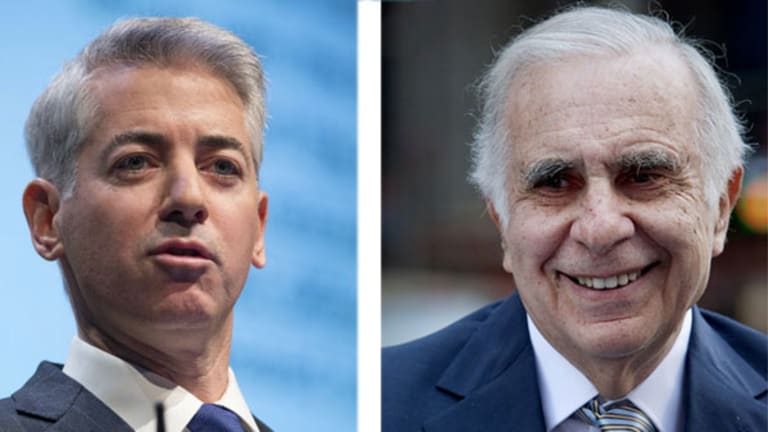 Ackman and Icahn Entertain, But Eventually One Must Be Wrong
The clash between Carl Icahn and Bill Ackman makes for great entertainment, but a conclusion isn't near.
NEW YORK (
) -- Bill Ackman and Carl Icahn really don't like each other, but it's
Herbalife
(HLF) - Get Herbalife Nutrition Ltd. Report
investors who are caught in the middle.
If their disdain for each other already hadn't been clear from
, the two billionaire investors clashed on
CNBC's
Half Time
report about what was supposed to be a continuation of their throwdown regarding Herbalife.
The encounter offered less about the Herbalife saga and more about the deep-rooted personal contempt they have for each other. Though the global network marketing company's shares were jumping by 2% Friday afternoon, there may not be much more to draw from the quarrel than a clip of entertaining television.
"If you're going to be good in this business, you have to be somewhat of a showman," said Michael Gayed, chief investment strategist at Pension Partners LLC. "The two are going to duke it out, and the one who's going to win is the one who has the most profit."
Ackman originally came on
Half Time
as a sort of response to Icahn's Thursday appearance on
Bloomberg TV
, but after Ackman shot back at Icahn concerning a Sohn Conference in 2002 and 2003, Icahn called into the show.
What unfolded between the two was an argument about past tiffs. Icahn referenced a 2003 deal with Hallwood Realty and recalled when then-New York Attorney General Eliot Spitzer investigated Ackman's former firm Gotham Partners about its MBIA activities. The Securities and Exchange Commission never charged Ackman with wrongdoing.
Icahn at times criticized the show's host, Scott Wapner, for "bullying" him, and dropped multiple profanities on live television.
"Icahn has been operating like this for 30 years-plus ... and I don't think from Ackman this is anything unusual," one investment strategist said, in reference to the ongoing Herbalife feud. "Conjecture and analysis, there's a difference, and clearly there may be some people that this may be stirring some legal discussions."
While the unexpected moment may have made for great TV, it appears to have been simply another stage in the Ackman-Icahn feud that will continue until one of them is proved right by the market.
"I have enough time with market stuff; I don't want to deal with megalomaniacs," said the strategist. "I think the interesting thing is one of these guys is right and one of them is wrong."
-- Written by Joe Deaux in New York.
>Contact by
.