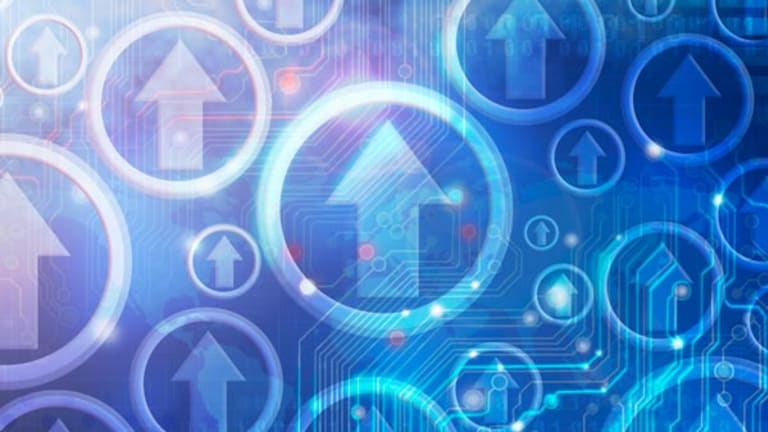 Academy Awards Winners & Losers
Not sure who's going to take home the Best Picture Oscar? Here are some other bets to consider.
It's no Fantasy Baseball, but the tradition of trying to game the Academy Awards is alive and well. As we pore over our ballots, trying yet again to figure out what exactly is the difference between sound editing and sound mixing, perhaps there's also a way to play this Hollywood spectacular in the stock market.
Clearly, the movie houses with nominated films have a lot at stake. Warner Bros., a division of
Time Warner
(TWX)
, is a co-producer of top-film nominee
The Curious Case of Benjamin Button
, along with
Viacom's
(VIA.B)
Paramount Pictures division. NBC Universal, a subsidiary of
General Electric
(GE) - Get General Electric Company (GE) Report
, is up for best picture with
Frost/Nixon
, produced by its Universal Studios arm, as well as
Milk
, produced by its Focus Features division.
Disney's
(DIS) - Get Walt Disney Company Report
got
Wall*E
in the top-animated-film category, and
DreamWorks
(DWA)
has
Kung Fu Panda
. Even
News Corp.
(NWS.A)
is in on the action with a best costume design nod for
Australia
, produced by Twentieth Century Fox.
But let's look outside the obvious. After all, the winning Oscar ballot is often determined by that dark-horse play, notably 1999's Best Picture upset by
Shakespeare in Love
over assumed shoe-in
Saving Private Ryan
and Roman Polanski's 2003 surprise Best Director triumph for
The Piano
.
Up for Best Picture this year is
Milk
, the story of Harvey Milk, the first openly gay man to be elected to public office in California.
Dean Foods
(DF) - Get Dean Foods Company Report
, one of the country's top milk companies, closed down a penny on Friday at $19.85. And you can't have milk without cookies;
Kraft
(KFT)
, which makes the oh-so-dippable Oreo, closed down 82 cents, or 3.4%, at $23.51, hitting a new 52-week low of $23.28 earlier in the day.
Also nominated for Best Picture is the loose adaptation of F. Scott Fitzgerald's short story "The Curious Case of Benjamin Button." In the film version, star Brad Pitt ages in reverse, born an old man and reverting to infancy. Anti-aging favorite Botox is made by
Allergan
(AGN) - Get Allergan plc Report
, which closed down 49 cents, or 1.2%, at $40.16. And for a play on the buttons of the movie's title, take a look at crafts retailer
Jo-Ann Stores
(JAS)
, down 2.8%, or 36 cents, at $12.45.
The Visitor
tells the story of what happens after a young couple's illegal sublet is interrupted when its actual owner, played by Best Actor nominee Richard Jenkins, comes to "visit." If you ever find yourself short on beds, you might consider getting a room at a
Marriott
(MAR) - Get Marriott International, Inc. (MAR) Report
hotel or perhaps
Choice Hotels'
(CHH) - Get Choice Hotels International, Inc. Report
Econo Lodge. Marriott closed down 19 cents, or 1.3%, at $14.32, while Choice Hotels was up 2 cents to $24.92.
Fans of
The Wrestler
, whose star Mickey Rourke is also up for Best Actor, can take a look at
Worldwide Wrestling Entertainment
(WWE) - Get World Wrestling Entertainment, Inc. Class A Report
, up 7 cents, or 0.7%, at $9.54.
There's also
Wall*E
, nominated for several awards in addition to Best Animated Feature, including both sound editing and sound mixing. In this film, Earth is evacuated due to toxic conditions, and its inhabitants are sent on a cruise in space. That option might not be available to us yet, but we can still hop on a boat for a more traditional cruise, courtesy of
Carnival
(CCL) - Get Carnival Corporation Report
, up a penny at $19.40.
Or perhaps take a look at wedding Web site operator
The Knot
(KNOT)
, up 11 cents to $6.92, as a play on
Rachel Getting Married
, for which star Anne Hathaway is nominated for Best Actress. Or play
Australia
with one of the title country's biggest stocks, mining company
BHP Billiton
(BHP) - Get BHP Group Ltd Sponsored ADR Report
, which closed up 21 cents, or 0.5%, at $39.22.
But if it's not enough just to bet on the Academy Awards and you're looking to make it rich quick like the young protagonist of
Slumdog Millionaire
, perhaps you can find some opportunity in a casino stock, such as
MGM Mirage
(MGM) - Get MGM Resorts International (MGM) Report
, which closed up 10 cents, or 2.4%, to $4.20 after hitting a new 52-week low of $3.93 earlier in the day, or
Las Vegas Sands
(LVS) - Get Las Vegas Sands Corp. (LVS) Report
, down 15 cents, or 5.5%, to $2.60. LVS also hit a new 52-week low on Friday, of $2.31.