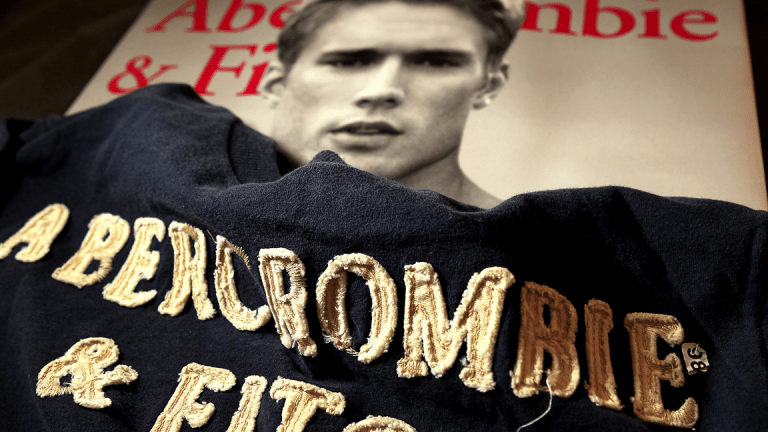 Abercrombie Stock Is in Make-or-Break Territory After Earnings Fall
Abercrombie stock is getting hammered on earnings, but is it an overreaction? Let's look at the charts.
The retail slaughter continues, with Abercrombie & Fitch (ANF) - Get Abercrombie & Fitch Company Report taking a huge hit on Wednesday. The stock fell nearly 26.5% as investors digest the company's latest quarterly results.
One would think that Abercrombie missed badly on its results, right? The company actually beatboth earnings and revenue estimates in the quarter, though. A loss of 29 cents a share beat expectations by 15 cents a share, while revenue of ~$734 million narrowly topped estimates by $3.2 million and grew 40 basis points year over year.
Despite the fall, shares aren't hitting new 52-week lows, which currently are down near $15.28. Still, the swift decline deals a painful blow to the bulls who believed this stock was finally starting to get its act together.
Abercrombie stock isn't alone, with Canada Goose (GOOS) - Get Canada Goose Holdings Inc. Subordinate Report , American Eagle (AEO) - Get American Eagle Outfitters Inc. Report and Dick's Sporting Goods (DKS) - Get Dick's Sporting Goods Inc Report also falling on the day.
Trading Abercrombie Stock
Abercrombie stock had an attractive yield -- which is now up to 4.2% on Wednesday's decline -- and was breaking over multi-year resistance. So what went wrong?
Same-store sales results of 1% missed expectations of 1.4%. Further, revenue guidance calls for 0% to 2% revenue growth this year, which is obviously short of the 2.4% growth that consensus expectations call for. Management also said it will close three flagship stores in New York City, Milan and Fukuoka, Japan. Gross margins were flat YoY, while operating margins improved.
So what's the point? It brings up the question of whether this is an overreaction. Admittedly, the quarter wasn't great, but I don't know that down 25% is really fair either. That said, we can only trade what the charts give us.
Abercrombie stock had broken through long-time resistance near $28. However, the clue for bulls came when shares fell back below this mark and couldn't stay above the 10-week moving average. Now we're seeing shares knife right through the 50-week moving average, the notable $21 level and potential uptrend support (blue line).
The one saving grace right now is the 200-week moving average. As you can see on the chart, this level has played a role as both support and resistance in the past. Currently at $18.37, we'll see if it can buoy Abercrombie stock once more. That question becomes even more important when we consider whether this is an overreaction to what was a not-great, although not horrendous, earnings report.
Bulls who are too tempted to take a long position in ANF stock can cut ties on a close below the 200-week. If that happens, support may not come into play until the $16.50 to $17 level. This is notable in itself, but sandwiched in between is the 61.8% retracement for the two-year range.
When it comes to retail, investors seem to have one foot out the door as it is. The sentiment just isn't good for the sector. That's exacerbating the decline in Abercrombie stock, regardless of whether it's deserved. So see if the 200-week holds. If it does, a bounce back to $21 could be in the cards. Below and $16.50 to $17 is in play.
This article is commentary by an independent contributor. At the time of publication, the author had no positions in the stocks mentioned.