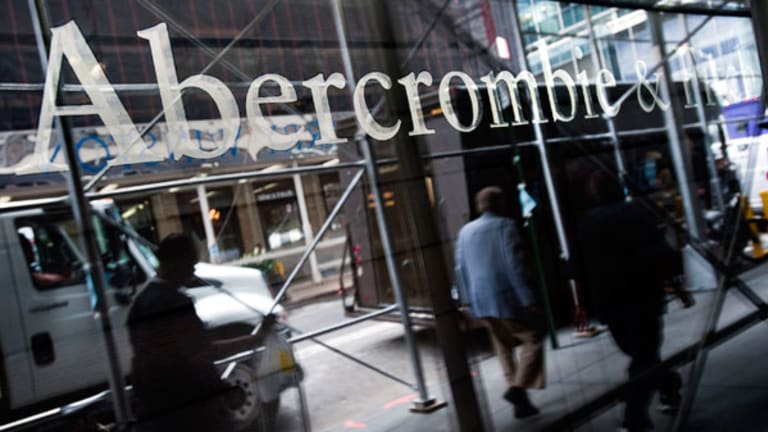 Abercrombie & Fitch's Brutal Earnings Show It's in a Fight for Survival
Abercrombie & Fitch missed badly on its first-quarter earnings, suggesting a rough year ahead for the teen apparel retailer.
Updated to include additional comments on plans for new store layouts.
NEW YORK (TheStreet) -- Abercrombie & Fitch (ANF) - Get Report is in a fight for its survival, and so far, it's losing the battle.
On Thursday, the teen apparel retailer, which is in the midst of trying to reverse a pattern of weak sales, reported an adjusted loss per share of 54 cents for the first quarter. Analysts were expecting an adjusted loss per share of 34 cents.
Same-store sales, which are sales from stores open more than a year, declined 9% in the U.S. and 7% internationally. By division, same-store sales fell 9% at the Abercrombie brand and 6% at its lower-priced Hollister brand.
"We knew the first quarter was going to be difficult due to a number of factors, both internal and external and, most significantly, because many of the actions we are taking to improve our business are in the early stages of implementation and have not yet been fully realized," said Executive Chairman Arthur Martinez in a statement.
For now, Martinez is leading the company's operational overhaul following last's year ouster of long-time CEO Mike Jeffries. No comments were provided on the status of the search for a new permanent CEO.
Abercrombie shares initially tanked 4.3% in pre-market trading on Thursday, but then reversed course amid comments from company execs, who sought to allay Wall Street's concerns about the state of its business. Martinez pointed to sequential improvement in same-store sales at Hollister, where customers were finding better prices and fewer clothes with the brand's bird logo. Further, according to Martinez, the "comparable sales trend has continued to improve in May" at the company overall.
The namesake Abercrombie brand did well in areas like pants, jeans and dresses. But a lack of differentiation between the new spring products and clothes that didn't sell well in the fall continued to weigh on sales. As for Hollister, its girls business improved as new tops were introduced each month of the quarter.
However, Martinez's comments did little to address the possibility of poor sales in the critical back-to-school season, which begins in July.
One reason for Abercrombie's weakness has been the continued advance of fast-fashion retailers such as H&M and Forever 21, which are opening more stores in Abercrombie's key international tourist markets where Abercrombie has huge flagship stores. Fast-fashion retailers have also improved the quality of their cheaply priced goods.
A prime example of the fierce competition Abercrombie is facing can be seen in the recent opening by H&M of its largest store ever in New York's Times Square. The Swedish apparel retailer now has 13 stores in New York City, where Abercrombie & Fitch has several prominent flagship locations featuring pricier, less trendy threads.
"The tourists are coming to 34th Street," said Daniel Kulla, president of H&M North America in an interview, noting the store's proximity to the subway and two large entrances. Judging by Abercrombie & Fitch's first-quarter sales and comments, both tourists and Americans are continuing to flood H&M stores.  
New store layouts for both the Abercrombie & Fitch and Hollister brands could start to reverse the perception amongst teens that the two chains are stuck in their old, logo apparel selling ways, however. The company said remodeled Hollister stores have shown high single digit percentage same-store sales increases, while new layouts for Abercrombie & Fitch stores could arrive this fall.
This article is commentary by an independent contributor. At the time of publication, the author held no positions in the stocks mentioned.