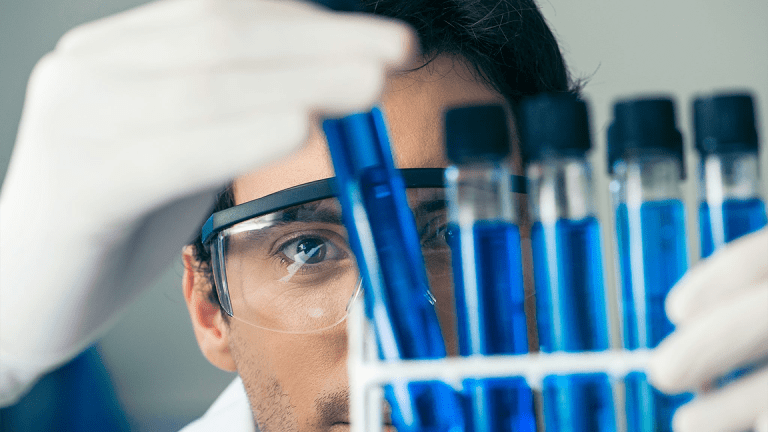 AbbVie Climbs Earnings Beat, Guidance Boost
AbbVie climbs after beating first-quarter estimates and raising full-year guidance.
After spending most of the day in the red, shares of AbbVie (ABBV)   rose nearly 1% to $79.36 Thursday as the pharmaceutical company beat Wall Street's first-quarter earnings expectations and increased its yearly guidance.  
The North Chicago, Illinois-based company reported earnings of $2.46 billion, or $1.65 a share, compared with $2.78 billion, or $1.74 a share, a year ago. Adjusted earnings came to $2.14 a share, beating the FactSet estimate of $2.06.
Revenue totaled $7.8 billion, roughly in line with analysts' estimates. Sales of the Crohn's disease treatment drug Humira came to $4.45 billion, down 5.6% from a year ago, but beat analysts' projections of $4.38 billion.
The company also raised its guidance for 2019 to $8.73 to $8.83 a share from $8.65 to $8.75, representing 11% growth at the mid-point.
AbbVie said it recently received regulatory approvals for its psoriasis treatment Skyrizi.
"We are off to another excellent start, including first quarter sales and earnings above expectations," Richard Gonzalez, chairman and CEO, said in a statement. "Additionally, we have made tremendous progress advancing our pipeline, including the recent approval of Skyrizi, which has the potential to set a new standard of care in psoriasis and represents a significant long-term opportunity for AbbVie. We are extremely pleased with our strong performance and based on the continued business momentum, are increasing our full-year EPS guidance."
Reuters noted that the failure of cancer drug Rova-T, once seen as a strong contender for a new blockbuster, and setbacks to the testing of multiple myeloma drug Venclexta have pressured AbbVie shares, which are down nearly 14% over the past 12 months.
"The results or guidance raise do not fundamentally change the story, in our view, as concerns around Humira's longevity remain," Credit Suisse analyst Vamil Divan said.