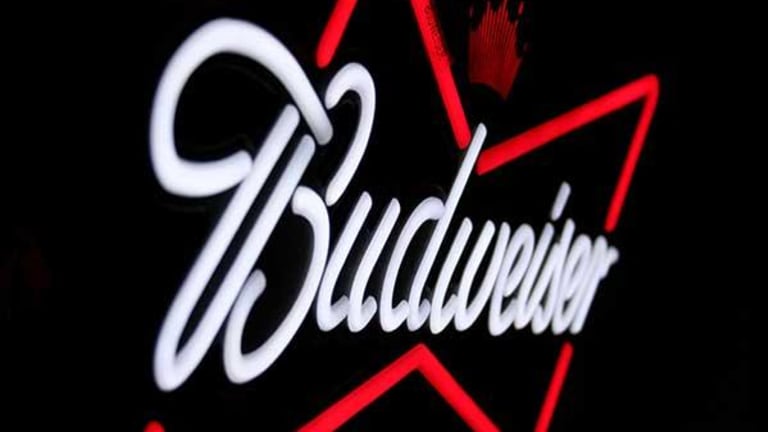 Budweiser Just Made More Money From Beer Than Stock Analysts Expected
Investors say: "Pass the Bud"
Anheuser-Busch InBev (BUD) - Get Anheuser-Busch InBev SA/NV Report jumped to the top of European markets after reporting better-than-expected second quarter earnings.
AB InBev shares were on course for one of their best days in three years with shares up more than 5% at mid-day in Brussels, changing hands at €104.25 each and valuing the the world's largest brewer by sales at around $200 billion. The company's U.S. ADR was up 5.39% in premarket trading in New York at $121.95.
AB InBev reported net profit rose to $1.5 billion in the three months to the end of June from $152 million a year earlier. Adjusted core earnings rose 12% to $5.35 billion on higher prices and additional cost savings from its acquisition of SABMiller.
Coke Zero Isn't the Only Thing Coca-Cola Needs to Overhaul
Coca-Cola CEO: Thanks to Amazon and Walmart War, Retail Will Look Profoundly Different
Revenues from those global beers jumped by nearly 9% in the second quarter, including a rise of 16.6% for Corona.
"2017 has been off to a good start and we will continue to push ourselves to deliver good results throughout the balance of the year," the company said. "While the second half of the year looks promising, our focus remains on growing the global beer category as well as generating top-line growth in a sustainable way to position ourselves for long term success."
The brewer however reported a slowdown in U.S. as consumers shifted away from its flagship Bud Light brand towards craft beer. Overall sales volume in North America fell 1% in the quarter from a year ago, however margins increased due to outperformance by the company's more expensive beers.
More of What's Trending on TheStreet: