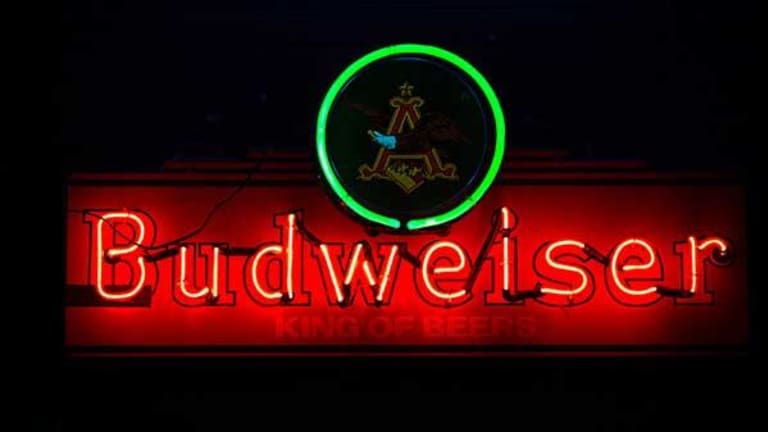 AB InBev Takes Mexico Exposure Hit, but Analysts Say Selling Might Be Overdone
Liberum analysts argue that investors are overly concerned with AB InBev's Mexico exposure as the stock nears a 52-week low.
Liberum analysts argue that investors are overly concerned with AB InBev's Mexico exposure as the stock nears a 52-week low.
AB InBev (BUD) - Get Report has been left out of European markets' "Trump rally," as investor worry about the mega-brewer's exposure to the U.S. and Mexican markets, but some analysts have argued the concern is overdone. 
Multi-national consumer stocks have performed below market benchmarks since Donald Trump's surprise victory amid bets the President-Elect's tough stance on trade agreements and a possible repeal of NAFTA could make life more difficult for international companies.
AB InBev lost 1.41% Thursday to within a €1 distance of its 52-week low of €99.96 each, even as broader European markets rallied. Shares in the company have lost more than 11% since the beginning of 2016 as it completed its $100 million acquisition of SABMilller.
Investors have questioned whether AB InBev, which owns Mexico's leading brewer - Corona-maker Grupo Modelo - and controls 63% of the country's beer market, will suffer from a slowdown in the north American economy as a result of potentially frosty relations with the next U.S. President. 
Analysts at London-based Liberum, however, argue that concern might be over-exaggerated, noting that Mexico has shrunk to just 7% of AB InBev's group sales since the SABMiller takeover.
The Mexican peso stabilized Wednesday, after touching record lows in the wake of Trump's win, to gain around 0.87% in London trading to 20.10 against the U.S. dollar. Liberum said the currency impact will be limited as much of AB InBev's brands are produced in Mexico and that country's consumer dynamic remains robust even as other emerging markets slow.
Another benefit could be the export of Corona which would result in a small transactional currency benefit.
"There is a risk, however, that Mexican consumers might boycott American brands like Bud Light which could provide a headwind to organic sales growth in Mexico," the analysts wrote in a client note Thursday.
AB InBev could also be the unlikely beneficiary of Trump's proposed increase in infrastructure spending.
"If infrastructure investment in the U.S. accelerates beer companies should benefit, particularly ABI which has c. 46% of the U.S. beer market, as U.S. construction workers are known to drink more alcohol than any other industry except mining," Liberum said.
The current sell-off is making the defensive stock cheap. The analysts currently have a €132 price target, making it "highly appealing at the current low €100s price."
Shares in competitors Diageo (DEO) - Get Report , the maker of Guinness, fell 2.5% to 2,012.5 pence each by 11:20 GMT, against a 0.17% dip for Heineken (HEINY)   and a 1.8% decline for Carlsberg (CABGY) .
Constellations Brand (STZ) - Get Report , the largest importer of Mexican beer to the U.S. saw shares fall 7.59% in New York Wednesday to a three-month low of $153.91.
Any deterioration of trade relations between the U.S. and Mexico would weigh on Constellation. In the brewer's 2016 fiscal year, which ended February, its Mexican beer business accounted for 52.6% of net sales and 63.5% of profits.
Constellation licenses the Corona brand from AB InBev to sell in the U.S.