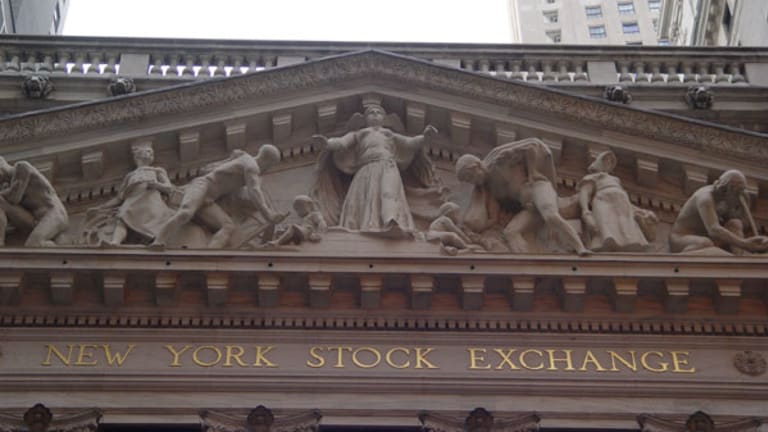 AAPL, TWX, NFLX: Jim Cramer's Views
Jim Cramer shares his views on not being sloppy and also explains the difference between "buy" and "sell" stocks. Apple, Time Warner and Netflix are among the stocks discussed here.
Jim Cramer shares his views every day on RealMoney.Click here for a real-time look at his insights and musings.
Cramer: Avoid Sloppiness by Watching Your Stock Table Manners
Posted at 2:58 p.m. EDT on Thursday, May 26, 2016

When the market is as spectacular as this one has been of late, people get carried away. They take to heart that the averages hang in there after a couple of really good days, and they decide to get sloppy.
So I want to give you some lessons in sloppiness so you maintain your stock table manners.
First thing that happens? People see takeovers everywhere. Case in point? There was a report in TheFinancial Times this morning that Apple (AAPL) has been in talks to acquire Time Warner (TWX) . At the same time, chatter made its way around the floor of the stock exchange where I work in the mornings, that Apple is eying Netflix (NFLX) .
Now, long-term viewers and readers know that I advocated for Apple, which is part of my Action Alerts PLUS charitable portfolio, to buy Netflix when it was half the price because that earnings stream would be so fabulous to have. I watch all my Netflix shows on my iPad Pro. It would be so easy to have everything Apple come with a Netflix button. It would make life too easy. And I would keep Reed Hastings, the man behind so much of what is fabulous about the company.
Time Warner is a fabulous enterprise. Buried within the company is an asset that would fit the service revenue stream I love about Apple to a T--the wondrous HBO.
But if you bought either of these two stocks because of this rumor when the stocks were running this morning, you need to call a time out. You need to cool off. Go get an ice cream or something. I mean, really, that's Exhibit A in sloppiness.
Next example: trading off of oil. I have said over and over again, beginning in the $30s that when oil gets to $50 it is most likely going to run out of steam. That's because $50 is where many oil companies profitably can sell oil futures to bring in extra income to forestall the grim banking reaper. That means the supply that's been missing in the U.S., the oil that's been throttled back because too much money was being lost drilling for it, can come back on the market. So if you have been riding oil, buying stocks because you thought you were safe as long as oil went up, you are going to find yourself in a house of pain if I am right about my thesis.
Yep, there are still many hedge funds that are set up to buy stocks when oil goes higher and sell them when crude goes lower so you very well may be caught playing musical oil chairs. Now if you know what you own and oil goes down and it takes your stock with it, then you can buy more. But if you are sloppy you will have bought high and sold low.
The third example of sloppiness? I have been telling you that we are not in a market where you can speculate on stocks without earnings. It is way too dicey. That game ended a long time ago. The companies that have stocks that are doing well in this environment are ones with faster growth but rock-ribbed balance sheets and buybacks or dividends. Sure, there are a couple of outliers like Saleforce.com (CRM) that look like they are very expensive and are very fast-growing. But if you look underneath the hood, you will see that Salesforce.com has a gigantic amount of cash flow; it just likes to reinvest in the business because it is so fast-growing.
What's an example of rank speculation? A stock I have been saying for weeks now doesn't have a chance in this environment is Ionis Pharmaceuticals (IONS) , the old Isis, which today was pummeled by almost 40% when one of its key drugs lost the support of partner Glaxo (GSK) , which decided not to start a final-stage study for the compound.
There was a time when owning an Ionis was reasonable; the market liked companies with the possibility of a winning drug that, if the study went well, might be snapped up by a Glaxo the way Celgene (CELG) snapped up Receptos after that target had some excellent results in some key drugs. However, I have been saying you have to respect the tape we are in, so to speak, and recognize that the risk/reward has changed radically for those companies with no earnings streams and the hope of a new drug.
At the same time I see people writing off valuable franchises because they aren't working rather than giving them a chance. Costco (COST) ) today soared five bucks after being endlessly downgraded and denigrated for a series of weak comparable-store sales numbers. But I have been saying the numbers were weak because of a changeover in credit cards. American Express (AXP) had been the card Costco accepted, but it is switching this quarter to Visa (V) --which like Costco is part of the Action Alerts PLUS portfolio--and many people have held back from purchases until the switch, as I have been saying over and over again. Now it's upon us and people are scrambling to buy it. We don't like scrambling.
Or how about the writing off of Home Depot (HD) after it said that March wasn't as strong as February on its conference call? While I admit that Lowe's (LOW) did "better" than Home Depot, the idea that Home Depot wasn't a buy down six from its high because of the so-called bum quarter is ridiculous. When best of breed gets put on sale you buy it, not sell it.
Oh, and by the way, while I am going there, let me point out that Whole Foods (WFM) is starting to sneak up on people because that best-of-breed operator is upping its game with its 365 offering--the more transparent-pricing, stripped-down so-called millennial Whole Foods. I think circling back to that down-and-outer makes a ton of sense. Sure, it has run a couple of bucks, but with Fairway (FWM) fading and Fresh Market (TFM) going private and Sprouts (SFM) grasping at straws throwing its lot in with competitor Amazon (AMZN) --a deal I didn't like--it seems like the time is right for Whole Foods.
Final bit of sloppiness? We often forget that bulls make money, bears make money and hogs get slaughtered. This morning I huddled with Jack Mohr, the research director for my charitable trust, the one you can follow the moves of by subscribing to ActionAlertsplus.com, and we debated the stock of Biogen (BIIB) , which is another of the trust's holdings. Here's an example of a not-as-risky biotech as Ionis--in fact, Biogen is immensely profitable--that has come too far, too fast and at the same time we don't care for it as much here as we did much lower.
When you have a run like this market has had and Biogen has enjoyed for absolutely no reason--there's been no news on this one--you don't get on board. Rather, you take some off. You set yourself up for the next down day. You lighten up on the ones that have gotten too expensive and rotate into something cheaper, as we did today when we took some profits and plowed them into the lower-risk Procter & Gamble (PG) .
Tonight, after this run, I want you to look at your portfolio and decide what has moved too much and I want you to take some off. No, I am not bearish. I see plenty of strength out there in tech and finance, the two tenets of every real, every broad rally.
I just want to emphasize that the essence of sloppiness is, just like in cards, to let it all ride. Or, as my late mom would say after a good run at the ponies or the slots, "Jimmy, let's take some of those winnings off the table and go get a sweater."
Make mine cashmere.
Action Alerts PLUS, which Jim Cramer co-manages as a charitable trust, is long AAPL, COST, V, BIIB and PG.
Cramer: Here's the Difference Between a 'Buy' Stock and a 'Sell' One

Posted at 6:47 a.m. EDT on Thursday, May 26, 2016

You can stick your head in the sand and just say, hey, the consumer is softer and the dollar's too strong, or you can test, re-test, find out what you are doing wrong and fix it, and fix it fast.
If you want to see who's doing it, first look no further than Tiffany (TIF) , which has offered the most lame set of excuses for continual disappointments, never acknowledging that perhaps there are real issues, deeper issues, behind its miserable quarterly performances.
If you want to see the latter, go examine the quarter just announced by Williams-Sonoma (WSM) , the upscale housewares company that also houses the Pottery Barn and West Elm brands.
I was slack-jawed as I listened to an investor relations person--not an exec, a CEO or a CFO, but a flak--read a script of Tiffany's horror show quarter. It was almost exactly the same as the past two years of calls, except this time the weakness wasn't just pronounced in the U.S. because of the strong dollar and softness with the consumer, whatever that means, but a gigantic drop off in Hong Kong, where so many Chinese shop on vacation.
Europe was weak. Why? They blamed, among other issues, tragedies in Paris and Brussels. The future? More of the same, but with an assumption that one day the headwinds will abet. If you wanted to hear pointed questions about that wishful thinking, you came to the wrong place. Tiffany didn't take questions on the call.
The company continues to buy back stock, heaven knows why, and offers a couple of changes in the lines that it sells. But there is no mention of any of the issues that are confronting retailers everywhere, from declining mall traffic to the need for a strong internet presence to the addressing of younger people so they, too, might want the Robin's Egg blue boxes that their parents were so thrilled to get.
Now, how about Williams-Sonoma? While it isn't a jewelry store, it does sell expensive products in a mall-based environment in addition to catalogues and an online presence.
The company's stock has had a rough go of it of late and the last quarter continued the decline when the company had a shortfall in its key Pottery Barn division which had a 2% decline in same store sales.
You could tell that the execs went into full court press to get to the bottom of Pottery Barn (PB) , which went from having a 2% decline last quarter to a 0.2% gain. More important, its flagship Williams-Sonoma brand stores gave you a 3.5% number vs. a 2.7% gain last year, and its West Elm business is on fire, giving you 19% same-store sales up from 15%. That's been a powerhouse, but to see an acceleration like that is extraordinary.
On the conference call, CEO Laura Alber talked about a top-to-bottom mission to fix the small decline that PB had, including dealing with deliveries that had become more haphazard than the company could stand, along with offering sophisticated tracking and a beefed-up call center to insure that one call from a customer was enough.
It invested a ton of money to find out more about its customers and has a millennial outreach that may be second to none, including an accolade from Google that it is one of the most disciplined companies that it deals with. The company has spent fortunes and thought more than just about any retailer about where the customer comes from, the web, the emails, the stores, and knows that customer as well as she can be known.
Throughout the call, you will hear Alber talk about "if there is a weakness, we will fix it." It was a major theme throughout the call.
Alber is one of the most forward-thinking execs in retail today. She knows engagement is important, she puts out 30,000 user-generated pictures of content. And she knows the new customer cares about the environment and sustainability more than at any other time. Why is West Elm so successful? Because, as Alber says, the chain "does continue to be uniquely positioned with millennials and millennial-minded customers who seek out brands that share their values and engage with brands that share the values and engage with brands through social media word of mouth."
At no time does Albers make excuses for the consumer, the product, the price point, the dollar. Nothing. It's about beating the numbers and not settling for less.
The two companies couldn't be more different. That's why one's a buy and one's a sell, at least until they change the management. I bet you can guess which one is which.
Action Alerts PLUS, which Cramer co-manages as a charitable trust, has no positions in the stocks mentioned.
Action Alerts PLUS, which Jim Cramer co-manages as a charitable trust, is long AAPL, COST, V, BIIB and PG.