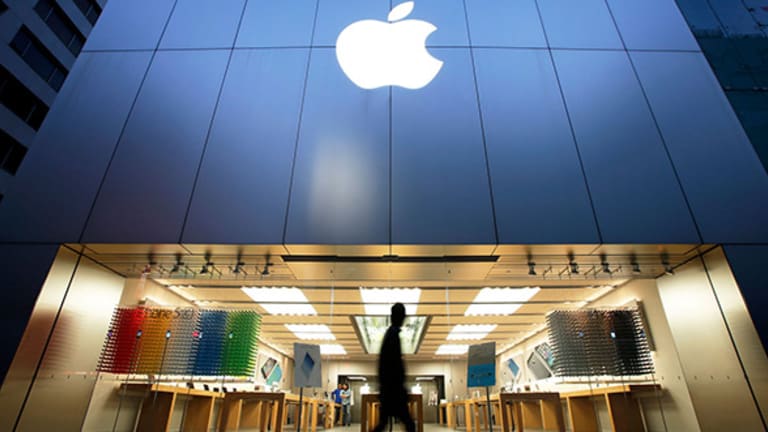 AAPL, GOOGL, NKE, UA: Jim Cramer's Views
Jim Cramer shares his views on pricing power and snap judgments. Apple, Alphabet, Nike and Under Armour are among the stocks discussed here.
NEW YORK (Real Money) -- Jim Cramer shares his views every day on RealMoney.Click here for a real-time look at his insights and musings.
After Belgium, Ask Yourself, Who Has Pricing Power and Who Doesn't?
Posted at 3:50 p.m. EDT on Wednesday, March 23, 2016
Sometimes it just comes down to figuring out who has pricing power. Who can raise prices and who can't? Ever since this market bottomed in the second week of February, we have seen this phenomenon play out and today's no different.
What do I mean about pricing power? I am talking about the ability of a company to raise prices and not meet resistance. The ones that can have stocks that bounce back quickly from market turmoil or hang in like champs. The ones that can't? They don't come back, or they fall behind when the market bounces because earnings per share numbers are in jeopardy.
Who has it? Stocks were down today, so you didn't see the power stay in the price of the stocks all day. But many stocks consolidated their gains in a way that showed me that the companies underneath can withstand promotional and discounted pricing.
Take the stock of Apple (AAPL) - Get Apple Inc. Report , a holding in my charitable trust Action Alerts PLUS. One of the reasons I say own it don't trade it is because Apple has the ultimate in pricing power. You know I get tired of the analyst "community's" method of trading in and out of Apple's stock as if it is some sort of rented automobile that you use for a couple of days or even a couple of hours and then dump back at the garage.
But earlier this week Apple unveiled a smaller form phone, one that has some special features with cache that doesn't necessarily innovate but certainly does capture what an entire aspirational cohort in emerging markets seems to want. I think that those who sold Apple on this announcement didn't understand that the signature positive of this new phone is that even though it's smaller, Apple can still command a high price for its wares. There's no pricing pressure to Apple because its products are regarded as the finest in the industry and it's got an ecosystem attached to it that generates $30 billion in revenue. If you have one you are probably paying for services and, again, I don't think you are going to think twice about paying.
Apple's pricing power is legion and among the strongest I have ever seen. 
Alphabet (GOOGL) - Get Alphabet Inc. Report  and Facebook (FB) - Get Meta Platforms Inc. Report  -- also Action Alerts PLUS holdings -- have pricing power. Advertisers recognize that Alphabet's search function and Facebook's profiles are the two best places to reach people in an increasingly digitized world. Can these companies charge what they want? I am sure there is some ceiling somewhere out there, but from the looks of their gross margins -- the best judge of things -- it's not clear to me.
Jack Mohr, research director of Action Alerts PLUS, and I held a conference call with hundreds of investors today and I found myself talking about how many investors think that the stock of Facebook is very expensive. However, if you go out until 2018, where I think the company could earn perhaps as much as $6, then its all-time high of $113 doesn't seem so nutty. You are paying slightly more than the average stock sells for now, for an amazing earnings stream.
Normally, I would be reluctant to look out as far as 2018 on a company's earnings. Think about how many different things can happen to a company or to the environment between now and then. But Facebook has real pricing power because it doesn't have much competition, if it has competition at all. That makes the 2018 number more likely to come true.
I hate to say it, but tobacco has pricing power. As Altria  (MO) - Get Altria Group Inc. Report , parent of the Marlboro man, and Philip Morris (PM) - Get Philip Morris International Inc Report , the international version of Altria, break out to all-time highs we can ascribe the power of price to their stocks' trajectories. These are pretty fixed markets. You can't advertise here if you make cigarettes so a price war means nothing. You're not going to be taking share. Your product just coins money.
But now let's talk about who doesn't have pricing power, because on a down day you can really see the action at work.
Today oil fell more than it has on any day since Feb. 11, which you'll recall was the bottom in the plummeting oil cycle to date, down a buck 73 to $39.72. You know why that is? Because at the $40 level we are getting a ton of oil companies coming in and selling oil futures to raise cash to be able to pay bills. The oil companies have no pricing power whatsoever. Until the recent glut, there was an ever-rising market as supply could barely keep up with demand. But then the U.S. harnessed technology to produce far more oil than anyone thought possible just a few years ago and a glut developed, exacerbated by a decision by Saudi Arabia to lower prices by flooding the world with oil to, among other things, drive the marginal producers in this country out of business and to frustrate Iranian ambitions to get a lot of foreign money in to develop new fields and exploit old ones.
The glut has made these stocks into punching bags and I think that every time they run up you are getting a good chance to sell. This is my lower longer thesis, meaning prices aren't going to bounce back any time soon because the companies are so desperate to bring product to market, which it is self-defeating.
Or how about breakfast? Last night Krispy Kreme (KKD)  reported and it was disappointing. Why? Because management said the environment is too promotional. This is something we have heard from Jack in the Box (JACK) - Get Jack In The Box Inc. Report  and from Popeyes Louisiana Kitchen  (PLKI)  and Dunkin' Brands (DNKN) - Get Dunkin' Brands Group, Inc. Report .
It means that they can't raise price for their wares.
Why not?
Because of McDonald's (MCD) - Get McDonald's Corporation Report , which has pretty much declared a price war against the entire industry with simple value propositions that can only be done by a low-cost producer -- and that's exactly what McDonald's is. You can't compete with the lowest-cost producer on price and not expect your stock to get clobbered.
The airlines are a group right now where there could be some short-term price pressure because of some recent additions to the fleets of many companies, but also because of the tragedy in Brussels. When fares go down these stocks go down. I think it will be short-lived because travel will bounce back, but be aware the reason why these stocks sell so cheaply vs. their earnings is because of what is perceived as a lack of pricing power. Given that the dollar's suddenly gotten stronger, something I believe is an aberration, the power to charge more for foreign travelers will diminish if the trend continues.
Finally, consider the group that seemed to have amazing pricing power but seems to be regarded as one step away from a price war any minute now. I am talking about the drug stocks. Take Gilead Sciences (GILD) - Get Gilead Sciences Inc. Report . It has a cure for hepatitis C, one that has brought in $20 billon in U.S. sales, in just a couple of years, perhaps the greatest launch of all time. But today the stock of Gilead was laid low, falling almost 4%. Why? Because Merck (MRK) - Get Merck & Company Inc. Report  won a jury verdict against Gilead for a patent infringement for its own anti-hep c formulation.
I think that some of Gilead's stock decline revolved around the potential damages it might have to pay to Merck. But the real reason for the fall is that the stock market recognizes that Gilead's going to lose its pricing power for its $84,000-a-year drug. If Gilead loses that pricing power its stock will go even lower than it already has, down 10% for the year. In fact, the entire drug complex has come down in the last year as people fear that the putative presidential candidates, Hillary Clinton and Donald Trump, will use the government's power to negotiate with the drug companies for Medicare. Negotiate is code for what could amount to be an almost total loss of pricing power.
So, keep in mind that this battle over price defines a lot of individual stock action and that those stocks that have it bounce back fastest after an event like yesterday and those that don't are destined to tread water or go lower when the tide goes out.
At the time of publication, Action Alerts PLUS, which Cramer co-manages as a charitable trust, was long AAPL, GOOGL and FB.
Nike's Stock Might Rebound After the Easter Weekend
Posted at 6:30 a.m. EDT on Wednesday, March 23, 2016
The market confounds those trying to make snap judgments. There's enough emotion followed by remorse in this joint that it can be stupefying on a day-to-day basis.
Monday was typical of that. The whole post-Brussels experience was one of an almost breathtaking re-evaluation; a processing of the terror that took hours, not days or weeks, but hours, where stocks of companies that were related to anything travel and leisure, from restaurants and entertainment companies to theme parks and retailers, were pushed down by 10 a.m. only to spring back by lunch.
We've had instant reaction to terror events before, but never this instant. It was like a terror algorithm came in to replace the chaos in the market and decisions were undone on the fly.
Individual stocks are getting evaluated and then re-evaluated at lightning speed, too.
Take some of yesterday's biggest wins. Start with Sherwin-Williams (SHW) - Get Sherwin-Williams Company (The) Report . The stock rallied eight points in the wake of the Valspar (VAL) - Get Valaris Limited Report  purchase.
Actually, though, it was in the wake of the wake of the Valspar selloff. On Monday, the stock went from $287 to $272, even as the company paid cash to take out one of its biggest competitors and created a level of synergy that allowed you to raise numbers immediately.
Why did it go down that first day? It's almost as if no one even knows. The purchase and subsequent decline created its own buying opportunity.
Or, how about Mallinckrodt (MNK) - Get Mallinckrodt Plc Report ? The other day we heard from noted short-seller Andrew Left, from Citron Research, that Mallinckrodt, the specialty pharma play, made Valeant (VRX)  look like a "choir boy." The stock plummeted from $69 to $52 in a couple of days' time.
But now that Valeant's going up, what happens? Mallinckrodt comes right back, as it has every time it has been slammed. It's almost as if buyers are saying, hmm, if Valeant's a choir boy, it's now a high demand choir boy, as it has gone up so much, so why not take Mallinckrodt up, too?
Same thing with the oil and oil service stocks. Yesterday, Transocean's (RIG) - Get Transocean Ltd (Switzerland) Report  stock was looking down more than 10% as owners frantically dumped it after the company said not to expect any turn in day rates in the next couple of years. They wanted to sell it as low as $9, because that forecast is worse than just about anyone was expecting. Or at least they were expecting out loud, because when the stock got down there, buyers rushed in. It was an instant re-evaluation of an earlier evaluation based on a belief that one, the first, was emotional while the second was coldly calculated. In the end, the stock was barely down.
Which brings me to today's business: Nike (NKE) - Get Nike Inc. Report . Here's a company with a stock that looks to be in freefall, because futures orders, sales and earnings projections are lighter than expected. But how much lighter? Let's see: North American futures are up 10%, not the 11% people were looking for. Overall, Nike had 16% growth in futures orders, while 17% would have pleased. And the company predicted low-teens only earnings growth, when the street had wanted mid-teens. (All Nike info is captured well in this story by our Brian Sozzi.)
That, plus a heavy inventory situation in the U.S., beckons the question whether there isn't real competition coming from Under Armour (UA) - Get Under Armour Inc. Class C Report  and Adidas (ADDYY)  that's impacting numbers. This is sending the stock down pretty hard. Then again, it had just run from $58 to almost $65 as the market reverted to going for what I call perfection growth retail stocks in a faltering retail environment.
Will Nike be one of those where there's instant remorse?
I think that this one's a little too big to be turned around in one session. There's too many question marks regarding what really happened in the United States.
But I will say this, in a world where we seem very quickly to forget why we hated something, I wonder, after a long weekend ahead, whether by Monday someone says, "hmmm, how did Nike get below $59? I want in."
At the time of publication, Action Alerts PLUS, which Cramer co-manages as a charitable trust, had no positions in the stocks mentioned.