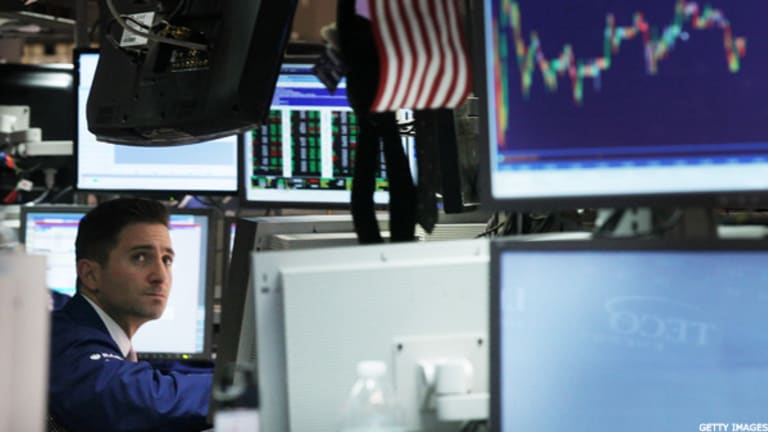 Publish date:
AA, F, HON: Jim Cramer's Views
Cramer shares his views on oil's effect on stocks. Alcoa, Ford and Honeywell are among the stocks discussed.
Cramer shares his views on oil's effect on stocks. Alcoa, Ford and Honeywell are among the stocks discussed.
Jim Cramer shares his views every day on RealMoney.Click here for a real-time look at his insights and musings.
Cramer: Rude Crude Returns to Vex Stocks
Posted at 4:07 p.m. EDT on Wednesday, Aug. 31, 2016
Remember oil? Remember its negative effect on stocks when it gets hammered? Well, it's back.
At the time of publication, Jim Cramer's charitable trust Action Alerts PLUS was long AA.
That's right, and it has taken its toll given the sharp declines we saw Wednesday in the price of crude.
First, let's go over how oil could be crushed so badly, down a buck sixty-eight to close at $44.67. We got some inventory numbers today that demonstrate we have oil coming out of our eyeballs. How much? Total petroleum inventories rose another 4.5 million barrels to a record 2.1 billion barrels. We're being flooded with oil from overseas and we are pumping like demons here in this country.
Some of it is how inexpensive drilling has gotten. We've had a tripling off the bottom of the rig count because oil companies have figured out how to get almost twice as much oil out of the ground per dollar than they could even two years ago. The amount of technological innovation that this industry has seen in the last 18 months probably has exceeded anything from Silicon Valley.
In many ways, however, what's just as important is the dramatic reduction in gasoline use because of newer, more efficient engines. Why is this so important?
Because this market still takes it on the chin when oil goes down as investors presume that there must be some slackening in demand caused by a weaker economy.
I get that. One of the most important positives we've experienced this summer is the resurgence in demand for homes and shopping for them courtesy of an increase in job growth. It's allowing the Federal Reserve to debate raising rates as soon as September, something that seems to be a shoe-in if we get a strong non-farm payroll number on Friday.
In order for the stock market to be able to absorb a rate hike, buyers must feel confident that the economy is firing on all cylinders. There's no way we can feel that way if our most visible commodity, oil, is falling out of bed.
I think this is an insane preoccupation because it doesn't take into account all the technological innovation on either side of the trade -- namely, the dramatic decline in drilling costs and the ability to cut energy use by the consumer in a very meaningful way. While it is true that we've had some success in non-fossil fuel alternatives, they aren't the main reason why we are using one million barrels per day less than we did before the Great Recession.
It is innovations from Honeywell (HON) - Get Report that, through technological advances in climate control, have cut energy use for buildings, which are responsible for about 40% of our energy use. Airlines use an incredible amount of fuel, something we will be discussing later when we talk with Oscar Munoz, the CEO of United Continental (UAL) - Get Report . The new Geared Turbofan engine from United Technologies hopes to be able to cut fuel consumption by as much as 20%. The lightweight Ford F-150, a joint project of Ford (F) - Get Report and Alcoa (AA) - Get Report , which is part of my Action Alerts PLUS charitable trust, is leading to a seismic decline in the amount of gasoline used to power America's best-selling vehicle.
But somehow those who sell stocks when oil goes down do not seem to factor in either of these advances and instead just judge that demand must be falling off or we would have taken out those old levels of use this summer. We haven't and we won't, which means that oil is going back to $40 and more selling will materialize every time it drops.
Sorry, I am regarding it as an opportunity because of the technological innovation that's driving things. The opportunity appears most obviously in the cyclicals, the companies that need a strong economy to be able to withstand the coming rate hikes. Those are what get sold down the hardest on days when we think oil weakness means economic weakness. Of course, the oil stocks themselves were clocked, as they always are in these situations. They, in particular, cannot be bought after this remarkable run simply because the hot money in the group has to flood out. It is incredible that we have enough storage space in this country to find a place to put two billion barrels. But the betting here is that there's not much more room, and if that's the case we will see $39, the bottom last time, in perhaps as soon as a few weeks' time.
What else is driving things down? I believe the shenanigans that come into play at the end of the months are certainly behind some of the weakness.
It goes like this. The money management business is a competitive game. Lots of managers are doing badly, falling behind their benchmarks. If you want to change your performance fortunes you can take matters into your own hands, but not too into your own hands.
Let me explain.
The Securities and Exchange Commission doesn't like what's called "marking up" at the end of a month or a quarter. That's where money managers come in with guns blazing and move up their own stocks. If you own two million shares of a stock and you can move it up a couple of points into the close of the day's trading, you can raise your performance pretty handily. So the SEC is all over the last day of trading, making sure that no manager inflates performance that way.
So I have noticed another pattern creeping into this racket -- the mark-up that goes on three days before the end of the month. The feds' scrutiny doesn't seem to extend that far back, and we saw some real aggressive buying into the close for pretty much every group. These same managers then use yesterday to stand underneath the stocks if sellers come in, trying to keep the stocks up at these manipulated levels.
But by day three -- today -- the jig is up and money managers anxious to get out of some of these marked-up stocks coalesce to drill them down.
I know many of you can't believe this stuff happens. Trust me, I have seen it with my own eyes, and it's just one of the evils of the trade. Why not take advantage of what you know are artificially high prices, because you saw them being marked up two days before, and blast out at better prices than you could otherwise expect?
Finally, there's high multiple-it- is -- my term for what happens when a company that sports a high price- to-earnings multiple disappoints. That's exactly what happened today with Palo Alto Networks (PANW) - Get Report . Yesterday the best-of-breed cybersecurity company reported a stellar quarter with 33% growth and a dramatic increase in billings.
You could see the market loved it when the press release came out showing how strong the quarter was. However, if you were foolish enough to take action on that release, as many were because the stock traded up six bucks in after-hours trading, you got stuffed when, after the description of the previous quarter was sketched out but before the question-and-answer session, the company lowered the boom and cut guidance in a way that implied a genuine deceleration.
Now that might have been OK if the company's stock wasn't selling at some sort of stratospheric level. But Palo Alto's stock was selling at about 50x earnings. Any company that's at that elevated level needs to beat previous earnings and revenue estimates and then raise them. Palo Alto only did the first. The second? Analysts had to cut numbers, hence the massive decline, one that I would add isn't buyable because the company didn't explain the situation in a way that seemed to satisfy the analysts who were rabid for a number raise.
Now the whole day could have been worse, and was for most of it. But I saw many of the same buyers who had marked-up stocks earlier in the week back in there supporting them after they got hit. That, and a lack of a real motivation to jump away from the oils, cushioned the decline and led to an anemic rally that saved the market from what at one point looked like a pretty darned nasty day.
Cramer: A Broadcom-Xilinx Tie Up Just Makes Sense
Posted at 12:59 p.m. EDT on Tuesday, Aug. 30, 2016

When I read the bold initiation from Citigroup analysts on Broadcom (AVGO) - Get Report , my jaw dropped. Not only is Citi saying that Broadcom, which is the amalgam of Avago and Broadcom, has $15.50 in peak earnings power -- not bad for a $177 stock -- but right out in the open, the analyst predicted that Xilinx (XLNX) - Get Report could be the next acquisition for this incredibly acquisitive company. And that it would be 10% accretive, giving Broadcom a chance of making $11.78 in 2017.
Broadcom is one of my favorite stocks. It has great communications technology. It has the Internet of Things and cellphone businesses.
That's not remarkable.
What was remarkable, quite simply, was that the analyst, Christopher Danely, just put the Xilinx merger out there, as if it were a product announcement or a change in management. And Danely is a very thorough chronicler of the tech group. It was as if he said,"Oh yeah, and Broadcom will probably buy Xilinx."
This would be no small deal: Xilinx is a $13 billion company. The company that makes key communications and defense chips is at its 52-week high. This would not be a cheap acquisition -- or at least not as cheap as it would have been not long ago.
But what it says is that there is so much consolidation in the air -- it has become so accepted after deals like Softbank buying Arm Holdings (ARMH) or Analog Devices (ADI) - Get Report purchasing Linear Tech (LLTC) -- that it is just too logical for Broadcom not to do so.
What's driving this? There are so many different semiconductor companies out there that consolidation is key. The semiconductor companies need heft to battle customers. Just like the semiconductor equipment companies -- think Lam Research (LRCX) - Get Report to buy KLA Tencor (KLAC) - Get Report -- need to merge to get more scale.
Do I think that Broadcom will buy Xilinx? Here's my take: We know from the stock price now that Avago was right to pick up Broadcom, even given that it was pretty expensive when the acquisition occurred.
I have to think the same thing could happen here. Or put it this way: How else right now could Broadcom boost its earnings 10%? From new products? From layoffs? From new customers? How about with cheap money from buying Xilinx. It's the fastest and cheapest way to grow earnings.
Therefore, I expect it to happen -- because it just makes too much sense not to happen. As do all of the other merger stories I see on the horizon.
At the time of publication, Jim Cramer's charitable trust Action Alerts PLUS held no positions in stocks mentioned.
At the time of publication, Jim Cramer's charitable trust Action Alerts PLUS was long AA.