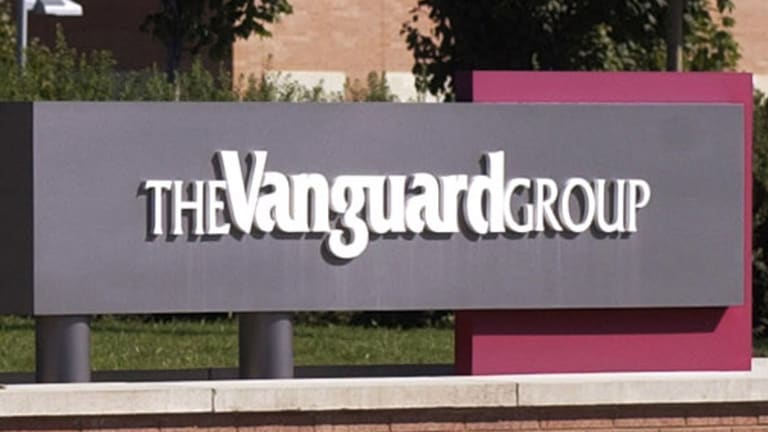 A Visit to the Vanguard Mothership With the 'Bogleheads'
TheStreet visits Vanguard's corporate headquarters in Valley Forge, Pa., along with 250 of Vanguard's biggest fans -- a group that calls themselves the Bogleheads.
TheStreet visits Vanguard's corporate headquarters in Valley Forge, Pa., along with 250 of Vanguard's biggest fans -- a group that calls themselves the Bogleheads.
PHILADELPHIA (TheStreet) -- On Friday, the annual three-day meeting of the Bogleheads -- an online group dedicated to the low-cost index investing philosophy of Vanguard's founder and former CEO John Bogle -- wrapped up outside Philadelphia. After listening to Bogle speak, on Thursday the 250 Bogleheads eagerly filed off buses to Vanguard headquarters. 
That's right -- these investors love their mutual fund company so much that they spend their vacation visiting corporate HQ. As Bogle's fans chattered, grabbed sandwiches and bought Vanguard T-shirts, the many Vanguard employees there seemed a little stunned by these enthusiastic investors. So why were these Bogleheads so happy to be there? 
The short answer is that Vanguard is a very unusual company: It was built to offer investors average results. 
Jack Bogle started Vanguard 40 years ago to create low-cost mutual funds that attempted to capture average market returns, not to design funds in which money managers try to pick winning stocks or sectors. "There is no secret sauce" in index funds, Bogle said Thursday morning, just average market performance without the risk of underperforming the market as a whole. 
And investors flocked. The company hit $3 trillion in worldwide assets this year, held by 20 million clients, said Vanguard spokesperson John Woerth. 
Woerth described Vanguard and the Bogleheads as having "a long relationship, and a mutually beneficial relationship." At the second Bogleheads meeting in 2001, about 40 investors congregated in the Vanguard cafeteria, the Galley, he said. (Vanguard uses plenty of nautical imagery, with a sailing ship as its logo and staff it calls "crew members.") The Bogleheads reunion has returned to the Vanguard office five more times out of 13 meetings.
"They're our biggest fans and our harshest critics," Woerth said of the "built-in focus group." "Having them here makes us better."


And the Bogleheads aren't necessarily easy to please. They're scrupulously focused on expenses, both in their mutual funds and in their larger lives. Shiny twin Teslas, one white and one black, were parked next to each other in the conference hotel parking lot. But besides them and the occasional BMW, most of the cars were modest Toyotas or Chevys a few years old. No expensive suits were in evidence, and no designer-logo handbags. They seem to share a mantra of "live below your means." 
Not all are pure indexers. A hedge fund chief who manages $13 billion was registered for the conference alongside the retirees, teachers, orthodontists, lawyers, engineers and former members of the military.
The Vanguard campus reflects some of the frugality the company trumpets. The campus is scattered with functional-looking and unremarkable buildings; Woerth said that the company employs about 10,000 people in Pennsylvania. 
The Boglehead reception was held in a possibly-expensive modern glass-wall building, though. A massive painting of Einstein hangs from a wall, and pledges to clients are mounted on plaques. A model sailing ship is surrounded by various civic and national awards. One light bulb is frugally out. 
The tour didn't extend to the rest of the Vanguard campus. Perhaps the limited tour is fitting for a company that doesn't do business in storefront offices. It communicates with clients mainly via the mail, the phone and the Internet.
A Vanguard economist, Roger Aliaga-Diaz, gave a talk about expected returns in the market (takeaway: it's hard to predict). A panel of higher-ups talked about Vanguard's funds, the market's performance, and expenses, then took questions. And each Boglehead received a mug and a pen.
Meanwhile, on bogleheads.org, a few posters questioned whether the company should cut costs more. Vanguard has big fans -- but they are exacting.
Nora Morrison is an editor, writer and researcher on music, popular culture and business. She is an associate editor at
TheStreet
, and is on Twitter at
.