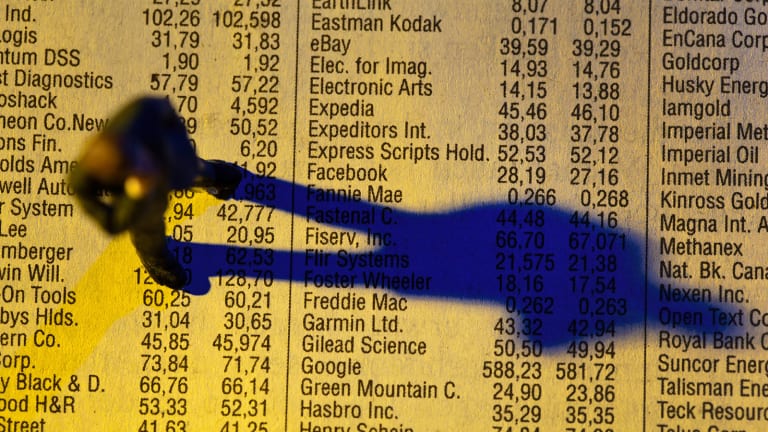 A Tart Take on Apple; a Media Blather Index and Seeing Upside in Banks: Best of Kass
In highlights from this week's trading diary and posts, Kass wears no rose-colored glasses to view Apple, counts all the bulls on TV then parses the retail and jobs data.
Doug Kass of Seabreeze Partners is known for his accurate stock market calls and keen insights into the economy, which he shares with RealMoney Pro readers in his daily trading diary.
This past week, Kass has a tart take on Apple, sees plenty of bulls on the television and then parses the data on retail and jobless claims.
My Tart Take on Apple
Originally published June 9 at 9:53 a.m. EDT
The nearly unanimous view is that the news from yesterday's Worldwide Developers Conference was a net positive for Apple (AAPL) - Get Apple Inc. (AAPL) Report.
I respectfully disagree. To me, there was no "wow" announcement, nor were the announcements that were made significant enough to support further strength in the Apple ecosystem.
My view is that we're well through the last important upgrade cycle for the company's key phone product now, and that neither Apple Pay nor the Apple Watch will move the sales-and-profit needle enough to support AAPL's current price.
To me, Apple is "overowned" and investor sentiment toward the stock is high, as manifested in its elevated price-to-earnings multiple relative to other hardware companies.
I still view Apple as an electronics company. Although the bulls see it as a precursor to more of a computer-programming platform (and there's some truth that sentiment), that path won't be a smooth one. The business landscape is more competitive, and perhaps not as profitable as some project.
So, I see "Peak Apple," and I added to my Apple short yesterday.
Position: Short AAPL
My Media Blather Index
Originally published June 10 at 3:05 p.m. EDT
My casual survey of CNBC, Bloomberg and Fox Business today yields the following: 39 bulls, 0 bears and 3 looking for correction.
Even more audacious is the degree of confidence being expressed. "Everyone," it seems, has nailed today's rally. There is not a skeptic among the media guests -- nor do any seem to have intermediate-term reservations.
Short sellers have become an endangered asset class (and species). Philadelphia Freedom! I guess no one likes short people (or short sellers).
After a tripling in stocks amid subpar global economic growth and a number of secular headwinds, I see peak complacency.
Position: None
Parsing the Data
Originally published on June 11 at 8:50 a.m. EDT
Retail sales in May rose 0.7% month over month at the core level (excluding autos, gasoline and building materials), two-tenths more than expected; and the prior month was revised upward by one-tenth. Sales excluding autos and gasoline were also up by 0.7% and also two-tenths better than forecasted but with no revision to April. Sales gains were seen in almost every category. Motor vehicles and parts sales increased a good 2% month over month, confirming what was seen with the monthly auto figures.
Sales gains were also seen for furniture, electronics (up a slight 0.1%), building materials, food and beverages, clothing, sporting goods, department stores, online retailers and restaurant and bars. On a year-over-year basis, the restaurant and bars, online retailing, autos, furniture and sporting goods sectors are the standouts while electronics and department stores figures were down.
Bottom line: After a string of mediocre retail sales data, May saw a nice uplift with the core rate of sales rising 3.3% year over year on a nominal basis and at a new high on an absolute basis. For the first five months of the year, core sales have increased a nominal 3.2%.
Looking at retail sales in total, however, sales rose in May 2.7% year over year, which is still ordinary as the average in this recovery is 4% and the 20-year average is 4.1%.
Of course, the increase in spending on services has diverted the distribution of retail spending. Health care services spending has certainly "stolen" retail spending on other things in addition to the secular deleveraging of the U.S. consumer.
Jobless claims totaled 279,000 -- 4,000 more than expected and a rise from 277,000 last week. The four-week average rose to 279,000 from 275,000 but still remains at historically low levels. Continuing claims climbed by 61,000 off the lowest level since 2000.
Bottom line: The story remains the same -- that the pace of firings remains benign notwithstanding the uptick, week over week.
U.S. Treasury yields did back off (something I had suggested in my diary yesterday, as bonds are oversold) from almost touching 2.5%. They are settling in at about 2.44% as the data was somewhat mixed with the better sales figure but slightly higher claims number.
Position: Long TBF, short TLT
Doug Kass is the president of Seabreeze Partners Management Inc. Under no circumstances does this information represent a recommendation to buy, sell or hold any security.