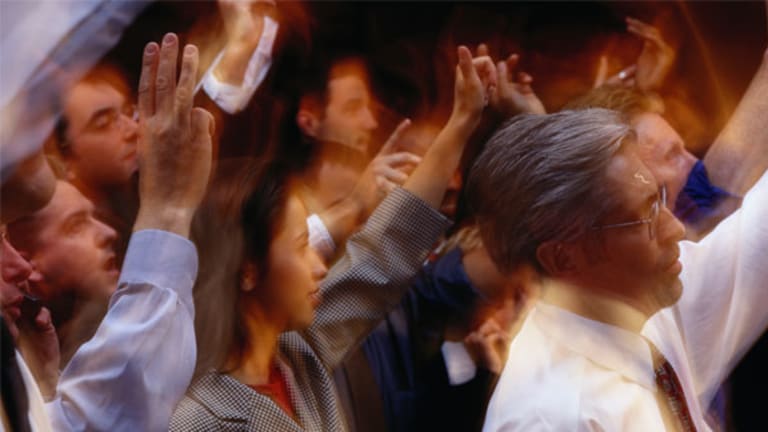 A Tale of the Turnaround
<I>RealMoney's</I> Tim Melvin says that for there to be any lasting global economic recovery, these materials companies must turn the corner.
I had a brief discussion recently with a long-time acquaintance about ways to search for stocks that present bargain opportunities. I told him that one of my favorite slightly offbeat screens was to look for companies that are losing money now but are expected to make money next year and grow over the next five years. I also like these stocks to be down this year and be generally unloved.
I often make fun of Wall Street analysts and I would not bet on the accuracy of their guesstimates; however, they usually get the plus/minus and trend correct, so it's a useful screen. Wall Street notoriously over-weights the near term and under-weights (if not ignores) the long term, so the screen can find interesting value candidates. The resulting list is valuable for identifying trends and clusters that contain useful information.
When I look at this morning's output, I see many basic-materials companies: miners, steel manufacturers and metals are well represented on the list. For there to be any lasting global economic recovery, these companies must turn the corner. It's an optimistic sign that most analysts expect to happen in 2014.
This article originally appeared on March 20, 2013, on RealMoney. To read more content like this + see inside Jim Cramer's $3 Million portfolio for FREE Click Here NOW.
The list contains some of my favorite long-term stocks.
Gafisa
undefined
makes the grade as earnings are expected to turn positive next year. Brazil should turn the corner economically and that will be good for this homebuilder in the long run. The stock is cheap after posting a larger-than-expected loss. Trading at just 70% of tangible book value, the stock has the potential for enormous long-term gains.
ArcelorMittal
(MT) - Get Free Report
shows up on just about every screen I run these days. It is one the world's largest steel companies, and it should see earnings improve along with the global economy over the next five to 10 years. It may be a bumpy ride in the short term, but the stock is cheap trading at just 50% of tangible book value.
National Bank Holdings
(NBHC) - Get Free Report
is the lone bank on the list of earnings-rebound stocks. The Colorado-based bank has 103 branches in Kansas, Missouri and Colorado and posted a loss for the year. But a little digging shows that the loss was related primarily to initial public offering expenses and this is actually a well-run bank with great long-term potential. The stock trades just below tangible book value and has an equity-to-assets ratio above 18, so it qualifies as a Trade of the Decade bank stock. Non-Performing loans are 2.21% of total loans, but the picture is even better than that as 43% of the potential losses are covered under FDIC loan-loss agreements.
Mercer International
(MERC) - Get Free Report
is an intriguing company that pops up on the list of turnarounds as well. This is an intriguing company in the pulp business, with plants in Germany and Canada. The Canadian plant has excellent shipping access to fast-growing markets in China. As a bonus, the company markets the energy produced as a byproduct of the manufacturing process. This is a new name for me and it is trading right at tangible book value, so I will be digging deeper into Mercer this week.
Layne Christenson
(LAYN)
is one of the many infrastructure companies on my watch list. The company provides drilling services for infrastructure and energy companies, as well as civil construction and water management services. It is well positioned to be a major beneficiary of the inevitable infrastructure-spending boom. The company has posted a loss for this year but should be profitable next year. Analysts are rushing to downgrade the shares and I hope they continue. The stock is at 1.1x tangible book value and I would love to buy it lower.
As always, running screens provides not only new ideas but also valuable information about market and economic expectations. It can also confirm the cheapness and attractiveness of current holdings, such as Arcelor and Gafisa. I will be buying shares of National Bank Holding in the next few days and I am intrigued by Mercer's potential as well.
At the time of publication, Melvin was long MT and GFA.