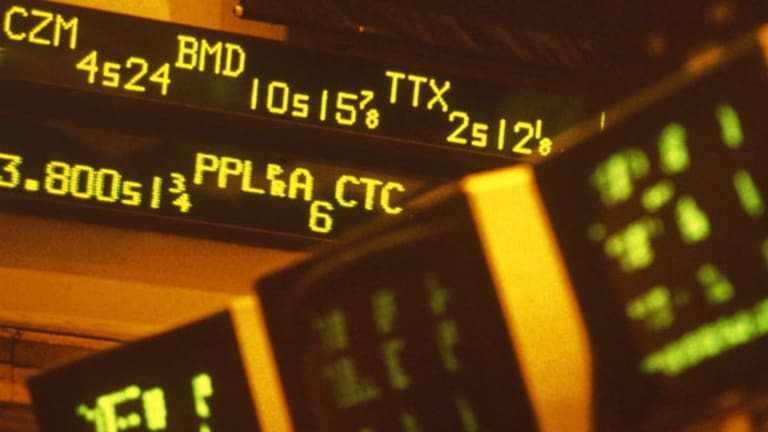 A Small-Cap Biotech Stock With Promise: MSTX
This small-cap biotech stock could be setting up for a great buying opportunity here following the massive selloff in the space.
 DELAFIELD, Wis. (Stockpickr) -- Unless you've been living under a rock the last few weeks, then you most certainly know about the devastating selloff in the biotech sector on Wall Street.
>>5 Stocks With Big Insider Buying
Just take a look at the iShares Nasdaq Biotechnology Index (IBB) - Get Report, an exchange-traded fund that generally tracks the price and yield performance of the Nasdaq Biotechnology Index. Some of the biggest players in biotech are held in this fund, such as Regeneron Pharmaceuticals (REGN) - Get Report and Amgen (AMGN) - Get Report. This biotech ETF has been hit hard by the bears, with shares dropping sharply from a high of $275.40 to a low of $232.84 a share with heavy downside volume flows.
One hot biotech stock that's been absolutely destroyed by the bears recently is Arrowhead Research (ARWR) - Get Report, which develops targeted RNAi therapeutics in the U.S. The sellers were able to drive shares of ARWR down from its recent high of $27.63 to its low of $15.97 a share with above-average volume flows.
Another biotech stock that will help to put into perspective how bad the selling has been is IBB component Gilead Sciences, which discovers, develops and commercializes medicines for the treatment of life threatening diseases. The bears were able to deliver a beating on shares of GILD, with the stock dropping sharply from its high of $84.88 to its low of $68.81 a share. Shares of GILD are now starting to show some signs of relief for the bulls, since the stock has managed to bounce once it traded near its 200-day moving average of $67.84 to its current price of just over $73 a share.
>>3 Biotech Stocks Under $10 to Trade for Breakouts
The small-cap biotech space has also taken a big beating, with many of the trading community's favorite plays selling off hard. This selloff should be welcomed by traders; it was long overdue and will now create new opportunities for long ideas. Those opportunities are going get very intriguing here for specific names that have catalysts or promising drugs in their pipelines. The sellers might have given traders a gift, so it's time to start scanning the sector for ideas.
One small-cap biotech player that could be setting up for a great buying opportunity here following the massive selloff in the space is Mast Therapeutics (MSTX) , a biopharmaceutical company that's focused on developing therapies for serious or life-threatening diseases. Shares of MSTX have sold off recently, with the stock dropping from its high of $1.10 to right around 70 cents per share.
Mast Therapeutics reported earnings this morning. The company said its net loss for the fourth quarter of 2013 was $5.7 million, or 6 cents per share, compared with a net loss of $4 million, or 8 cents per share, for the same period in 2012. The company's net loss for the year ended Dec. 31, 2013, was $21.5 million, or 28 cents per share, compared with a net loss of $15.6 million, or 33 cents per share, for the same period in 2012.
>>3 Hot Stocks to Trade (or Not)
The earnings, or lack thereof, isn't our focus right now for Mast Therapeutics. This is a small-cap biotech stock that has some promising drugs under development that could provide a major catalyst that boosts its share price. Mast Therapeutics' lead drug, MST-188, is currently in a pivotal phase III study for sickle cell disease. MST-188 also has potential applications for acute limb ischemia, stroke and heart disease. The company has already opened 40 clinical sites in the U.S. for its phase III study and has initiated its phase II study of MST-188 in combination with recombinant tissue plasminogen activator in patients with acute limb ischemia.
Another catalyst that the market seems to be ignoring is Mast Therapeutics' recent acquisition of Aires Pharmaceuticals. That purchase has provided the company with another clinical-stage asset in AIR001, an intermittently nebulized formulation of nitrite that has orphan drug designation in the U.S. and E.U. for the treatment of pulmonary arterial hypertension. This drug is in phase II studies, and Mast Therapeutics thinks it could be an ideal complement to its MST-188. AIR001 also has potential applications in cystic fibrosis, pneumonia and other respiratory infections, transplantation, heart failure and other cardiovascular indications.
All these potential drugs and catalysts are great, but let's take a look at the technical picture for shares of MSTX to see if we could be presented with a great buying opportunity here.
If you take a look at the chart for MSTX, you'll notice that this stock spiked sharply higher on a few trading sessions ago with the stock ripping higher from 72 cents per share to its high of 93 cents per share with massive upside volume. That spike was short-lived, with the stock now giving back all those gains and selling off to its current price of around 71 cents per share. That selloff has now pushed MSTX back towards some key previous support levels that have represented a great buying opportunity in the past.
>>Beat the S&P in 2014 With the Stocks Everyone Hates
Traders should now look for long-biased trades in MSTX as long as its trending above some major support levels at 70 cents to 72 cents per share and then once it breaks out back above its 50-day moving average of 82 cents per share with high volume. Look for volume on that move that hits near or above its three-month average action of 3.59 million shares. If that breakout materializes soon, then MSTX will have a great chance to re-test that recent high of 93 cents per share. Any high-volume move above that level will then give MSTX an excellent chance to challenge its 52-week high of $1.10 a share.
The bottom line: Mast Therapeutics has some promising drugs in its pipeline that should provide for a catalyst this year off any updates of the more advanced studies. The stock has been beaten down to key support levels that have represented great buying opportunities in its recent trading history. However, if those key support levels at 72 cents to 70 cents per share are broken with volume on a closing basis, then traders should look for a lower level to initiate positions once the stock has formed a clear bottom.
-- Written by Roberto Pedone in Delafield, Wis.
RELATED LINKS:
>>5 Hated Earnings Stocks You Should Love
>>3 Stocks Under $10 Making Big Moves
>>4 Big Tech Stocks on Traders' Radars
Follow Stockpickr on Twitter and become a fan on Facebook.
At the time of publication, author had no positions in stocks mentioned. Roberto Pedone, based out of Delafield, Wis., is an independent trader who focuses on technical analysis for small- and large-cap stocks, options, futures, commodities and currencies. Roberto studied international business at the Milwaukee School of Engineering, and he spent a year overseas studying business in Lubeck, Germany. His work has appeared on financial outlets including CNBC.com and Forbes.com. You can follow Pedone on Twitter at www.twitter.com/zerosum24 or @zerosum24.