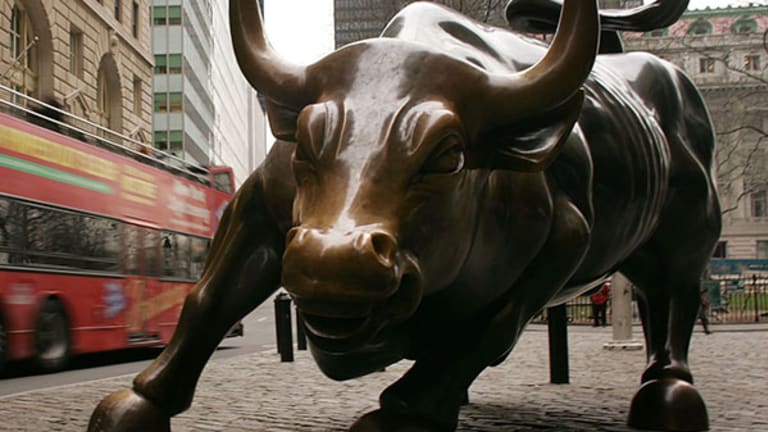 September to Remember; Micron and Nike: Best of Cramer
Cramer explains why this was a good September and also discusses Nike and Micron.
Here are Jim Cramer's top thoughts on some of the biggest stories of the week. 
Jim Cramer: This Has Been a September to Remember, but in a Good Way
A mellow September, who would have thunk it? I am so used to September being miserable that I can recall whole weeks where I had to virtually camp out on the trading desk so I didn't miss a moment of overseas trading. And for Action Alerts PLUS, it's been the same.
As I said in one of the videos I do in the morning, this is always the month I dread because of the lock-in. So many times I had the good fortune to be up enough going into the last quarter that I was able to sell everything and just day-trade for gains, something that we were, fortunately, quite good at.
I also know that despite the fact that October historically has been a good month, there is no way people can ever forget a crash. So there will always be crash talk.
Still, the unsung bull market, the one that you seemingly aren't even allowed to talk about in an era where YouTube can make you a huge goat the next day, lives on larger than life.
Let's remember that we had multiple rotations in big-caps, but if you hit up the smaller-cap stocks you see some moves that are breathtaking without any concomitant earnings moves. It's just a matter of people realizing that these good numbers aren't going to go away if the Fed does a slow rate increase and the country puts the Great Recession further behind it.
More of What's Trending on TheStreet:
Action Alerts PLUS, which Cramer co-manages as a charitable trust, has no positions in the stocks mentioned.
Originally published Sept. 29 at 11:16 a.m. ET
Jim Cramer: Micron and Nike Are All About Supply and Demand
At first glance, semiconductors and sneakers have nothing to do with each other. One is used to make your mobile phone, your online ordering and your autos more powerful. The other gets you running or walking better.
But when you examine the relative qualities of semiconductor maker Micron Technology Inc. (MU) and athletic shoe maker Nike Inc. (NKE) , they are plenty alike in one particular respect: supply and demand. Or, if you want to distill it to the day-to-day: pricing and inventory -- either too little, which is the case of Micron, or too much, which is the story with Nike.
Last night Micron reported the kind of quarter people dream of, with year-over-year demand for semiconductors for mobile, storage and embedded demand-think cars and other Internet of Things products of 76%, 71% and 61%, respectively.
Nike? Demand was flat year over year.
Next year? Micron says that its businesses, storage and flash chips for the data center, for mobile phones and for IoT -- including games, artificial intelligence devices and autos -- will be moderately undersupplied, meaning there won't be much new capacity for these chips coming on line. In fact, Micron execs made it clear that this giant of a company would add no new excess capacity.
I see a plethora of new sneakers coming from everyone -- Nike, Under Armour  (UA) , Adidas -- despite the scandal, and despite increasing competition from completely online outfits like Allbirds, which make really cool sneakers for all occasions and don't even have a brick-and-mortar presence. Brick-and-mortar is the part of the business that Nike is hoping will save them from the sporting goods and sneaker store bust of incredible proportions. Good luck.
It's worse: Demand for DRAMs and Flash will go higher because of the incredible desire to have higher-quality phones and better, bigger data centers, as well as autonomous driving and better games and PCs. So pricing, which is outrageous anyway, could go even higher.
At Nike, demand, at least in the U.S. seems tepid -- even as there is no doubt that China and Europe are strong. In contrast, there is no real excess of flash or memory chips in the pipeline. Sneakers seem over-inventoried to the point where you can find them in all sorts of different channels. I think my favorite remains the off-priced stores, like TJX Cos. (TJX) , which is able to capitalize off of any excess in any store channel. Needless to say, the sneaker stores themselves discount to the point where it's impossible to maintain the same or growing prices for the highest-end Nikes, where the bread and butter margins used to come from.
Right now, because Micron intends to add no new capacity, its fortunes could rise or fall with capacity additions by others, notably Samsung, which might take advantage of the tightness to add a ton of new capacity simply by ordering a ton more machines from, say, Lam Research Corp. (LRCX) , which would be most impacted by the lack of new capacity at Micron.
And don't forget the moment that there is too much capacity in chips you might as well forget the big margins and the huge cash hoard that Micron has. Its business can very quickly switch to negative cash flow, as it did in just fiscal year 2016 -- not that long ago. Free cash flow went from negative $2.7 billion in fiscal year 2016 to plus $1.7 billion in fiscal 2017, obviously in no time flat, something we now know because this was the first quarter or fiscal year 2018.
Now not everyone is sold on either of these companies. Nike's going to keep hurting because of oversupply. Micron's going to keep going higher as long as there is undersupply. But the simple fact is Nike's sales have hit a wall because of brick and mortar and mall disruption, while Micron's demand is accelerating and exploding, which is good for all of tech.
So chips and sneakers? They might as well have the identical fulcrum, the supply and demand of product. In this contest, Micron wins hands down.
More of What's Trending on TheStreet:
At the time of publication, Action Alerts PLUS, which Cramer co-manages as a charitable trust, was long TJX.
Originally published Sept. 27 at 7:38 a.m. ET
Click here for information on RealMoney, where you can see all the blogs, including Jim Cramer's--and reader comments--in real time.
Jim Cramer fills his blog on RealMoney every day with his up-to-the-minute reactions to what's happening in the market and his legendary ahead-of-the-crowd ideas. This week he blogged on:
How to bet on tax reform.
How his wife and daughters pick stocks.
Action Alerts PLUS, which Jim Cramer manages as a charitable trust, is long TJX.