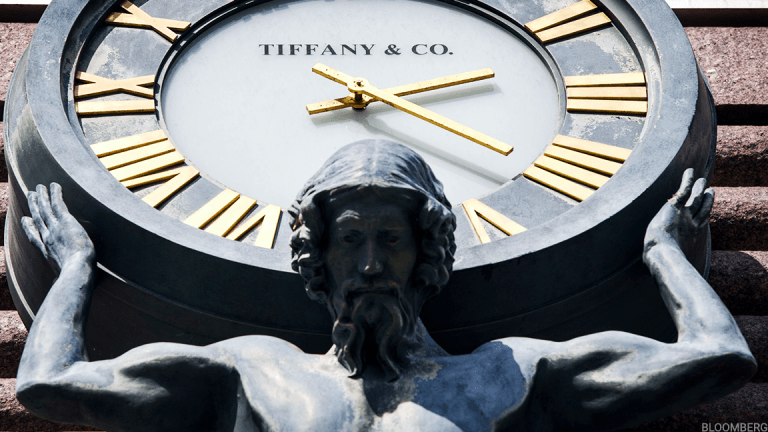 A Rotten Breakfast at Tiffany's
Tiffany & Co. has been taken to the woodshed.
Maybe shareholders ate something rotten for breakfast. That's hard to say. What we do know is that this jeweler and luxury retailer is taking it on the chin this morning. I know, Consumer Discretionary Select SPDR Fund (XLY) - Get Consumer Discretionary Select Sector SPDR Fund Report is down roughly 1.2%. Within the sector, the industry loosely labeled as apparel and luxury goods is down more than 3%. Even worse, Tiffany & Co. (TIF) - Get Tiffany & Co. Report has been taken to the woodshed. Down 7%. Seven percent worth of pure beat-down. 
Bad News From Paris
Ever hear of LVMH Moet Hennessy Louis Vuitton (LVMHF) ? You probably know the firm as simply Louie Vuitton. The Parisian retailer is down more than 9% today in over the counter trading today, which translates into a more than $30 hickey. Why? China. LVMHF reported their Q3 results from France last night. Sales growth was fine. What was wrong actually started to leak last week. In the earnings related conference call issued by the firm this morning, LVMHF management confirmed that Chinese customs officials are enforcing new rules aimed cracking down on Chinese citizens bringing into the country luxury goods purchased from outside the country.
This has put the hurt on the luxury retailers globally. While these retailers were likely looking for signals foretelling the condition of the high end Chinese consumer, this is a stark snap into reality, and obviously... was not priced in at all.
The Chart
As bad as this looks for TIF, this sell-off has merely put this name back on trend. In fact, the 200 day simple moving average now comes into play.
Trade Idea
Luxury retailing ain't really my speed. I'll stick to what I know, but what a trader so inclined to dig in on this discount could do is this...
-Purchase 100 shares of TIF (last: $114.27)
-Sell (write) one January $125 call (last: $3.75)
The sale of what is known as a covered call will reduce the investor's net basis to $110.52. The expiration date allows for the higher premium earned. Keep in mind that TIF reports on November 27th.
At the time of publication, Stephen Guilfoyle had no position in the securities mentioned.