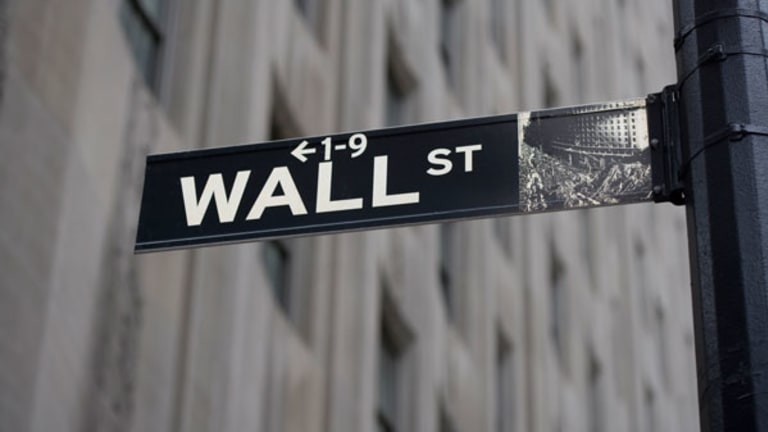 A Perfect Trade for Increased Volatility: TVIX
If volatility is getting set to spike dramatically higher, then this trading vehicle could be a great way to play it.
DELAFIELD, Wis. (Stockpickr) -- U.S. equities are under selling pressure today, with the Dow Jones off by more than 50 points and the S&P 500 down by 13 points. The tech-heavy Nasdaq is taking the brunt of the selling, plunging by a whopping 70 points.
It's been a long time since the market has had a healthy correction. When you look at the chart for the SPDR S&P 500 ETF Trust (SPY) - Get SPDR S&P 500 ETF Trust Report, you'll notice that we now have a failed breakout from the recent test of the SPY's highs. The selling for stocks could easily pick up the pace to the downside if the SPY takes out its 50-day moving average of $182.59 a share with high volume soon.
The PowerShares QQQ (QQQ) - Get Invesco QQQ Trust Report which represents a basket of the biggest Nasdaq stocks, has also failed to take out its recent highs and is now breaking below its 50-day moving average of $88.19 a share with heavy downside volume. The iShares Russell 2000 (IWM) - Get iShares Russell 2000 ETF Report, a popular ETF to follow the small-cap market, has also failed to take out its recent highs and is breaking down here. The IWM is quickly approaching its 50-day moving average of $115.45 a share.
>>5 Stocks Under $10 Set to Soar
Considering that the QQQ has now broken below its 50-day moving average, which is bearish technical price action. The next stop for 50-day breaks could very well be coming for the SPY and the IWM. If that does occur, then we're going to see volatility in the markets pick up dramatically. This could be a good time to look for ways to play an increase in volatility if U.S. equities are finally getting ready for the much-needed correction. This could be a meaningful correction since we haven't had one in a very long time.
If volatility is now getting set to spike dramatically higher, then one trading vehicle that could be a great way to play this is with the VelocityShares Daily 2x VIX (TVIX) - Get VelocityShares Daily 2x VIX Short-Term ETN Report.
This ETF was designed to provide investors with exposure to one or more maturities of futures contracts on the VIX, which reflects implied volatility of the S&P 500 Index at various points along the volatility forward curve. The TVIX is a more highly leveraged way to play a spike in volatility, but this by no means is a trading vehicle you invest in for the long-term. This is purely something you use if you think volatility can spike dramatically in the short-term, which could lead to some quick profits. If the markets want to correct in a meaningful way, then you can use the TVIX for a trade since volatility and fear should spike notably in that environment.
It's hard to apply straight technical analysis to leveraged ETFs and especially to VIX-based ETFs. That being said, the chart for the TVIX has shown over the last month and change a bottoming pattern, with shares forming a triple bottom chart pattern at $6.62, $6.95 and $7.05 a share. As long as that bottom holds, then we have a technical situation here that could be setting the TVIX up for a major breakout trade. If that breakout does trigger, then the TVIX has a great chance to spike sharply higher.
>>5 Stocks Ready for Breakouts
Traders should now look for long-biased trades in TVIX as long as its trending above those major support zones at around $7.05 to $6.62 a share and then once it breaks out above some key near-term overhead resistance levels at $8 to $8.68 a share with high volume. Look for a sustained move or close above those levels with volume that hits near or above its three-month average action of 9.04 million shares. If that breakout gets underway soon, then TVIX could easily hit $11 to $12 a share.
Keep in mind that we're going to need some elevated fear to creep back into the markets and all of those major indices must take out their 50-day moving averages in order for volatility to dramatically spike and give the TVIX some momentum to send it significantly higher from current levels. It's key that we get closes below those 50-day moving averages as well, not just intraday breaks. Also, if we get any rebound rallies in equities, look for those rallies to fail at lower highs for potential entry points into the TVIX for the coming correction.
-- Written by Roberto Pedone in Delafield, Wis.
RELATED LINKS:
>>4 Stocks Breaking Out on Big Volume
>>5 Big Trade Signals After Yellen's Surprise Message
>>Hedge Funds Are Selling These 5 Stocks -- Should You?
Follow Stockpickr on Twitter and become a fan on Facebook.
At the time of publication, author had no positions in stocks mentioned. Roberto Pedone, based out of Delafield, Wis., is an independent trader who focuses on technical analysis for small- and large-cap stocks, options, futures, commodities and currencies. Roberto studied international business at the Milwaukee School of Engineering, and he spent a year overseas studying business in Lubeck, Germany. His work has appeared on financial outlets including CNBC.com and Forbes.com. You can follow Pedone on Twitter at www.twitter.com/zerosum24 or @zerosum24.