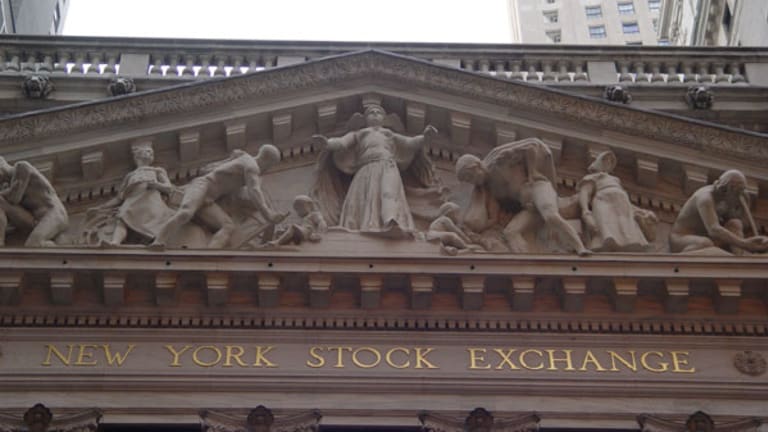 A No-Justice Market
Cramer says these days, best-of-breed names always snap back quickly -- even after justified selloffs.
The preponderance of evidence says that when they're put on sale, you have to buy them.
That's what comes to mind when I think of
FedEx
(FDX) - Get Free Report
,
Caterpillar
(CAT) - Get Free Report
,
Deere
(DE) - Get Free Report
and
Oracle
(ORCL) - Get Free Report
, all of which have been hammered terribly in the last 24 hours.
Now, the evidence behind the selloff does not indicate it is a wise decision to buy. FedEx blew it again. It has an expensive route system, one that can't be supported by the high-end fast delivery of packages -- at least right now.
Caterpillar blew it again. It makes gigantic engines and equipment that can't be supported by commercial real estate, trucking, oil drilling or infrastructure spend -- at least right now.
Deere blew it again. Turns out that, without rising prices in corn, the company can't sell enough equipment -- at least right now.
Oracle blew it again. It had a difficult hardware transition; it added 4,000 new salespeople and didn't get much out of them, and it didn't have luck closing a lot of big deals -- at least right now.
So aren't all of these sales?
Yes, but they have already been put on sale by a market that instantly over-punishes but does not instantly over-reward. That's the issue that confronts bargain hunters at this very moment.
This article originally appeared on March 21, 2013, on RealMoney. To read more content like this + see inside Jim Cramer's $3 Million portfolio for FREE Click Here NOW.
Let me walk you through my thinking.
First, FedEx. We don't know if this company's problems are cyclical or secular. It looks as though FedEx is offering a very expensive product that people don't really need right now -- the fast-shipping option. But if things get better globally, won't people pay up for the service as they used to do?  I think they will. In the meantime, they are taking down costs and bringing in new planes to make service cheaper. How do you know it won't click?
More important, think back to what happened with FedEx back in September and October of last year. The company first guided down then, citing pretty much
the exact same problems
that hurt it Wednesday. That's right, the exact same problems. That news sent the stock from the low $90s down to the mid-$80s in a similar bloodbath to Wednesday's percentage decline.
Then it began to bounce back to the high $80s. Sure enough, the company then reported and guided back down again, citing
the exact same problems
. It did
not
, however, take out its low. Then the stock just took off, in a truly amazing run, almost in a straight shot to $109. That's right: It put on 24 points in a virtual straight line, even though the company hadn't solved any of the problems mentioned.
So, to me, the question will be: Why not just buy it again, betting the same thing will happen once more? This is a charmed company that attracts buyers every time it is put on sale. A lot of people thought FedEx had fixed its problems and bought it at what amounted to about 13x earnings -- and those people could be drawn to it now at about 16x earnings simply because they believe the company will fix those problems.
Now, I would prefer to pay a lower multiple, and I believe the worries still aren't discounted. But that wasn't the way it worked last time, so I don't know why it would work that way this time. People love to own this company, and nothing I heard Wednesday will cause people to change their minds even though it was
the exact same thing
that tripped them up last time. They may not change right now, as the wounds are too fresh and the stock is still too high, even after yesterday's shellacking. We tend to see a two-day shellacking, which is what happened the last time FedEx got hit.
But at the end of the second day, we'll have seen exits by the firms that wanted to get out of it, and that tends to be it for the selling. The rest of the people are believers, thick and thin, and new people will think that the stock overreacted. Plus, no one of any import is going to downgrade it after this pulverization.
Next Caterpillar: Sure, the sales were bad both in North America and in the rest of the world. Down low-double-digits is miserable. But Caterpillar, the premier machinery company in the world, now sells at just 10x earnings. That alone will bring in buyers. There will be plenty of people who will say this is a one-off decline, especially if China gets stronger and the U.S. starts seeing some commercial real estate building.
Now, you may think that is impossible -- but that, again, has been the pattern with Caterpillar. Like FedEx before it, people can't stay away from this high-quality company because, alas, it is high-quality, and best-of-breed always attracts buyers. Sorry -- it will be bought, not sold here, because it has already been humbled.
Caterpillar has now declined about 3% vs. the market's plus 9% gain. Because of that, no one of any significance will downgrade it after this hammering.
Deere? Here's the premier farm-equipment stock that has been hit with multiple downgrades because of a slide in the price of corn. It now sells at 10x earnings. After the decline, it's barely up for the year.
So now the potential sellers are thinking it's down enough already. The buyers are thinking, What happens to this coiled spring if corn goes up? It will be bought because of that potential upside.
Oracle, finally, is a little like FedEx. It had run into the quarter and came into Wednesday's session up 7% for the year. But this high-quality company will be selling at 11x next year's earnings by the end of the day, with lots of cash -- $33.4 billion -- as well as a huge buyback that included the repurchase of 61 million shares, with $10 billion bought in the last year. It also has a new product cycle that starts this quarter. The expectations had been ratcheted down, and people are going to give Ellison, Hurd and Safra the benefit of the doubt here. A couple of downgrades today, a few more tomorrow and that's about it. Again, invoking the two-day-decline rule of FedEx, it should probably be bought Monday.
Now, I know all of this seems pie in the sky. These are four companies that really blew it. If there were any intellectual honesty to it, these companies would go down and then stay down, if not continue to drift even lower, given the circumstances.
But -- and this is the real but -- that's not been what the market's been doing to damaged stocks. There's been a tremendous benefit of the doubt being given to higher-quality companies that have been put on sale, as FedEx showed from the Lazarus-like run from the September-to-October debacle.
So, now get out of the four walls of these miscreants, and puzzle over the trajectory of the following companies.
First,
IBM
(
). Remember that last quarter? It disappointed pretty much everyone, even as management told you that things were going to get better. The result? A two-day decline, stabilization, and then ramp -- big ramp, huge one -- that you would love to have caught.
How about
Johnson & Johnson
(JNJ) - Get Free Report
? If you go back to the last quarter, there was nothing to like about it, nothing at all except it was now run by a different CEO. The stock's up almost 10% after an initial pullback.
Or how about
McCormick
(MCK) - Get Free Report
, the spice company? It reported an incredibly hideous quarter in January, a real stinker, driving the stock from $66 to $61. I spoke to the company, and management made it clear that the issues were one-time only. The stock caught a couple of downgrades, and then the shares stopped going down. Without knowing anything more, the stock has now run from $61 to $71, a testament of another best-of-breed company attracting buyers.
Now, how about retail? Think about these two:
Bed Bath & Beyond
(BBBY) - Get Free Report
and
Target
(TGT) - Get Free Report
. No one liked the last quarter of Bed Bath, but it managed to bottom after several downgrades. That's right, it  found its footing and bottomed. Sure enough, the stock is up 10% since that bottom, and is still going higher -- on no new information except vague takeover rumors.
Target? Really bad, disappointing sales numbers. Terrible. But they turned out to be just a glancing blow. Like the rest of these stocks, the numbers were seen as a buying opportunity.
Now Deere, Oracle, Cat and FedEx are not alone. Two days ago,
Occidental
(OXY) - Get Free Report
lowered the boom on its earnings. It was pathetic. The stock went down both days as the big owners took two days to blow out of it. We didn't get any downgrades -- and, although I expect them, they haven't surfaced yet. You know why? Because the stock's been overly punished, and the company's getting new management that might do what
Marathon Oil
(MRO) - Get Free Report
and
ConocoPhillips
(COP) - Get Free Report
did: split the company into two and bring out tremendous value. At this point, why not wait for that to happen? If you don't own it, you know that you want to get started. If you do own it, as we do for the
Action Alerts PLUS
charitable trust, you want to buy more because the quality is there.
What can I say? You can argue there is no justice here. But we are in a no-justice market. We are in a bargain-hunter market. Too many stocks have moved so much not to seize on any bargains.
That's what keeps happening. Why should we think it
won't
happen again?
At the time of publication,
Action Alerts PLUS
, which Cramer co-manages as a charitable trust, was long ORCL, IBM and OXY.
At the time of publication,
Action Alerts PLUS
, which Cramer co-manages as a charitable trust, was long ORCL, IBM and OXY.