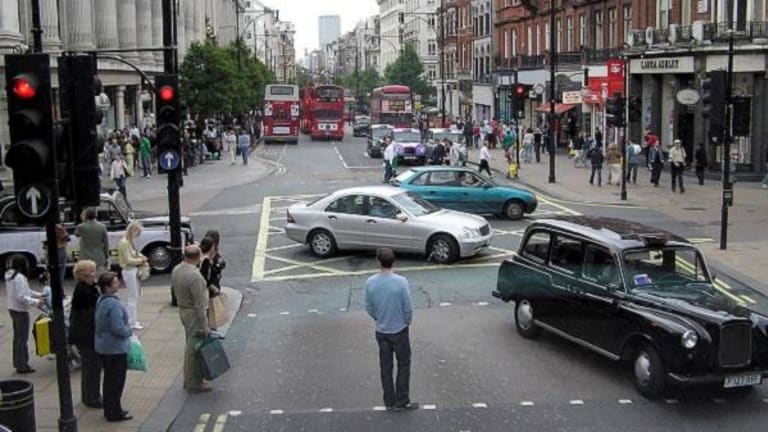 A Nasty Traffic Jam Can Have a Nasty Effect on Your Investment Returns
Gridlocked roads make for miserable commuting traders, with their bad moods reflected in stock market performance, a research paper argues.
This column originally appeared on Real Money, our premium site for active traders. Click here to get great columns like this from Jim Cramer and other writers even earlier in the trading day.
Want to make an almost sure bet on where stocks are going on a particular day? You could start by measuring the length of traders' commutes. At least that's what a recently published paper by two researchers from the University of Economics and Technology in Ankara, Turkey, shows.
The paper by Serkan Imisiker and Bedri Kamil Onur Tas has looked at the relationship between the morning rush hour traffic in London and the returns of the FTSE 100 index between 2006 and 2014. It found a "significantly positive" relationship between the average speed of vehicles at rush hour and market returns.
No matter how much traders want to emphasize their rational thinking, mood plays an important part in stock market returns. Those traders in a good mood will take more optimistic actions, while those in a bad mood will err toward the pessimistic side. These mood swings matter less than in the past because of the rise of trading algorithms that eliminate emotion, but at the end of the day mood still influences trading.
The average commuter living in London spends around 101 hours a year in traffic, while the New York commuter spends around 73, according to the paper, which quotes data from traffic provider Inrix.
"Commuting to and from work seeing the same ordinary scene every day is generally a painful activity," the paper says. "All commuters have the same goal of reaching their destinations in the least amount of time and compete with others to minimize the stress and pain from being stuck in the gridlock. Time exhausted while being trapped in the jam not only causes absenteeism at the work place, but also deteriorates the mood and quality of work."
London is seen as one of the most congested metropolises in Europe and ranks 16th of 174 cities across the world in terms of traffic congestion, with an average 38% extra travel time, the paper says, quoting data from traffic service provider TomTom.
The two researchers looked at traffic flow between 06:30 and 08:00 in the morning in London -- in order to include those who must be at their desks before the London Stock Exchange opens at 08:00 am -- inside the London orbital motorway M25, one of the longest orbital roads in Europe.
They tested the effect of traffic congestion against daily and intraday returns of the FTSE 100 index and found a way to quantify how bad the impact of traffic jams in London is on stock market returns. On the days with the highest levels of traffic congestion, stock market returns were 0.12% lower on average.
Unless all traders are replaced by algorithms, market returns always will be influenced, to some extent, by traders' mood. Investors armed with knowledge of what can influence this mood enjoy a competitive edge. Traffic jams are just one factor that can affect traders' behavior.
Employees of TheStreet are restricted from trading individual securities.