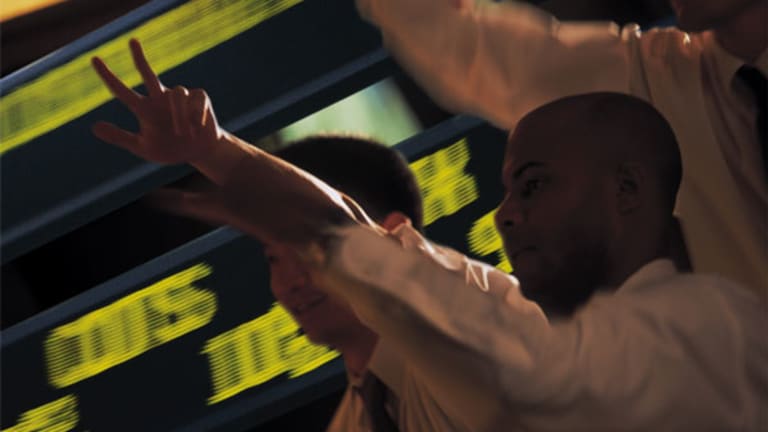 A Muni Opportunity; Hoping for a Greek Stay (in Eurozone); Google Goes Apple-Picking: Best of Kass
In highlights from this week's trading diary, Kass sees opportunity in municipal bonds, warns against a Greek exit from the EU and finds value in agriculture and a Google app.
NEW YORK (RealMoneyPro) -- Doug Kass of Seabreeze Partners is known for his accurate stock market calls and keen insights into the economy, which he shares with RealMoney Pro readers in his daily trading diary.
This past week, Kass sees money in munis, the Eurozone needing Greece and Google crowding Apple's cloud.
Feeling Good With Munis
Originally published on May 26 at 12:21 p.m. EDT
Over the last few weeks, I have posted that I have dramatically raised my exposure to closed-end municipal bond funds, taking advantage of price drops due to fears of an interest rate rise (which is certainly not happening today and I am not expecting in 2015).
It is important to note that many high-quality municipal bonds are now yielding 20% to 30% higher than Treasuries (on a pre-tax basis).
Over history, this has been a good time to own both munis and closed-end muni funds as the spread between taxable and nontaxable paper narrows.
Position: Long BTT, ETX, BKN, NQS, NPM, NAD, NMO, NMA, VPV, VCV,NQU, NPI, VGM and NRK.
Market Doesn't Inspire Confidence
Originally published on May 27 at 2:36 p.m. EDT
There is nothing today that changes my general view that we are in the process of making a broad top in equities.
The market that has no memory from day to day -- it's for now trendless, rangebound and provides an excellent setting for opportunistic traders willing to short the rips and cover the dips or conversely to buy the dips and sell the rips. (I have a nice P&L this year from my trading ventures.)
That said, this is still not a market to be confident about -- in either direction.
I confronted a confident and vociferous subscriber in the comments section yesterday who was most certain of his view and who said I was downright "doing a disservice to subscribers" by making long the Market Vectors Agribusiness ETF  (MOO) my "trade of the week."
He wrote that he planned to short MOO (I am not sure what he is waiting for!) and already has a Deere (DE) short on -- despite the nice technical setup on both and despite the endorsement of Deere by the Oracle, among other reasons. (Today MOO is up slightly more in percentage terms than the S&P index and DE is +1%.)
So I watch and react, rather than boldly anticipate (by taking baby steps) -- perhaps, in this case, learning from another who seems so certain in a setting of rising uncertainty.
While I am now market neutral, I do have a view (though not necessarily a crystal ball or a concession on what the future might bring) -- though less self-confident than that particular subscriber and some others.
My plan is to tactically re-establish small-sized shorts on any further strength until the downtrend becomes established (if it does at all).
I am maintaining my market neutral position -- and waiting for "signs" from the price action.
Position: None
Against the Grain on Greece
Originally published on May 27 at 3:18 p.m. EDT
BB&T Is A-OK in My Book
There is a growing consensus that Greece needs the eurozone more than the eurozone needs Greece, and that a Greece exit would not have an adverse impact on the markets.
I have a different view. I am of the belief that a Greece exit would be negative for the capital markets for a number of reasons, including (but not only) these:
A redenomination of Greece's currency would have something of a domino effect on the sovereign debt of Italy, Spain and other weak countries in the eurozone. Why would traders and investors want to trade or own Italian or Spanish debt if these countries too might ultimately exit the EU and devalue their currencies?
An exit of Greece would raise the specter that more extreme political parties in the weaker peripheral countries might gain momentum.
As I have written before, we are in a flat, interconnected and networked world.
Position: None
Originally published on May 28 at 9:54 a.m. EDT  
I wanted to continue to update my regional-bank portfolio. Next up is BB&T (BBT) .
Based in North Carolina, it is a large bank ($190 billion in assets) with a footprint in 13 Southern and Mid-Atlantic states. Unlike some of my other regional-bank holdings, its market capitalization is also large ($29 billion) and its stock trades actively (3 million shares a day).
BB&T's most recent acquisition of BankAtlantic continues to round out the company's broad network, which currently represents America's fifth-largest bank-branch system.
Recent Results
First-quarter results missed expectations, principally due to a sizeable drop in net interest spreads (the bank is asset-sensitive). Non-interest income showed healthy gains. Other positives:
BBT shares provides bank exposure to a relatively strong geography that's growing in excess of the overall U.S. growth rate.
Second-quarter profits should rebound from a disappointing first-quarter report, with fee income rising, credit improving, good expense control and an improving loan picture.
The bank's projected 2015 return on assets (1.18%) and return on tangible capital (14.6%) exceed most large regional banks' figures.
BB&T is among the more asset-sensitive banks, profiting from an imbalance of rate-sensitive assets over rate-sensitive liabilities. (The bank's most recent 10-Q quantifies the benefit of higher interest rates.)
BBT shares trade at 13 times compared to its mid-2000s' 15 to 16 times multiple. The shares have flatlined over the last year.
BB&T pays a $1.08-a-share dividend, which I see rising to close to $1.20 next year.
Secular EPS growth is estimated at 10%.
My 12-month price target is $45 per share or an 11% return.
Position: LONG BBT, BAC, WFC, FITB, FMER, BT, RF, C, MSL, SONA, EFSC, STL, MBFI
Google Goes Apple-Picking
Originally published on May 28 at 2:40 p.m. EDT
Google (GOOGL)  announced today a photos app that will offer support for storing unlimited photos (up to 16-megapixel) and videos (up to 1080p) in the cloud. The best thing is that it's all free to the user.
The app is available to all users starting today -- on Android, iOS and the web.
The keywords here are "unlimited: and "free."
Look out Apple  (AAPL) .
Position: NONE
Doug Kass is the president of Seabreeze Partners Management Inc. Under no circumstances does this information represent a recommendation to buy, sell or hold any security.