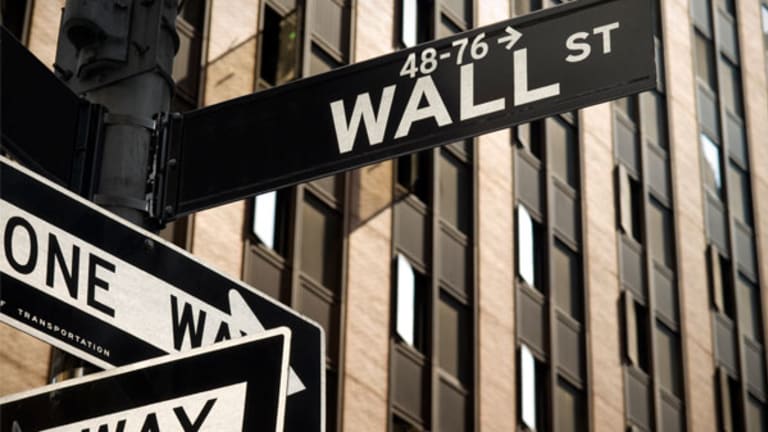 A Look Back; Data; QE: Best of Kass
In these highlights from his trading diary this week, Doug Kass comments on the week that was and parsing the data.
NEW YORK (TheStreet) -- Doug Kass of Seabreeze Partners is known for his accurate stock market calls and keen insights into the economy, which he shares with RealMoney Pro readers in his daily trading diary.
Among his posts this past week were entries about the week that was, parsing the data and the effects of quantitive easing.
Please
for information about subscribing to
RealMoney Pro
.
That Was the Week That Was
Originally published on Friday, May 24 at 12:06 p.m. EDT.
Let's review.
My look back at the week's daily diary highlights borrows its title from
a popular 1960s BBC comedy show
hosted by David Frost.
Monday began with a song (or my version), "Mr. Market Keeps Singing a Happy Song," in which I summarized fundamentals that are out of tune with the current market -- namely, rising valuations in lieu of real economic improvement, the printing of money as a panacea, the belief in a free lunch and market optimism by the dominant influential investor class. Also,
Caterpillar
(CAT) - Get Caterpillar Inc. Report
reported sluggish dealer sales in an
, while
Altisource Portfolio Solutions
(ASPS) - Get Altisource Portfolio Solutions S.A. Report
continued to make new highs adjusted for its
Altisource Asset Management
(AAMC) - Get Altisource Asset Management Corp. Report
and
Altisource Residential
(RESI) - Get Front Yard Residential Corp. Class B Report
spinoffs.
On Tuesday in "The Home Run Hunt," I examined the tactics used for finding the next big thing on the heels of Tumblr's acquisition by
Yahoo!
(YHOO)
. Some of my peers look to play into earnings calls, earnings surprises or technical, while my focus is typically on the fundamentals. After discovering
Ocwen Financial
(OCN) - Get Ocwen Financial Corporation Report
spinoff Altisource Portfolio Solutions and later its spinoff Altisource Asset Management, I began my search for the next home run, which I believe is
Monitise
(MONI.L)
, a London Exchange-traded disruptive innovator in the mobile payments industry. Speaking of Ocwen, the company had positive comments this day at a Barclays conference, including remarks on mortgage growth, lower costs, cash flows outpacing earnings and better recapture rate on HARP loans. We saw Treasuries rally, thanks to comments from Bullard, and the market continued its advance.
Also see: Remembering Lost Leaders in Business >>
I posed the question "Are Valuations Peaking?" on Wednesday. The Federal Reserve Bank of Chicago's Index of National Economic Activity, which was -0.53 compared to the prior month's reading of -0.23, and the Citigroup U.S. Economic Surprise Index's drop from +40 in January to -18 confirm unambiguously that the economy is slowing. The disconnect between fundamentals of GDP, corporate sales and profits (weak and disappointing) and share prices (strong and euphoric) has widened in recent weeks with the S&P 500 trading at 16x forward earnings vs. a long-term average of 15x over the past five decades. The market's valuation (P/E ratio) appears stretched, supporting my thesis that its risk/reward is unattractive at these prices.
Lowe's
(LOW) - Get Lowe's Companies, Inc. Report
and
Target
(TGT) - Get Target Corporation Report
missed on earnings despite my observation that the savings rate has pushed forward retail sales. Bernanke gives his testimony and discusses the possibility of tapering in the next few meetings if the economy continues to improve: "A premature tightening of monetary policy could lead interest rates to rise temporarily but would also carry a substantial risk of slowing or eroding the economic recovery and causing inflation to fall further." The 10-year yield hits 2% during these comments. I sold out of many of my long-standing long positions, including
Freeport-McMoRan Copper & Gold
(FCX) - Get Freeport-McMoRan, Inc. Report
,
eBay
,
Disney
(DIS) - Get Walt Disney Company Report
,
Colgate-Palmolive
(CL) - Get Colgate-Palmolive Company Report
,
Chubb
(CB) - Get Chubb Limited Report
,
ExxonMobil
(XOM) - Get Exxon Mobil Corporation Report
,
Prudential
(PRU) - Get Prudential Financial, Inc. Report
,
Procter & Gamble
(PG) - Get Procter & Gamble Company Report
,
PepsiCo
(PEP) - Get PepsiCo, Inc. Report
,
Oaktree
(OAK) - Get Oaktree Capital Group, LLC Class A Report
,
MetLife
(MET) - Get MetLife, Inc. Report
, Lowe's,
Lincoln National
(LNC) - Get Lincoln National Corporation Report
,
Loews
(L) - Get Loews Corporation Report
,
Home Depot
(HD) - Get Home Depot, Inc. Report
,
Ford
(F) - Get Ford Motor Company Report
and
General Motors
(GM) - Get General Motors Company Report
. Momentum stocks slid big, including
OpenTable
(OPEN)
,
Zillow
(Z) - Get Zillow Group, Inc. Class C Report
,
Herbalife
(HLF) - Get Herbalife Nutrition Ltd. Report
,
Green Mountain Coffee Roasters
(GMCR)
,
LinkedIn
(LNKD)
,
SodaStream
(SODA) - Get SodaStream International Ltd. Report
,
Netflix
(NFLX) - Get Netflix, Inc. Report
and
lululemon athletica
(LULU) - Get Lululemon Athletica Inc Report
.
Thursday morning I outlined why
Apple
(AAPL) - Get Apple Inc. Report
is ripe for a buy, and I bought shares later that morning at $443.65 on the basis of a positive risk/reward ratio with a projected downside of $400-$410 vs. an upside $500-$525. With poor investor sentiment, an embarkation of aggressive return of capital to shareholders, and the offshore tax issue likely behind the company after this week's testimony, I opined that this is the time to buy.
Berkshire Hathaway's
(BRK.A) - Get Berkshire Hathaway Inc. Class A Report
(BRK.B) - Get Berkshire Hathaway Inc. Class B Report
share price moved below its level during the time of the annual meeting and where the stock was after the first-quarter earnings beat. I appeared on both on CNBC's "
" and "
." I added to my index short positions:
SPDR S&P 500 ETF Trust
(SPY) - Get SPDR S&P 500 ETF Trust Report
at $165.55 and
iShares Russell 2000 Index Fund
(IWM) - Get iShares Russell 2000 ETF Report
at $97.77.
That brings us up to now (Friday), when we took a look at this morning's economic data.
I thought as we close out this week, we should take a quick peek at the past nine intraday moves up until now of the S&P 500, of which I continue to remain short based on my aforementioned observations.
At the time of original publication, Kass was long ASPS, AAMC, OCN, MONI.L and AAPL common, and short BRK.B, SPY and IWM.
Parsing the Data
Originally published on Friday, May 24 at 9:42 a.m. EDT.
Let's parse through today's economic data.
Today's data confirm a moderately growing domestic economy and don't change my view that there is a widening disconnect between current and guidance for corporate sales and profits, current and prospective real GDP and the stock market.
As highlighted in Wednesday's opener, the Citigroup Surprise Economic Index and other measures (e.g., the Chicago
Fed
National Economic Activity Index) have been signaling slowing growth, while the S&P 500 has risen by nearly 100 points in the last two months.
Also see: Be Happy but Vigilant as Tim Cook Murders Apple >>
Headline March durable goods were +3.3% compared to expectations of +1.5% and a large drop in the prior month (-5.9%). This series is a volatile one, dependent on commercial aircraft orders. If we take out transportation orders, the number was +1.3% (consensus was +0.5%) and vs. a decline of -1.7% in March.
April nondefense orders, which closely follows capital spending, was +1.2%% compared to expectations of +0.5% and +0.9% in March (revised from a +0.2% gain). A good number, the best in three months, and the year-over-year change is +4.6%.
Another metric, however, core capital goods shipments, which takes out defense and aircraft, was weaker, down by -1.5% compared to expectations of only a -0.5% decline and a +0.5% increase in March. This signals that the first-quarter soft patch in capital spending has continued into the current quarter.
Quantitative Easing Widens the Wealth Gap
Originally published on Wednesday, May 22 at 11:25 a.m. EDT.
QE is failing at having the trickle-down impact to the middle class in America, and the savings class is getting robbed.
The congresswoman now talking with Bernanke is talking my book.
The schism between haves and have-nots widens with every QE.
Also see: Where's My Rebate: New Car Sales Up, Incentives Down >>
Policy is failing at having the trickle-down impact to the middle class in America.
Moreover, the savings class is getting robbed.
Or as famous Wall Street trader Joe Gruss once told me: "The rich get richer, and the poor go to prison."
Doug Kass is the president of Seabreeze Partners Management Inc. Under no circumstances does this information represent a recommendation to buy, sell or hold any security.