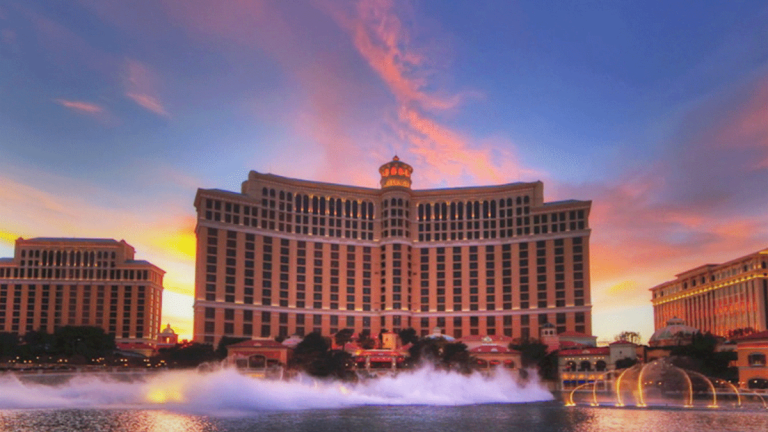 Hedge Funds Ease Off Scaramucci's SALT
One thing was missing from former White House Communications Director Anthony Scaramucci's 10th annual Skybridge Alternatives Conference SALT in Las Vegas last week: The 'Billions/Bobby Axelrod' Baller hedge fund manager. And it was a good thing.
If there was one thing absent from the 10th annual Skybridge Alternative Investment Conference held at the tony Bellagio hotel in Las Vegas last week, it was the quintessential, stereotypical, Billions/Bobby Axelrod hedge fund manager.
And it was a good thing. 
Call it a sign of the times, but the Baller-With-a-Capital-B hedge fund conference launched a decade ago by investment-manager-turned-shortest-tenured White House Communications Director Anthony Scaramucci had decidedly fewer Masters of The Universe roaming the opulent halls of the Bellagio hotel and casino this year.
With politics, economics, politics, more economics and even more politics dominating the two full days of dialogue, both inside and outside the conference, the message seemed to be that there was significantly less sugar at this year's SALT, and for a reason.
Regardless of whether the rich keep getting richer, and irrespective of what kinds of alternative investing tools and resources they use to do it, the over-the-top, alpha-male, dominated industry that operates on the premise that it takes millions to make billions is losing its luster.
"The crazy, the b-s, the over-the-top stuff - it just wasn't there," noted one San Diego-based family-office investor who has been coming to SALT since its not-so-humble beginnings 10 years ago. "Yes, there were some of the very recognizable names and faces this year, and yes, there was plenty of Hermes belts and Ferragamo and Gucci shoes, but not like in the past."
Then and Now
Being big, flashy and different was what it was all about when Skybridge Capital kicked off its first alternatives conference back in 2009. Nudging its way into an already crowded world of hedge fund conferences, all of whom claimed to be bigger, deeper and more capable of attracting big-name investors and their pocketbooks, SALT had to be different.
And it was.
In a world where many of the key "alternative" investment conferences took place in slightly quieter locales such as Boca Raton and Bermuda, the concept of a deep-dive, sophisticated conference was never what SALT was going to pretend to be.
From the start it was about names, names, and more names: Big-name hedge fund managers, big-name movie stars, big-name rock stars, former presidents and current prime ministers. It was also about big-money investors: sheikhs, emperors, old money, new money - anyone with money that wanted to protect the money they had, and make more of it.
It was also very much about the weird and removed world of hedge funds - where expressions like "2 and 20" and "absolute return" are as common as earnings, returns and profits - the true 1%, and how to maintain or even divide into the 0.5% or 0.25%.
(The term "2 and 20" refers to the 2% management fee and 20% performance fee investors pay hedge fund managers to invest their money for them; absolute return is a catchphrase used to describe the appreciation or depreciation, expressed as a percentage, that an asset such as a stock or a mutual fund achieves over a period of time).
On the contrary, this year was very much about what is - or at least could be - alternative ways to approaching and dealing with the unprecedented state of global politics and financial markets - specifically, the consistently inconsistent Trump presidency and the minute-by-minute angst that has made anxiety investing a new strategy.
Union Convention or Financial Conference?
"White guys in dark suits in Las Vegas can mean only one of two things: A union convention or something to do with finance," professed one wry blackjack dealer. "I saw (former New Jersey Governor) Chris Christie walking through the casino with an entourage, so I'm honestly not sure which one it is."
Panelists this year included President Donald Trump's former chief of staff, General John Kelly, who fired Scaramucci, as well as former Attorney General Jeff Sessions, former U.S. ambassador to Russia Michael McFaul, former U.N. Ambassador Nikki Halley, Michael Milken, and, of course, Christie.
But there were many other panelists and attendees not part of the old-school hedge fund club but certainly part of the new-era start-up venture capital and technology focused world: Joon Yung, president of Palo Alto Investors, Tinder founder Sean Rad, Etherum Co-Founder Joseph Lubin and Chamath Palihapitiya, founder and CEO of Social Capital, and the needs-no-introduction, Mark Cuban.
To be sure, conversations about alternatives and investing still dominated the two-plus-day extravaganza, albeit in a different way.
Among those rubbing elbows with the nearly 2,000 attendees: More than a few young, blazer, t-shirt-and-sneaker-wearing, I-don't-care next-gen entrepreneurs - there to mix, mingle and chat about what they see as the future world of "alternative" financing and business.
Start-Up Alternatives
"I came because I wanted to meet people who wanted to talk about something entirely different, which is what we are doing," said Daniel Bokun, founder of GIMME360, a platform that allows people to create 3-D and AR-driven experiences, no coding experience required.
Told last-minute about SALT by an investor who had already given his company start-up cash, Bokun and his co-founder Josiah Crombie hopped on a plane from Toronto to share their experience with building something that no hedge fund or alternatives investor has seen before: A technology and platform to communicate and share information that doesn't involve a flat, glass screen.
"I'm not really sure what a hedge fund is or does," a weary, shorts- and t-shirt wearing Bokun admitted on the red-eye back to Toronto Friday night. "What I do know is that people are still looking for good ideas to invest in - that for me at least, people seem interested in concepts that will actually shape the world and make it a different and better place - and that they want to invest in those kinds of things.
"For that, there were some great people to talk to. It was totally worth it."