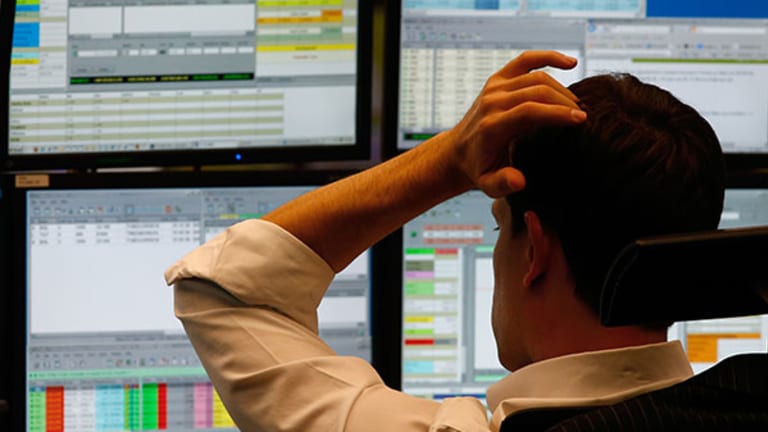 A Lesson from Chipotle; Energy MLPs' Hidden Pain Point; and Snap Judgments: Jim Cramer's Best Blogs
Catch up on Jim Cramer's ideas from this past week as he talks about the wrong times to trade, why energy MLPs are down, and the impact of snap judgments.
NEW YORK Real Money -- Jim Cramer fills his blog on RealMoney every day with his up-to-the-minute reactions to what's happening in the market and his legendary ahead-of-the-crowd ideas. This week he blogged on:
Why you should avoid trading in the middle of an earnings call;
The real reason energy MLPs are down;
How bad snap judgments keep pummeling good stocks.
Click here for information on RealMoney, where you can see all the blogs, including Jim Cramer's -- and reader comments -- in real time.
Let Chipotle's Call Be a Lesson to You
Posted on July 22 at 1:20 p.m. EDT
If you ever want to trade after hours, if you ever want to make a fool of yourself, then go replay the action in the last 24 hours of Chipotle's (CMG) - Get Chipotle Mexican Grill, Inc. Report stock to be sure you stop yourself from doing so.
We all know Chipotle's stock has been under pressure after we got some weaker guidance than expected on the last quarter. That said, the stock ran up about 10%, going into yesterday's print largely because of rumors that the worst might be over.
But at 4:01 p.m. ET yesterday, the company reported a quarter that was immediately labeled a miss both on the top or revenue line, and on the comparable store sales line, with the latter coming in at 4% when some were looking for 5%.
The stock, which had closed at $674, immediately plunged more than 50 points to the $620s as longs bolted and shorts pressed their bets against this once red-hot quality serve chain. Why not? Even though many analysts had downgraded the stock ahead of what were the toughest compares in the history of the public company, there were still about an equal number who would have to slash numbers and cut ratings, these quick-draw sellers no doubt figured.
And then the release was fully digested and the conference call began. Chipotle conference calls aren't like other conference calls. They start with the ethereal comments about the culture of management, about the need to be as pure as possible in food. This one was no different as Chairman and co-CEO Steve Ells talked about the need to remove all GMOs from all food and take out anything unnatural from tortillas. He also mentioned that the company's trying frantically to source pork by better-treated hogs and has located a more humane producer. And he mentioned the introduction of a game, Friend or Faux, where contestants guess which ingredients are found in Chipotle food vs. competitors'. The stock stayed low the whole time.
It momentarily lifted when co-CEO Monty Moran talked about how through-put, how many people can be put through the system, was robust, but then got hammered right back down to the lows when he mentioned that labor costs had to go higher because people needed to be treated better to improve customer service. You could tell the shorts were pressing on that expense line, a real killer in the restaurant business.
It hit a low at that point in the trading.
And that's when CFO Jack Hartung, the keeper of the numbers, came on the call well into the hour. He explained that July, not covered by the quarter, was looking very strong. He said the pork shortage has hindered them, causing one of the best-selling items, carnitas, to be absent from the menu in many parts of the country, but it will be returning to stores. So the bounce-back isn't even in the numbers.
Nor it seems were the price increases the company has taken in some areas that are producing no drop-off whatsoever in sales. Elastic pricing! We also learned that there was a 16-cent hit per share to the quarter because of a labor scheduling issue. I couldn't tell exactly why, but I know that the analysts hadn't figured that out. So the earnings were actually better than expected and the comp sale numbers are on the upswing.
Next thing you know, the stock's only off about 10 points.
Then Hartung's asked about a loyalty program. Nope, too costly, we already have great loyalty from what we do.
Down five.
Then a question about a new concept, Pizzeria Locale, and we get an answer from Mark Crumpacker, the chief marketing and development officer, that the company's testing is yielding some impressive results.
Unchanged.
Finally, a question about what to do with all that cash that's building on the balance sheet. The answer? Buy back stock, which is why Hartung said the company put $100 million to work at great prices during the selloff over the last three months.
That's it. Enough. The stock's in the black by the end of the call.
Today? The momentum continues. Meanwhile, oil breaks $50 and all the restaurants are flying. The result? Up $50 as the short story disappears and the long story comes front and center. The moral of the story? Wait, don't trade, and listen to what the CFO has to day. If you did, you just made $120 in points. Congratulations. If you didn't? Get out of the game, you don't belong in it.
Energy MLPs Aren't Struggling Because of Fundamentals
Posted on July 23 at 6:52 a.m. EDT
It's driving everyone nuts who has ever owned an oil and gas limited partnership. We, who have watched this group for oh-so-many years, know that there is a fund that owns these MLPs and has either borrowed so much money or is having such incredible withdrawals that the manager sells them every single day.
These stocks are being liquidated and it isn't because of their fundamentals. It's because some unnamed moronic fund is out there flailing, dangerous, selling everything and when he's through the bear market in them will be done.
Now, I am not going to go into the notion that there is some sort of fundamental challenge here, that some of these are more levered to the price of oil than you realize and there will be pipelines that are going to be cancelled because of the low price of crude. Nor will I do it for natural gas. The simple fact is we need all of the pipe we can get in this country. Oil by train costs $13 more per barrel than oil by pipe and in an era where we are not as competitive as we like, it is suicidal to keep using rail. So oil pipes are especially needed at these prices.
Natural gas? I know this will shock people, but it is in incredible demand all over the country in part because of the closure of coal plants and in part because of a shortage of natural gas in the one-time big exporter Mexico and also because Cheniere Energy (LNG) - Get Cheniere Energy, Inc. Report is on the cusp of shipping liquefied natural gas and it is incredibly anxious to line up all the pipe it can from the many different shales around the country. Exported natural gas will very shortly encompass 10% of productions, so the industry is desperate for pipes.
So, it is not like the lower price of either commodity is going to impact all but the gunslinger MLPs and that's a minority.
This is about etiquette and honor. No one in this business is allowed, publicly, to say "it's this fund, he's in trouble, he's doing the selling and we are going to destroy him by short selling all his positions into oblivion until he capitulates."
What makes me so certain that this is all one big liquidation? Well how about Williams Partners (WPZ) ? It just this week boosted its quarterly distribution from to 85 cents from 59 cents, a staggering amount. If it were going to cut its dividend, why would it just raise it, giving the stock, which trades at $45, a 7.5% yield.
How about the fact that right now Williams Companies (WMB) - Get Williams Companies, Inc. Report is pretty much in an auction mode having received a very real stock bid from Energy Transfer Equity (ETE) that at one point was worth $64, one it rejected for being way too low. WMB is now at $53 and is still very much in play.
How about Energy Transfer Partners (ETP) , which just got new assets that will enable it to sharply increase its already huge distribution, one that has the stock at $49 yield 8%? How about MPLX (MPLX) - Get MPLX LP Report making a $78 bid for MarkWest Energy Partners (MWE) , one of the best pipes in the Northeast and the target is at $62 and yields almost 6%?
These are all signs not of a problem in the industry. Far from it. The lower some of these commodity prices go, the more pipe we need, not less, as they supplant other fuels like coal.
But the companies themselves don't do buybacks. They depend on their yields for support and they aren't working because of this forced selling. Because of the etiquette we can't find out when or who is doing it but, believe me, it isn't the industry's fundamentals, it's the fundamentals of the money management business at play and the possible failure of a major hedge fund or even two that is at work here.
Whatever, we don't know when the unnatural selling will end. We do know that I think we will look back and think "How did they ever get so low?" Which is why, if you are willing to accept that it is unnatural selling and you can own something for more than a few days of this fool's pain, this, right now, is the time to buy these stocks.
Some People Should Just Keep Their Mouths Shut
Posted on July 21 at 6:37 p.m. EDT
Maybe we should just blame these estimate hounds who keep getting the number of iPhones sold wrong. Maybe we should just say they should keep their mouths shut because we all know Apple's AAPL quarter was a good one. However, we have to endure number cuts based on future iPhone sales that might not even be any more right than the ones people got wrong tonight.
And the stock goes down, taking down with it all of the former darlings like Avago (AVGO) - Get Broadcom Inc. Report, Skyworks (SWKS) - Get Skyworks Solutions, Inc. Report, Cirrus (CRUS) - Get Cirrus Logic, Inc. Report, NXP NXPI and Qorvo (QRVO) - Get Qorvo, Inc. Report. Is that right? These stocks are just one big iPhone stock, so they live and die by it. (Apple and Twitter are part of TheStreet's Action Alerts PLUS portfolio. Skyworks is part of the Growth Seeker portfolio.)
There are so many mistakes being made that I find it painful. We know Chipotle (CMG) - Get Chipotle Mexican Grill, Inc. Report has an incredibly difficult story right now because it has to worry about pricing and sourcing, and neither of those can be captured by a headline. Yet people insist on doing so and they bolt only to find out how wrong they were to do so within a few minutes of the actual call.
If you know anything about GoPro (GPRO) - Get GoPro, Inc. Class A Report, you know the issue is the future, not the past, and those who are doomed to think otherwise are, well, doomed. They sold, no doubt aided by the panic around Apple when the GoPro 4 might be the next big thing.
As for Microsoft (MSFT) - Get Microsoft Corporation Report and Yahoo! (YHOO) ? One's about transformation to the cloud, which can't be captured by a headline, and the other is about a tax break to offload Alibaba (BABA) - Get Alibaba Group Holding Ltd. Report, again, not capture-able, but people insist on trying to do so anyway.
I can't stop people from making snap judgments. I can block the snap judgers on Twitter (TWTR) - Get Twitter, Inc. Report and blast the heck out of them here and on my shows.
So I will.
At the time of publication, Jim Cramer's charitable trust Action Alerts PLUS held positions in AAPL and TWTR.