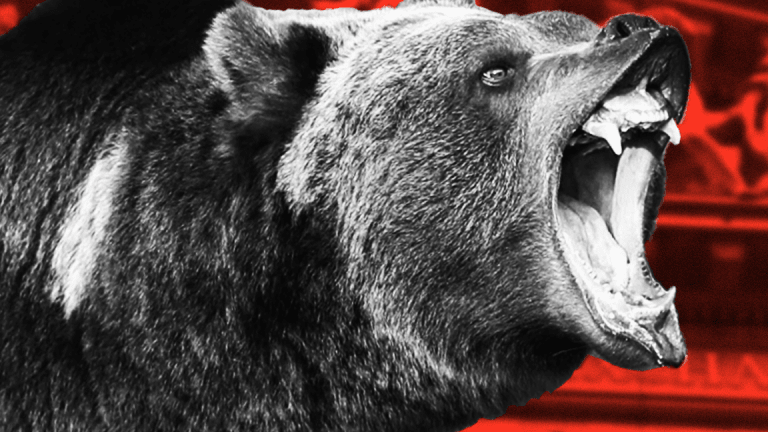 A Hungry Grizzly Bear Is Stalking the Stock Market
Calling all stock market bulls: there are bearish signs all over the place in these markets. Time to get real.
Enjoying that Saturday morning coffee while reading a host upbeat takes on the stock market? Good, put down the $7.00 cold brew and consider the bear case on stocks.
To be sure, there is certainly a bear case on the markets quickly building as we near the S&P 500
undefined

bull market becoming the longest of all-time (3,543 days at the close on Aug. 22).

Ponder this data from Bank of America Merrill Lynch: (1) 11 of 21 commodity markets have experienced "bear" markets (i.e. >20% peak-to-trough decline) this year and a further nine "corrections" (i.e. >10% peak-to-trough declines); (2) 12 of 45 MSCI country indices are in "bear" markets and a further 17 equity indices have seen "corrections"; and (3) The S&P 500's summer surge has been clearly led by defensive sectors (top five performing U.S. sectors past three months include staples, utilities, REITs, healthcare, telecoms, in that order).

Enjoy that last sip and remember, the market is forward-looking.
Reality Check 
Before you head to the mall this weekend, you should know the stock prices of Sears (SHLD) and J.C. Penney (JCP) .
Sears closed Friday's session at a record low of $1.31. You can't even get a pair of lightly used, returned underwear for that price from Sears or Kmart. The 27% crash in Sears over the last five sessions is absolutely deserved, as TheStreet pointed out earlier in the week.
In case you missed it:
Sears chairman and CEO Eddie Lampert wrote a letter to the board (which is weird because Lampert controls the company, in effect he is writing himself) released on Tuesday evening (it's always after-market hours with Sears) offering to buy what's left of the Kenmore home appliances business. In the letter, Lampert offers several clues Sears could be headed into its final holiday season amid a major cash crunch. Take note of the comments in bold as they are red flags on Sears current cash position: "We are writing to submit a non-binding proposal to acquire Kenmore and SHIP and to update the Special Committee regarding our plans with respect to Parts Direct and certain other transactions, as well as to re-emphasize our firm belief that these transactions should be undertaken together with tender and exchange offers designed to allow Sears to reduce its debt, extend its maturity profile and alleviate its liquidity challenges." "As we noted in our May 25, 2018 letter to the Special Committee, speed and certainty here are critical. We believe, therefore, that an expedited process is in the best interest of all parties involved." Why is "speed and certainty critical" in Sears case? Keep in mind for the 13-weeks ended May 5, Sears chewed up $1.2 billion in cash just to support its operations that continue to hemorrhage money. The company ended the first quarter with a mere $466 million in cash ahead of shipments of the all-important back to school, early fall shopping seasons. That's a terrible position to be in for a retailer of Sears' size. It's reasonable to expect the company had another brutal second quarter and suppliers are getting worried about being paid for the holidays. This isn't rocket science stuff, it's standard procedure for retailers that are falling apart -- we have seen the script before. Shares are down 51 percent in three months for a reason.
J.C. Penney is in no less sorry shape. Shares of the 116-year old department store ended the week at $1.79, down 27% in the last five sessions, following a dismal second quarter and nasty full-year guidance reduction. The company's bonds have plunged in value.
All eyes now turn to the malls that house both of these near dead retailers. J.C. Penney is counted as an anchor store in 71 out of 125 properties for mall owner General Growth Properties
(GGP)
, for example. 
Around TheStreet 
Shout out to the @YahooFinance team for having me on Friday afternoon to chat about stocks, Nvidia (NVDA) (it's Nvidia's world, we just get to live in it), Tesla (TSLA) (it's also Elon Musk's world) and the fun that is quarterly earnings season. Watch the full 30 minute segment below. Yes, I think there should be a 'Super Bowl' for corporate earnings reporting. Earnings releases for all of Corporate America, once a year, spanning three days. A true spectacle that team Trump could watch like a repeat of 'The Apprentice.'
In this weekend's 'The Tech Skeptic', TheStreet's @AnnieGaus dives into startup Blackbird that is pitching itself as the Uber of the skies. Gaus spent an hour up in a private plane to test out the service and report back what she learned. Next up: hailing an autonomous one-person helicopter using the Apple (AAPL) iPhone 15. The time is here, folks.
Speaking of Tesla, @JacobSonenshine notes the stock is down 15% since Musk's "funding secured" tweet on Aug. 7. And the markets say...funding hasn't been secured and the legal bills for Tesla will be costly as a result of Musk's Ambien fueled Twitter spasm.
No clue how to pick a retail stock and think Amazon (AMZN) is crushing everyone? Then watch this 'Retail Roundtable' with TheStreet's @ScottGamm, Benchmark Investments CEO Kevin Kelly and yours truly.
Over on @JimCramer Action Alerts PLUS, the research team serves up in-depth analysis of all the stocks it continues to recommend to club members.
Be sure to register here for TheStreet's Aug. 22 webinar with Jim Cramer and veteran market forecaster Marc Chaikin. Topic: How to Trade a Booming Economy.