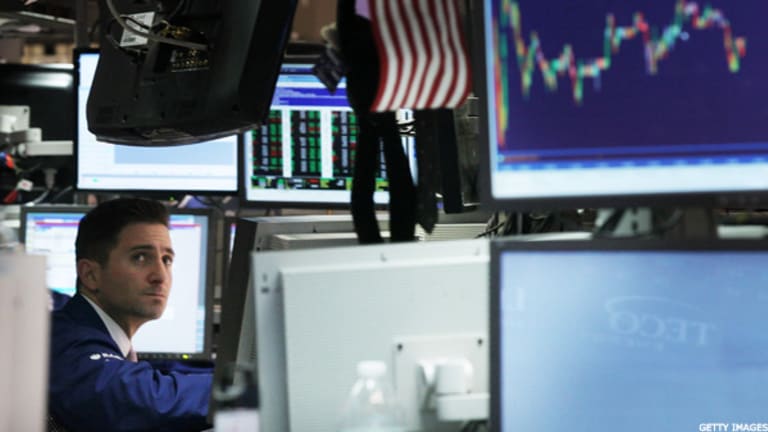 A High-Wire Act No Longer
Jim Cramer thinks the 4-to-1 stock split may make Salesforce a little less attractive to shorts and less frightening to investors.
Market purists, you will hate this piece. So skip it. But Salesforce.com (CRM) - Get Free Report CEO Marc Benioff's decision to issue a 4-for-1 stock split, announced Thursday night, is an inspired and correct decision -- one that I believe will immeasurably help this $172 stock. That's right: I think it will matter, and maybe much more than most realize.
You might now say, "Come on, Cramer, you know that a stock split is a totally cosmetic gesture, and an empty one at that. It means nothing, creates no value and doesn't matter." But before you do, I want to say I know all of that. I have proselytized exactly that for years. How many times have I handled questions from readers and viewers about the value of stock splits simply by splitting a pencil in half, showing that this doesn't create any value at all? It's chimerical.
So what's changed? I think Salesforce.com's $170 stock is simply too treacherous to own, not because of how the company's doing, which is fabulously, but because of how poorly the security trades. It is too thin and too unwieldy. Plus, it is endlessly footballed around by the hedge-fund community. Salesforce.com is a target -- one that is so easily knocked down by shorts, so easily raided and so easily trashed that perhaps only a 4-for-1 may be able to stem the attacks. Put simply, I think they will go elsewhere for their prey if this stock no longer trades like at ten-pin in a Professional Bowlers Association tour. It will cease to be a frightening stock to own.
That's right, holding the stock of Salesforce.com can be downright frightening. I dread its reporting days, because you know the stock's going to be up $12 if it is a good number, or down $12 on a bad one -- at a minimum. That's just not a tenable result.
This article originally appeared on March 22, 2013 on RealMoney. To read more content like this + Jim Cramer's $3 Million portfolio for FREE Click Here NOW.
No one wants to pay up $12 for Salesforce.com the day after it reports. You feel like a chump immediately. It is way too scary. Nor do you want to be in a stock in which you could lose 12 points in a blink of an eye.
Now you might say that, if you split it 4-for-1 and the company reports a good number, the buyers will still have to pay up 3 points. You know what? You never feel like a chump paying up 3. That means nothing. If you know that it might fall 3, that's a level of pain that can be taken.
Yes, again, I know that this is alchemy. 50 shares of Salesforce.com in the $170s equals having 200 at $44. But they aren't equal if the stock doesn't work efficiently, if it moves too erratically on every bit of news. An erratic stock isn't something you want in your portfolio, even if it is attached to a fabulous, one-of-a-kind company.
I know that a split doesn't make Salesforce.com "cheaper." It's a high-multiple stock, and it deserves that multiple. But it doesn't deserve to swing as it does, not with this kind of earnings consistency.
I think this whole idea of letting your stock go up without splitting it, trying to imitate Warren Buffett's
Berkshire Hathaway
(BRK.A) - Get Free Report
-- that is usually the subtext -- has become a very bad call for most companies. Buffett's stock moved up during a time when hedge funds and short-sellers didn't rule the earth. He wanted shareholders for life, and he thought splitting the stock would cater to the "wrong kind" of shareholders, to the "hot" shareholders.
That's all well and good, but right now these high-dollar stocks are like high-wire acts for individual investors. They are needlessly dangerous when the companies themselves are just excellent growth stocks.
So laugh at Benioff, or at me. Joke that it means nothing and that the split is a sign of froth. As someone who has watched this company and this stock for a very long time, I think it will gain retail adherents and shake out hedge funds, the real goal of Buffett, in a different time. Yes, the liquidity will be a godsend -- and a 4-for-1, in one fell swoop, will provide it. No, it's not a reason to buy shares in the company. Yes, it is a reason that investors should no longer fear an unpredictable stock of what has become a
very
predictable company.