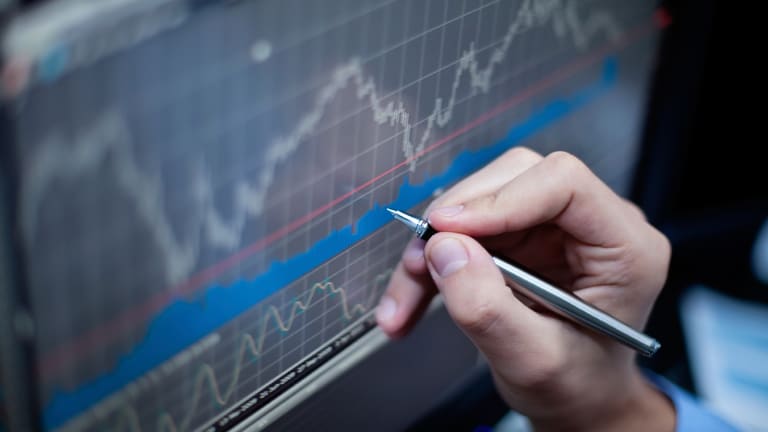 A 'Fundamentalist' Leans Technical; The Case for Muni Bonds: Best of Kass
In highlights from this week's trading diary and posts, Kass talks about why he pays attention to the technical charts on leadership, and his feelings on municipal bond funds.
NEW YORK (Real Money) -- Doug Kass of Seabreeze Partners is known for his accurate stock market calls and keen insights into the economy, which he shares with RealMoney Pro readers in his daily trading diary.
This past week, Kass talks about why he -- who invests on fundamental -- was right to pay attention to what the technical charts were telling us about leadership in the market, and his gradually shifting feelings on municipal bond funds.
A Vote for Technicals
Originally published Sept. 22 at 3:32 p.m. EDT
We often have debates about fundamental versus technical investing/trading on this site.
I am a fundamentalist by choice and experience, but I utilize common sense technical analysis in attempting to isolate inflection points and change of direction.
In that regard, there is one thing I am certain about.
That is this: In my Diary I have frequently expressed concern and have showed the light upon the technical deterioration in breadth and leadership that began in late 2014 and continued into early 2015 ... and anticipated the market schmeissing we have recently embarked upon.
Position: None
I Still Like Muni-Bond Funds (But Less So)
Originally published Sept. 22 at 8:48 a.m. EDT
The core of my bullish thesis for closed-end municipal bonds since December 2013 has been my outside-of-consensus view that:
Interest rates would decline (which has occurred)
The ratio between municipal-bond-fund yields and U.S. Treasury yields would contract and return toward an historic relationship seen in the 20-year period ending in 2006 (which has not yet occurred)
Closed-end muni-bond fund prices stem from some of the following factors:
Interest rates' general levels (which have moved lower)
The visible supply of municipal-bond issuances ahead (which is at normal levels)
Credit spreads (which are contained)
A change in the yield curve (which has seen some flattening)
The relationship between taxable and non-taxable yields (stable)
Municipal-bond-fund inflows vs. outflows (slightly negative)
The above factors have all been generally positive for the sector over the last two years, although the next two years are less certain.
A sharp run-up in the group in late 2014 and early 2015 (the mirror image of a December 2013 selloff where I instituted most of my buys) was likely caused by a resumption of fund inflows following a period of large outflows.
Clearly, retail psychology had a profound impact in both cases on valuations. I underestimated the salutary effect that a reversal early this year from outflows to inflows had on higher fund pricing and a narrowing relationship between prices to net asset values.
Still, I continue to believe that with non-taxable yields above 6% and a 10%+ discount to net asset value, closed-end municipal-bond funds remain attractive and provide a high-return alternative to cash, stocks or rival fixed-income options.
That said, I see modest-but-developing headwinds for the sector in 2016-17 that will likely preclude much capital appreciation above current distribution/dividend rates.
Most importantly, consensus has moved from an expectation of higher interest rates to an expectation of lower rates as global economic-growth prospects weaken. This could lead to a negative surprise for closed-end muni-bond funds if rates move higher and the Fed grows more hawkish.
Rising rates would lower the price of funds' underlying municipal bonds and lower fund NAVs. And in light of funds' typical 35% to 40% leverage, higher rates would also mean borrowing costs rise and distributions might decline modestly.
While interest rates aren't likely to experience a sharp move higher, it's my expectation that 2015 will mark the end of the 30-year bull market in U.S. bonds. That's why I've gone short on the iShares 20+ Year Treasury BondETF (TLT) - Get iShares 20+ Year Treasury Bond ETF Report and long on the ProShares Short 20+ Year Treasury ETF (TBF) - Get Proshares Short 20+ Year Treasury Report against a portion of my closed-end muni-bond fund holdings.
Here are my principal concerns regarding the most important determinants to closed-end muni-bond prices:
There's Limited Room for Further Rate Drops
The 10-year U.S. Treasury yield has dropped to almost 2.10% over the last few weeks.
My calculus concludes that at current rates (and assuming a 0.7 multiplier to nominal GDP), the market is discounting about 1.6% real U.S. GDP growth for 2016-17.
Although that's well below consensus estimates, that seems about right. So, I find it hard to see the 10-year yield moving very much below 2.10% over the next year.
Any 2016 Rate Rise Will Likely Be Contained
I expect a slow but steady rise in interest rates. That means rates will no longer be a tailwind for closed-end muni-bond funds in the intermediate term.
Liquidity Concerns Exist (But Are Overblown)
Another potential headwind for the sector is a "run for the exits" if rate fears spook retail investors out of closed-end mini-bond funds.
These funds are relatively illiquid, as the sector is dominated by individual investors. So, any quick, herd-like exit could be disruptive and widen spreads between fund prices and NAVs.
It's hard for me to gauge the odds of such a scenario unfolding, so I plan to keep an eye on fund flows. They haven't been a concern so far, but that could change at any time.
The Ratio of Taxable to Non-Taxable Yields
Finally, let's look at the relationship between municipal-bond yields and taxable yields, which previously formed the basis on my optimism for the group.
The spread between munis and Treasuries is currently about 105%, unchanged during the two years that I've owned the group. In other words, muni yields are slightly higher than taxable yields right now.
But if we go back in history, that ratio fell to between 80% and 100% from 1986 to 2006. During those years, municipals yielded a bit less than Treasuries did. The relationship hit 100% (the top end of its 20-year range) in the October 1987 market crash, and then returned there in during the 2001 recession.
Since then, the ratio spiked to an unprecedented 170% leading up to the 2008-09 Great Recession. But it later dropped below 100% in early 2011, rose back to 120% in late 2011 during the Euro debt crisis and the Jefferson County, Ala., bankruptcy and then flatlined at around 105% for the last several years. I still believe the ratio can go back under 100%.
The Bottom Line
"The dovish statement by the Federal Reserve last week provided momentary relief for battered investors in closed-end bond funds, a $167bn investment sector in the US that has suffered more than most in anticipation of rising interest rates.

The fear that rising rates will depress bond prices in the future has sent closed-end bond fund shares tumbling sharply below the value of their underlying assets. These discounts are now so wide that CEF shares offer some of the most enticing bargains on the market."

-- The Financial Times, U.S. Closed-End Money Funds Offer Bargain Buy (Sept. 21, 2015) (subscription required)
Interest rates are likely to embark on a steady but slow rise in the next two years. But unless the ratio of muni-bond yields to Treasuries reverts back towards 1986-2006 levels and inflows rise materially (reducing the discount to NAVs), I expect the sector's total annual returns to approximate the current roughly 6% distribution/dividend rates.
There's little prospect for capital appreciation. But from my perch, that 6% will still likely outperform stocks in both absolute and after-tax terms and should provide a good alternative to cash and other fixed-income instruments.
So, I continue to view the sector optimistically. But I'm no longer a buyer at current prices, preferring to see some weakness before I add to my existing positions.
Position: Long ETX, BKN, NQS, NPM, NAD, NMO, NMA, VPV, VCV, NQU, NPI, VGM, NRK
<footer>
<p> <em>This article is commentary by an independent contributor. At the time of publication, the author was long ETX, BKN, NQS, NPM, NAD, NMO, NMA, VPV, VCV, NQU, NPI, VGM, NRK.</em></p>
</footer>