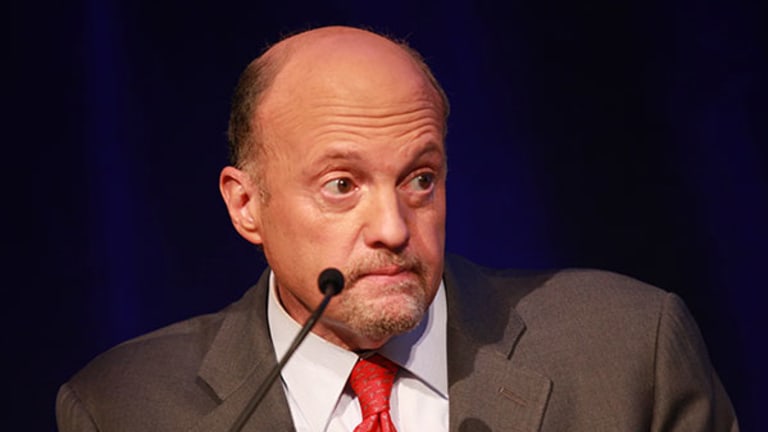 A Dramatically Overbought Market; Trust Facebook: Jim Cramer's Best Blogs
Catch up on Jim Cramer's thinking over the last week about good news being real good news and the reasons to keep faith in Facebook.
NEW YORK (TheStreet) -- Jim Cramer fills his blog on RealMoney every day with his up-to-the-minute reactions to what's happening in the market and his legendary ahead-of-the-crowd ideas. This week he blogged on:
Good news being real good news, and
The reasons to trust Facebook.
Click here for information on RealMoney, where you can see all the blogs, including Jim Cramer's -- and reader comments -- in real time.
A Dramatically Overbought Market
Posted at 4:40 p.m. EDT on Friday., Oct. 31, 2014
Good news is real good news in this environment. Take a look at PPG Industries (PPG) - Get PPG Industries, Inc. Report , up 10% on clearance from Mexican antitrust authorities to buy a Mexican paint company that was supposed to be a done deal anyway.
What about the shocking pin action that we are getting off Expedia (EXPE) - Get Expedia Group, Inc. Report ? Priceline  (PCLN)  has been in a world of hurt for ages, and then Expedia reports a terrific number, and suddenly Priceline's out of the woods.
What about Microchip Technology (MCHP) - Get Microchip Technology Incorporated (MCHP) Report  saying it was too negative, when it said the semiconductor world was falling apart? The next thing you know, Analog Devices (ADI) - Get Analog Devices, Inc. Report , Avago Technologies  (AVGO) - Get Broadcom Inc. Report , Texas Instruments (TXN) - Get Texas Instruments Incorporated Report  and a bunch of other semis are bouncing right back because of Microchip's do-over. Thanks, Microchip, for causing people to lose billions.
What about the big oils which were correctly down at the beginning of the day because oil ticked under $80, then went up when oil went back over $80? I didn't expect that, if only because this group's been so horrendous, I would have thought oil had to go back to $85 to make something good happen.
The market is dramatically overbought going into the weekend, and we will not have the Japanese halo on Monday. But who knows anymore. Maybe it's China's turn this weekend.

Nothing shocks me, except how hedge funds love to short markets that go down, and then get their heads handed to them each time. Happy Halloween!
At the time of publication, Action Alerts PLUS, which Cramer co-manages as a charitable trust, had no positions in the stocks mentioned.
Trust Facebook, Here's Why
Posted at 6:45 a.m. EDT on Wednesday, Oct. 29, 2014
Sometimes it comes down to trust. Do you trust Mark Zuckerberg and his team at Facebook (FB) - Get Facebook, Inc. Class A Report  to spend fortunes to make even bigger fortunes down the road? Do you anticipate that Dick Costolo and his cadre can figure out how to keep Twitter (TWTR) - Get Twitter, Inc. Report  growing at a rate that shows there's still plenty of life to the company? Do you have faith in Google's (GOOGL) - Get Alphabet Inc. Class A Report  Larry Page when that company spends on all sorts of different projects that seem to have no current utility? Do you believe in Virginia Rometty to do anything but buy back stock to hit IBM's (IBM) - Get International Business Machines (IBM) Report  estimate targets?
These are the issues swirling around all of these stocks, and I think they have to be dealt with case by case. Only then can you figure out whether a company's stock is worth owning or worth avoiding.
First, let's deal with the matter at hand: Facebook. This company reported beautiful numbers last night and you can easily make a case for multiple years of rapid growth ahead, although it is not easy to keep growing at 60%, simply because of the law of large numbers. When we only knew that growth rate and the profit figures from the release, the stock was hovering at about $80. But once the company spoke, it was Katy bar the door, as all people heard was that the company was going to dramatically ramp up expenses to keep growth going over the next five years. Investors who wanted to hear about terrific growth with lower expense are sorely disappointed. Plus, they hated the fact that on top of a huge ramp- up in expenses, 178 million shares from its WhatsApp acquisition are going to soon hit the tape. Total insult to injury.
But, I ask you, what do you want from Facebook? Do you want it to just coast? Is that the ticket? Listen to what Mark Zuckerberg said -- not that anyone could hear a thing once the eye-popping expense figures were mentioned: "Over a five-year timeframe we have a number of services which we think are well on their way to reaching one billion people. WhatsApp, Instagram and Search are a number of them. And once we get to that scale then we think that they will start to become meaningful businesses in their own right." Isn't that, I ask, the kind of five-year plan you want a CEO to be thinking about and executing on? 
Zuckerberg goes on to say: "And I think that the right way to think about that, as I've tried to say repeatedly on these calls, is not that we're going to try to monetize these very aggressively in the next year or two; because I really think for each of these categories the right strategy is to first focus on connecting one billion plus people in reaching the full potential before very aggressively turning them into businesses." Wow, uh oh, I could hear the average hedge fund manager say, you mean they aren't even businesses yet? You paid two thousand times annual revenues for WhatsApp, gave them the store and this is what you bought, an idea? But then, he answers that charge instantly: "I can't think of that many other companies or products that have multiple lines of products that are on track to reach and connect one billion people that have a clear path at how we can turn them into a business."
In other words, Zuckerberg is saying the expenses have to be ramped, with most of the new expenses being stock compensation, not wily-nily spend, to have big profits five years down the road.
Is that so bad? Apparently so.
Now, let's contrast Facebook with the others. IBM five years ago set out to hit some earnings per share targets that had Wall Street gaga. How was it going to do it? Not by revenue growth, but by buying back shares. Where did that get them? How about in the lowest rung of the S&P 500?
Twitter? All I can say after listening to its call is that I wish it had a plan, let alone a five-year plan. How about a five-month plan? This is one where I thought there were a billion users on tap but this company's management has disabused me of that notion.
Which leaves Google. What can I say, Google said some of the same things that Facebook said on its call, but was even more vague, so the stock was immediately hammered almost 10%. And what happened? It came right back. Why? Because you were getting growth at a pretty darned reasonable price.
And that, I think, is what will happen to Facebook, too. It's a more difficult risk reward. You have much faster growth than Google, but at a much less reasonable price and now that growth's more expensive to come by. But there's a plan, and if you have faith in Zuckerberg as I do, then you buy in, not out, of the Facebook ecosystem and its formerly superhot now ice-cold stock, and accept that the new equity hitting the market is just the cost of real growth over a very reasonable timeframe if you are indeed a great company. 
At the time of publication, Action Alerts PLUS, which Cramer co-manages as a charitable trust, was long FB, TWTR and GOOGL.